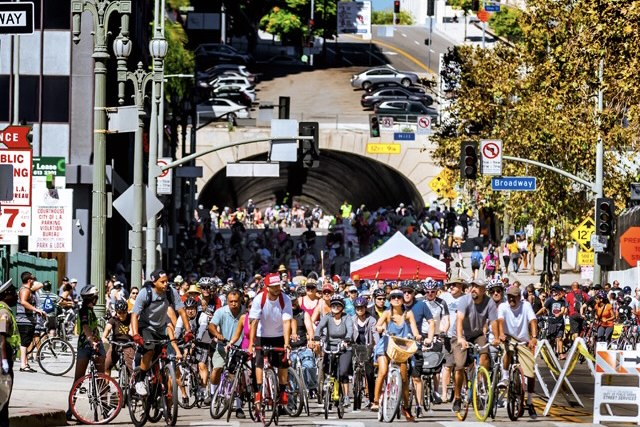 Free for all, CicLAvia – Heart of LA invites Los Angeles to explore and sightsee everything we love about DTLA while experiencing the joy of safe, people-powered transportation on car-free streets.
The nonprofit event that takes its inspiration from a weekly public biking event in Columbia is now in its 12th year and continues to be held in several neighborhoods throughout the City.

Sign up to receive our popular Get2DTLA Newsletter
Driving a Car around DTLA during CycLAvia? Maybe not!
CycLAvia averages 53,000 people per event. Sponsored by Metro, the event is meant to explore the connection between our health and our planet's health and to support sustainable systems and materials that sync with nature. In other words, there's nothing like a good traffic jam to encourage us all to take the road less traveled, especially when it comes to street blockages, hot beaming sun, signal police and idle engines; just know complaints will fall on deaf ears, so be prepared.
With the streets closed to motor vehicles, drivers not in the know will have to find alternative routes to get around Downtown LA as thousands of participants join in CicLAvia's wheelie parade showing up anywhere along the route, at any time during their CicLAvia journeys. Here's a map! Thank us later.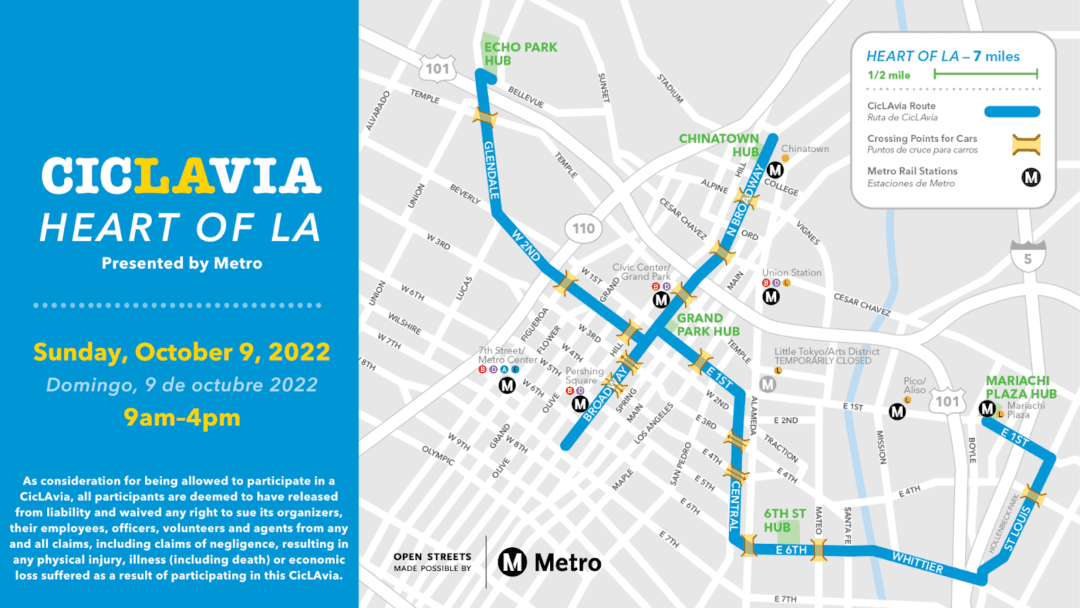 Good Clean-Air Fun!
Walk, stroll, skate, jog, scoot or bike, the route includes activity hubs at Echo Park, Grand Park, Chinatown, 6th Street, and Mariachi Plaza in Boyle Heights.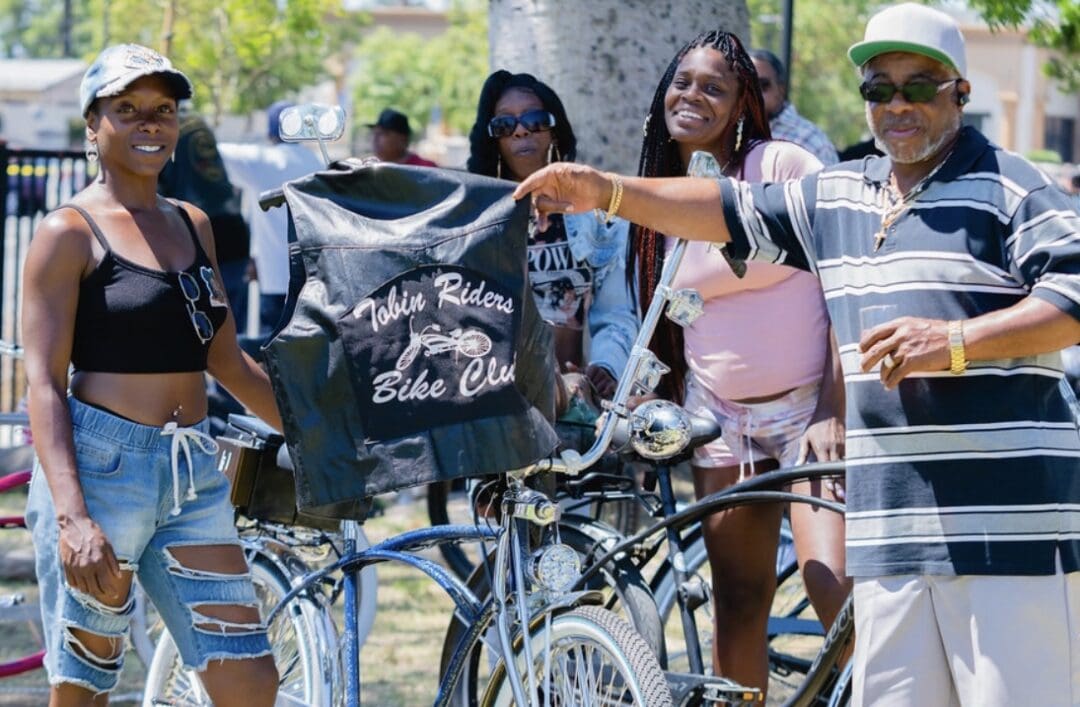 All hubs offer food trucks, restrooms, free water refilling stations, basic bike repair, bike parking, and first aid.
"More than just an open streets movement, CicLAvia helps communities re-imagine a greener and cleaner Los Angeles, while also promoting equitable transportation options, healthier lifestyles, and closer connections to community.

Inspired by Bogotá's weekly ciclovía, CicLAvia has been temporarily closing streets to car traffic and opening them as public parks in Los Angeles since 2010. With more than 252 miles of open streets, Heart of LA is CicLAvia's 41st event." Said a Spokesperson for the event.
Only people-powered vehicles are allowed. No electric scooters, electric skateboards, hoverboards, electric unicycles, motorcycles and other non-people-powered vehicles are allowed at CicLAvia. Class 1 e-bike pedal-assist allowed.
Class 2 e-bikes allowed when throttle is powered off. Class 3 e-bikes allowed when pedal-assist is powered off. Motorized wheelchairs are also allowed.
CicLAvia – Heart of LA takes placd Sunday, October 9, 2022; 9:00 a.m.- 4:00 p.m. Www.CicLAvia.org