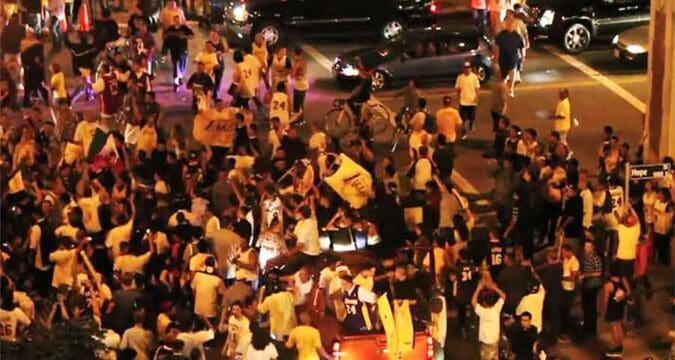 It's official, The Los Angeles Lakers are NBA champions, defeating the Miami Heat 106-93 in Game 6 of the NBA Finals on Sunday night.
Kobe Bryant was smiling down on the Lakers as they won their 17th NBA Championship title. Fans and the Lakers remember 2010, when the late Kobe Bryant won his fifth and final NBA title and dedicated the game to the late basketball All-star/business mogul.
A much welcome break for the City still suffering from the news of the Bryant family's tragic lost, in January 26, coupled with the realities of a world wide Covid shutdown.
Maybe too much of a welcome as fans look took to the streets of South Park, some leaving a path of destruction in their wake.
Broken windows, graffiti and smashed street fixtures reminiscent of the protest that followed the killing of George Floyd remained as a reminder the next morning that the City is still vulnerable to the countries tensions. Metro bus drivers were attacked, 30 plus buildings damaged, 8 officers wounded and a report of a hit and run, all leading to LAPDs switch from "friendly" crowd and traffic control to full on Tactical Alert; tear gas, barrages, and and 76 arrests.