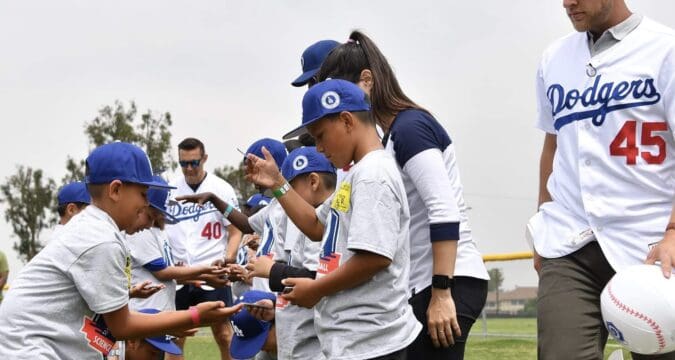 The Los Angeles Dodgers Foundation (LADF) hosted this year's fifth walk-up Dodger Day presented by ARCO for 650 Dodgers RBI players and their families this at Belvedere Park.
The fun-filled community resource fair included a fitness obstacle course, photo opportunities, education resources, vaccine education, health screenings, giveaways, basic necessities, food boxes provided by the Los Angeles Regional Food Bank, library card registration, and free books from the Los Angeles Public Library.

Dodger Days returned to live events for more than 2,700 families after a year of pivoting to drive-thru distributions of food, PPE, sports equipment, and basic needs in response to the COVID-19 pandemic for thousands of families throughout Los Angeles.
After seven successful years, Dodgers RBI has evolved into something bigger than baseball.

Serving youth ages 5-18, with an emphasis on Black youth, girls, and teens, it is a youth development program that uses the power of sport to provide critical resources and services to communities who are experiencing social injustices. Much more than a program that increases participation in baseball and softball, LADF is focused on addressing the root causes of poverty- social, racial and economic disparities.
The 2021 season features both in-person and virtual programming, including baseball and softball practices and games, in-person clinics, Player Development Trainings, Wellness Wednesdays, Coaches Trainings, Dodger Days, Virtual Fitness Clinics, Virtual Parent Workshops, Virtual College & Career Accelerator Workshops, Racial Equity curriculum, and more. Registration is free for all participants and includes uniforms, equipment, personal protective equipment, health and educational resources, basic necessities and more. To learn more, please visit Dodgers.com/DodgersRBI