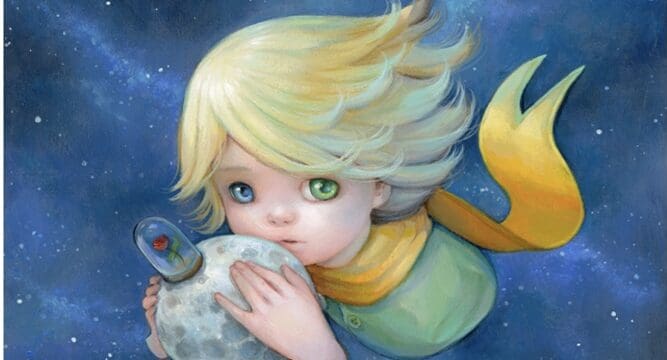 On view through September 18th, Corey Helford Gallery will present, Looking with the Heart: The Little Prince 75th anniversary group show features new works from 65 artists from around the globe, all celebrating the theme "Looking with the Heart."

For the show, CHG partnered with Le Petit Prince®, joining a roster of more than 40 North American licensed brands committed to preserving and sharing the powerful story of The Little Prince for generations to come.
Saint-Exupéry, a pioneering aviator, best-selling writer and humanist, wrote The Little Prince in 1943. First published in New York, the book was published three years later in France in 1946.

Timeless in its imagery and message, the book continues to resonate with readers of all ages through its themes of respect for humanity, friendship, authenticity, and charity. To date, the book has sold over 200 million copies and has reached more than 400 million readers around the world with over 300 translations, making it one of the world's most translated books (second only to the Bible which has over 400 translations).

A true cultural phenomenon, three quarters of a century later, millions of fans are experiencing The Little Prince in ways the author could have only imagined, with visits to the theme park in France, the museum in Japan, the flagship store in Paris, and now Corey Helford.

New prints from The Little Prince group show by Camilla d'Errico and Kazuki Takamatsu are still available at CHGPrints.com.