In 2003, Reverend Andy Bales took the helm as the CEO of Union Rescue Mission (URM), a faith-based homeless shelter located in the heart of Skid Row, Los Angeles. Over the course of 20 years, he has been a guiding light, helping the shelter navigate the lean years of the Great Recession and the unprecedented challenges brought by the pandemic.

Photos courtesy Union Rescue Mission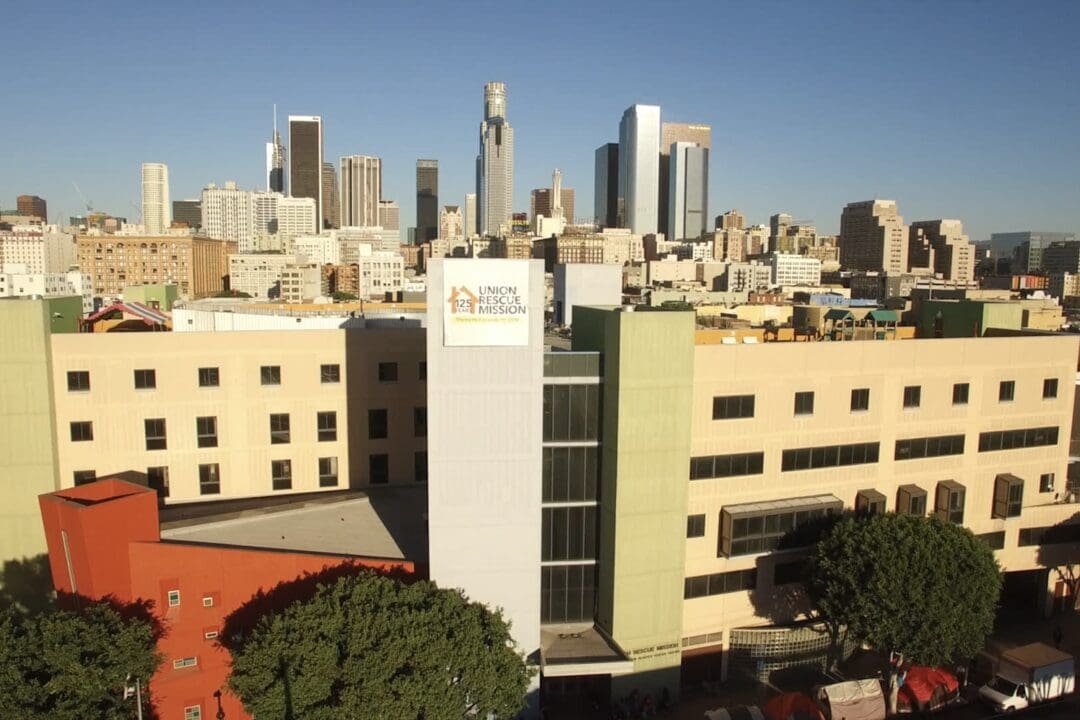 Now, with a heavy heart and an incredible legacy behind him, he's decided it's time to hang up his hat and return to his home state of Iowa. However, his impact on the mission and the homeless community is nothing short of remarkable.
Looking back, Bales reflects on his journey, stating, "The most important work has been raising awareness that people devastated by homelessness are valuable and precious and should not be left on the streets." He is particularly proud of breaking through the "Not In My Backyard" (NIMBY) curtain, advocating for the rights of the homeless and ensuring they receive the care and respect they deserve. His tireless efforts extended to lobbying legislators in Sacramento and Washington, where he fought against "hospital dumping," a practice that saw unwell patients released into the streets without a care plan in place.
However, as he reflects on his time at URM, Bales acknowledges the persistent challenges posed by the homelessness crisis in Los Angeles. Telling LAIST, "I sure didn't succeed in ending Skid Row as we know it."

Bales' perspective on addressing homelessness differs from the now-mainstream "housing first" approach. He has been a staunch advocate of a faith-based transitional care model that requires residents to be off drugs and actively seeking employment. According to Bales, walking alongside people for the long run, investing in their lives, and focusing on recovery are essential components of addressing homelessness effectively.
As we delve into his remarkable journey, we must also highlight the profound personal challenges that Andy Bales faced. His health took a critical turn in 2014 when a seemingly minor incident led to a life-threatening infection. It all began with a blister on his foot after completing a triathlon, which later necessitated a special boot for protection.

During one of his regular walks, where he distributed water to the homeless people lining the streets with tents and shopping carts, he may have unknowingly made contact with the bacteria that caused the infection.
A few days later, his foot began to hurt as he headed to the airport for a conference in North Carolina. What began as a blister had quickly turned into a massive blood infection affecting both legs. By the time he arrived in Raleigh, N.C., his foot had deteriorated to a state that he describes as resembling "the walking dead."
These infections are alarmingly common on Skid Row, where compromised immune systems and unsanitary conditions can turn minor issues into life-threatening emergencies. Bales, who underwent a kidney transplant and quadruple bypass surgery, fought an infection involving a combination of E. coli, staph, and strep that had crept into his foot and spread to his ankle. His story, first reported in L.A. Weekly, serves as a stark reminder of the health challenges faced by those experiencing homelessness.
Bales's health struggles meant that he had to adapt his mobility. He can walk a few steps with a special boot, but he predominantly relies on a wheelchair and a car with hand controls to get around. He also incorporates swimming into his routine, even though it causes his ankle and foot to swell.
Despite these significant personal challenges, Bales's determination and resilience are evident in his continued advocacy and dedication to the homeless community. In fact, he found hope in the city's commitment to addressing homelessness, with city leaders declaring a state of emergency and pledging up to $100 million to tackle the issue.
Bales's journey, marked by compassion and advocacy, will continue beyond his tenure at URM. When he returns to Iowa, he will leave behind his Pasadena home, which will be transformed into 20 units of housing for families experiencing homelessness. His commitment to making a positive impact on the lives of those in need endures as a testament to his enduring legacy.
Now, as we look back on the remarkable journey of Union Rescue Mission (URM), we see that it was founded in 1891 by Lyman Stewart, the president, and founder of Union Oil Company. Two years later, in 1893, URM was already serving over 500 people a day from temporary sites, where nightly revivals were held in rigged tents, offering both sustenance and solace.
In 1907, a significant milestone was achieved when URM purchased its first permanent home at 145 North Main Street. This location became a haven of hope, offering three daily meals, clothing, shelter, employment assistance, and free medical aid. Over the years, the organization continued to evolve and grow, offering support during the Great Depression, assisting servicemen during World War II, and addressing the unique challenges faced by women and children experiencing homelessness.
In 2011, under the visionary leadership of CEO Andy Bales, URM established the Gateway Program, focusing on instilling responsibility and dignity in their guests using free long-term shelter beds. Bales's advocacy efforts extended beyond the shelter, as he lobbied against "hospital dumping" practices in Sacramento and Washington, where unwell patients were released into the streets without care plans.

After 20 years at the helm, Reverend Andy Bales is retiring, leaving behind a legacy of compassion and advocacy. He leaves behind his Pasadena home, which will be transformed into 20 units of housing for families experiencing homelessness, emphasizing the enduring impact of his work. Bales's dedication to the homeless community is an inspiration, and he believes that the path to recovery and support for the homeless must be paved with care and compassion.
URM, founded by Lyman Stewart, has stood as one of America's largest missions, offering help and hope to men, women, and children experiencing homelessness in Downtown Los Angeles. The mission's enduring commitment to its core principles is a testament to its founder's vision and the dedication of its leaders and staff, including Andy Bales, who has worked tirelessly to advocate for and support those in need.
In conclusion, the journey of Union Rescue Mission from its founding in 1891 to its current standing in 2023 is a remarkable testament to the enduring commitment to serving people experiencing homelessness in Los Angeles. The organization's growth, innovations, and leadership, under the guidance of individuals like Andy Bales, have made a significant impact in the lives of countless individuals and families in need. As it looks back at its rich history and forward to the challenges that lie ahead, URM remains a beacon of hope and a source of compassion in the heart of the city.