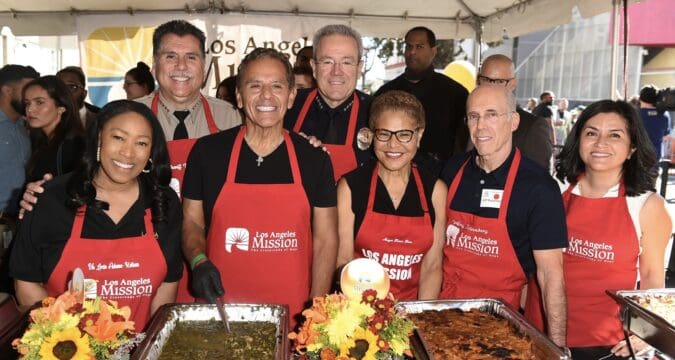 The spirit of giving comes alive during the holidays in Downtown Los Angeles with several organizations and venues known for providing free Thanksgiving meals to those in need. Here's a look at a few heartwarming events…
Running For the Turkeys:
On November 23rd turkey lovers of all walks of life will take to the streets of Downtown LA during the Annual Turkey Trot in support of the Midnight Mission. The mission was founded in 1914, and since has laid the course for emergency services, family living, job training, education and workforce development programs including free meals daily including Thanksgiving. A series of themed races start and finishes in front of City Hall at 200 N Spring St, Los Angeles, CA 90012 beginning at 7am.
7th Annual Veterans Appreciation Thanksgiving Dinner:
Open to Veterans and their family members, this annual event at Patriotic Hall shows appreciation to veterans and those currently serving in the United States Military by providing a free Thanksgiving buffet dinner held this year on Thursday, November 16, 2023, from 2 PM to 6 PM at 1816 South Figueroa Street, Los Angeles, CA 90015.
Here's a Thanksgiving Dinner with Soul:
7th Annual Thanksgiving Dinner at San Julian Park, The "Soul Food Thanksgiving" taking place in Skid Row will offer a grab-and-go holiday dinner with a soul food twist. The park acts as a community hub offering shade, picnic tables, portable restrooms, hand washing stations, water fountain, a stage, and open grass areas and is located at San Julian Park, 312 East 5th Street, Los Angeles, CA 90013.
Free Turkey Giveaway with Assembly Member Santiago:
This event in Boyle Heights is led by Assembly Member Miguel Santiago has set his sites on becoming the next City Councilmember for CD14, but before the March 2024 election, he plans on buttering up the Boyle Heights community with a tasty event; a massive 1000 free turkey giveaway along with canned goods, sides and hot meals beginning at 10:00am, on Saturday, November 18, 2023, at Mariachi Plaza, 1831 E. 1st Street, Los Angeles, CA 90033.
Thanksgiving Turkey Giveaway at Bright Path Center:
Known for everything from skill-building workshops, job readiness programs, transitional housing assistance, to emergency food support, Bright Path Center in Skid Row will be giving away 50 free turkeys on a first-come, first-serve basis. The event will take place on Sunday, Nov. 19, 2023, at 345 E 5th St., Los Angeles, CA 90013.
Home Run in the Spirit of Giving:
The Dodgers and Dodgers Foundation are known for their commitment to giving back during the holidays. This year the team will host a luncheon for veterans and a Thanksgiving Grab and Go drive-thru, ensuring that those in need have a warm meal during the holiday season. Known for hosting an annual turkey giveaway at Dodger Stadium in Elysian Park, the tradition strikes a home run bringing the community together with the spirit of giving. Various events will take place on Thursday, November 16, and Friday, November 17.
Celebrities and Dignitaries Gear Up for a Day of Charitable Giving
The Los Angeles Mission is known for its long-standing dedication to serving the homeless population of Skid Row. During Thanksgiving, they will provide not only hot meals but also essentials and support from notable figures including LA Mayor Karen Bass, Congresswoman Maxine Waters, Congressman Jimmy Gomez and Supervisor Hilda Solis and LA County Sheriff Robert Luna.
The political crews will be joined by Hollywood celebrities Denise Richards, Elizabeth Olsen and Tom Arnold among others. The annual meal deal will be held on Wednesday, November 22, 2023, from 4:30 AM to 3:00 PM, with complimentary parking available at 333 S Alameda Street, Los Angeles.