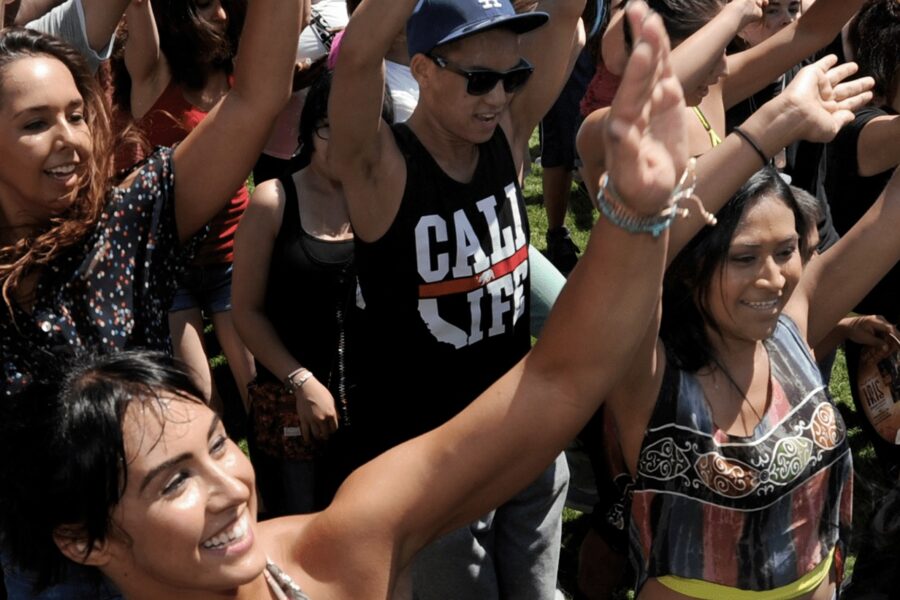 From puppetry and storytelling to music-making and live DJ entertainment, enjoy the great outdoors in Downtown during Grand Park's Easy Mornings this April. Here's 10 Great Reasons to Take It Easy this month at Grand Park.
Grand Park's Easy-Mornings offers a start to the weekend with relaxing and family-friendly activities highlighting arts and culture.
One: New Artisan Market
This year's program includes an artisan market featuring Los Angeles-based small businesses and nonprofits with activities to inspire children of all ages, adults, families and caregivers to think big. Grand Park-goers will experience artisan wares created by Lucky Bug Clothing, Con Todo Press, and Wren Amber Clothing. Grand Park's favorite food trucks and vendors will offer food and beverages for purchase; on-site picnicking is encouraged making Grand Park one of the best places to go in Downtown LA.
Sign up to receive our popular Get2DTLA Newsletter
Two: Ride On! Bike Shop Co-Op
Located in Leimert Park, Ride on! Bike Shop Co-Op is a Black-owned, community-based business that serves all types of cyclists in Los Angeles. They will provide a brief introduction to bike safety with a bike safety rodeo and bike/scooter course Dates: April 16, 23 and 30
Three: Lil in Los Angeles
Three: Lil in Los Angeles is a family-owned business that makes kids streetwear inspired by their daughter. They will offer a dance lesson every Saturday afternoon. Dates: April 16, 23 and 30
East West Players is the nation's premier Asian American theater and is committed to raising the visibility of the Asian American experience by presenting inventive world-class theatrical productions, developing artists of color and providing impactful youth education programs. They will offer an interactive costume corner and a Polynesian dance lesson. Dates: April 16
Five: Bob Baker Marionette Theater
Los Angeles's historic puppet theater Bob Baker Marionette Theater, educates, celebrates and inspires imagination through puppetry and the allied arts. They will offer a special presentation and puppetry lesson narrating children's books written by father/daughter writing team Jim and Stella Harris. Dates: April 16 and 30.
Six: Affirmation Darling
Affirmation Darling is a South Asian women-owned brand that fosters a positive community and culture by inspiring creatives to achieve their aspirations through illustrated stationery and gifts built on powerful affirmations. They will offer an arts and crafts activity of choosing and decorating words that make us feel strong. Dates: April 16, 23, and 30
Seven: Chinese American Museum (CAM)
The Chinese American Museum, located in El Pueblo de Los Angeles Historical Monument, researches, preserves and shares the history, rich cultural legacy and continued contributions of Chinese Americans. CAM will host a lantern-making workshop that helps children and families understand the meaning of a lantern and learn about Chinese culture. Lanterns are very symbolic in Chinese culture as they represent a "lighting of the way," literally and metaphorically. CAM will provide lessons on making two different styles of paper lanterns during this workshop. Date: April 30
Eight: Smokey the Bear
Smokey the Bear pop-up art installation, coloring booth and free art giveaway have increased public awareness about how to prevent human-caused wildfires for over 75 years. They offer a multimedia activity to learn the legacy of Smokey Bear and simple fire safety tips to protect our wilderness. Date: April 23
Nine: NEA Big Read Program in Los Angeles
The Department of Cultural Affairs (DCA) promotes arts and culture to ignite a robust dialogue, engage Los Angeles's residents and visitors, and ensure Los Angeles's varied cultures are recognized, acknowledged and experienced. The NEA Big Read Program will offer the opportunity for Angelenos to learn about cartoons and storytelling and visit their comic book corner booth. Dates: April 16, 23 and 30.
Ten: MOAH Lancaster Museum of Art and History
Lancaster Museum of Art and History has been the cultural hub of Antelope Valley for the last 150 years. Aiming to strengthen awareness and accessibility of art, history, and culture through dynamic exhibitions and innovative educational programs, they provide creative community engagement and a vibrant collection that celebrates the region's richness. They will offer an interactive activity of playing with clay. Dates: April 16 and 30
Grand Park's Easy Mornings is curated in partnership with Streetlet, an opportunity-matching and growth engine for small business owners and makers.
For updated information, visit www.grandparkla.org