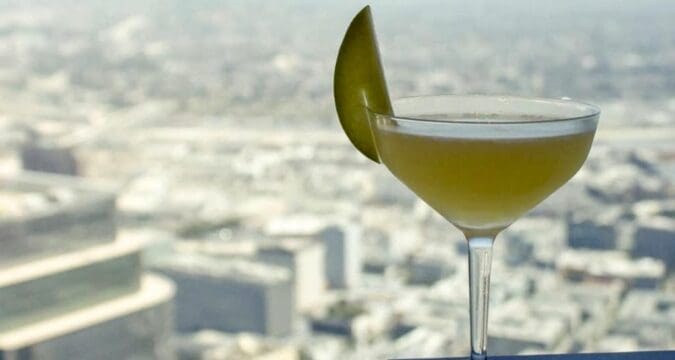 It's Official, Downtown LA is back on Top! The only thing higher is you, especially after a few signature cocktails high above the city. Check out The Top 10 Best Rooftop Bars in Downtown from the bottom to the top.
ONE: The Nixo Patio Lounge at E-Central Hotel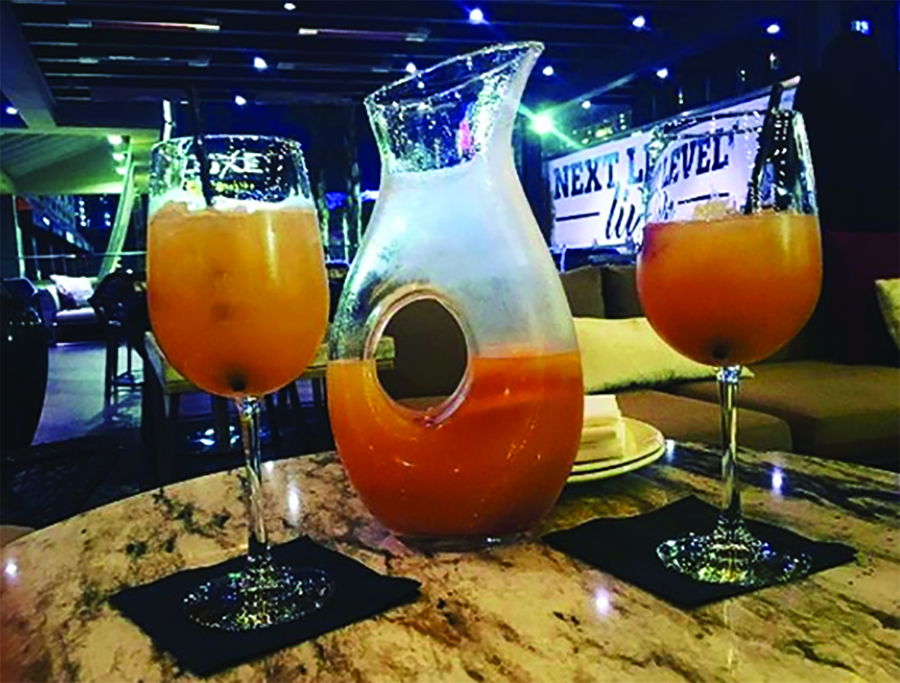 Back with a whole new look is E Central (formally known as the Luxe). Kicking off the grand opening, there is a whole new drink and beverage menu for previously existing rooftop deck Nixo Lounge, making their cocktails the envy of LA LIVE.
Whether enjoying the game or great cigar, winding down during happy hour, or getting together with friends, the Nixo at E-Central is the best choice for class that's not overly pretentious; which makes this rooftop one of the best rooftops in Downtown Los Angeles.
Sign up to receive our popular Get2DTLA Newsletter!
Nixo global kitchen + patio lounge features light bites, specialty cocktails, and extreme ambiance. Located on the second-floor, rooftop patio of the E-Central, Nixo offers live entertainment at no cover charge. Salsa and chips or salsa dancing every Monday night at Nixo. https://ecentralhotel.com
TWO: LA CHA CHA CHA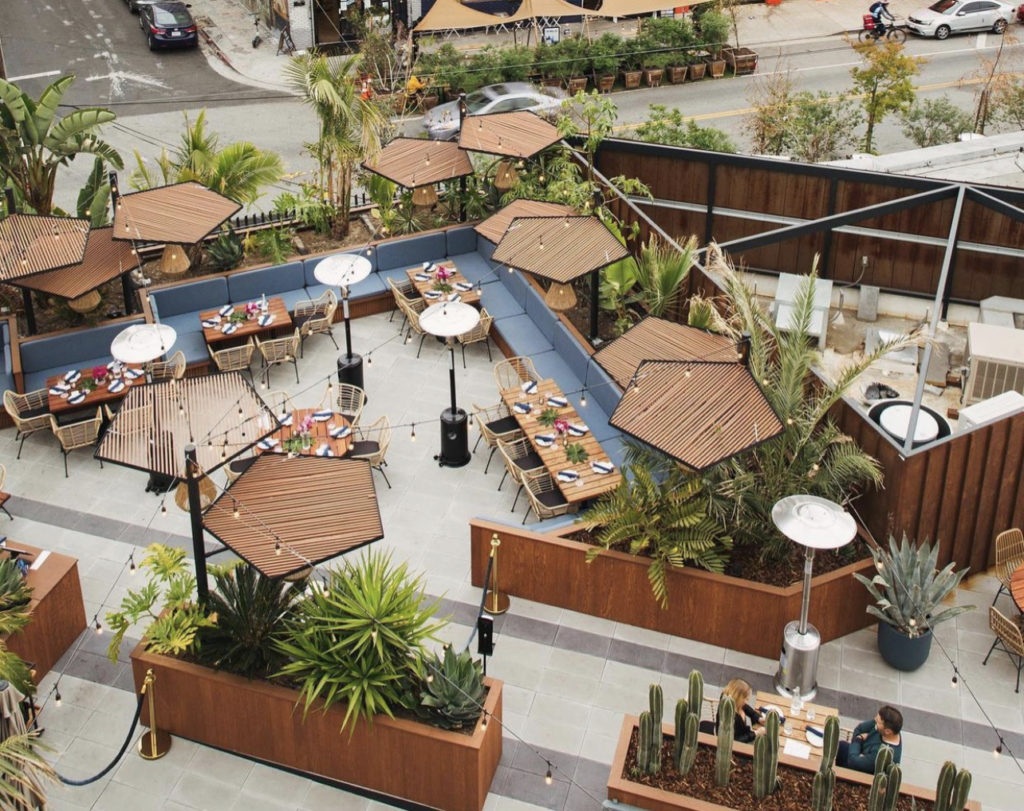 Ever since La Cha Cha Cha opened in the Arts District, diners in the district have had the only chance to enjoy one of our best new rooftop bars in downtown, serving spicy bites and spicy cocktails, totally uninstructed by the sun.
Although the roof is well shaded by mini palms and private cabanas, diners from rooftop corner to corner, find Cha Cha Cha a great place for family and friends, with traditional Mexican Cuisine plates basking along side under the final rays of the day's sun.
We recommend the Sana Sana Pain Killer, a tasty blend of Cachaka, Aged Rum, Pineapple, and Manderin and Jarritos to bring in the night, it feels like a thousand tiny maracas shaking in your shoes all at once.
Be sure to make reservations a few days in advance as La Cha Cha fills with the sounds of enjoyment rather quickly. @chachachala
THREE: Perch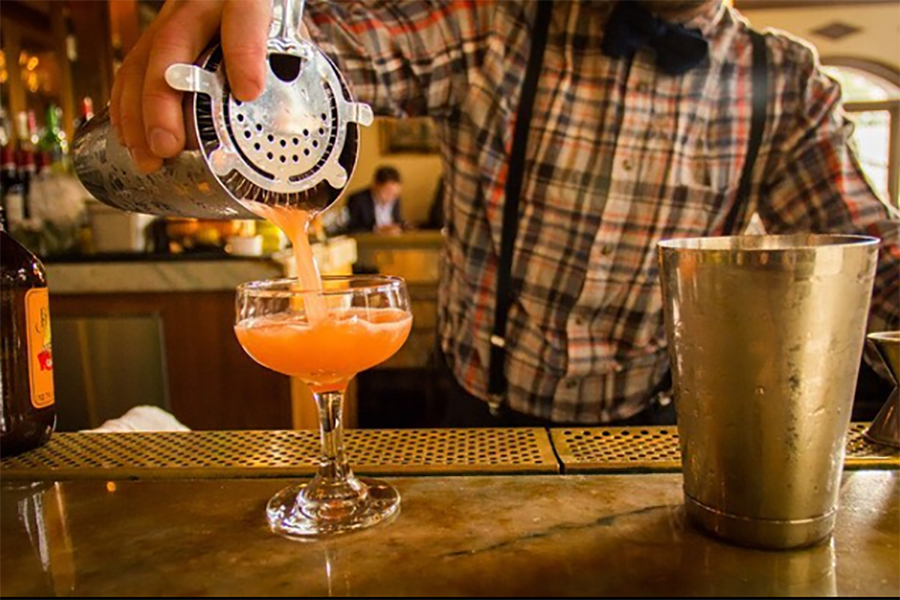 One of Downtown's pioneering nesting rooftop situations. Perch is located on the 13th and 15th floors of the historic Pershing Building. Enter the lobby, take the elevator past the eel to the "BIRD Floor" and exit the lift – where you must play the secret note on the old piano for entry. Just kidding…
But, that would be cool and hey, there is an eel in the lobby. Either way, once you've arrived chances are you will find you fit comfortably within Perch's copious surroundings on what has many times been voted the best rooftop in Downtown Los Angeles.
Sip and enjoy while being virtually surrounded by the murmur of a dozen confirmations, live jazz and some of downtown's most historic uprights. Look over Pershing Square to the south, face the Spring Street Strip to the east or dine face to face with the Historic CalEdison Building on Perch's westside patio. 448 S Hill Street, 90013. perchla.com
FOUR: Cabra LA at the Hoxton Hotel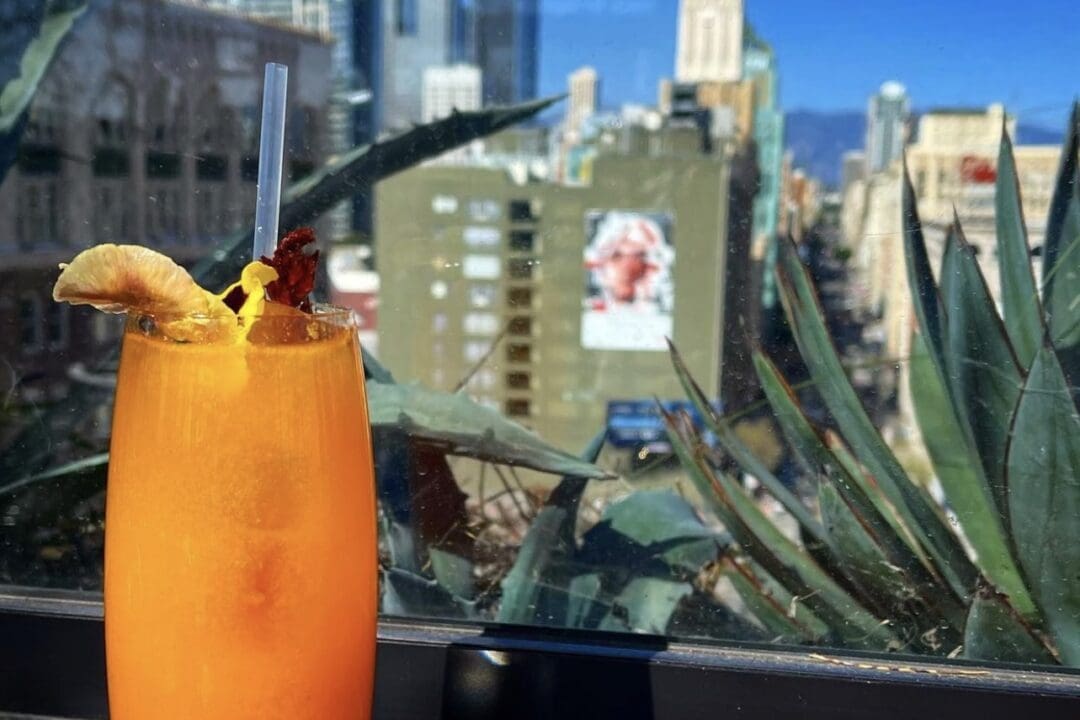 Located a top The Hoxton, Downtown LA, Cabra is the second restaurant opening in less than a year for acclaimed Chef Stephanie Izard and longtime partners Rob Katz and Kevin Boehm.
Cabra fittingly means "goat" in Spanish. It seems only natural for the team responsible for Girl & The Goat, (Arts District), to seek out fresh new heights high above the city a top the rooftop of the Hoxton Hotel.
Cabra by far is one of DTLAs most exciting new rooftop bar. In all, actually it is a premier rooftop oasis, complete with dining room, pool, private cabanas, and tremendous views of Broadway Ave to enjoy while you dine.

Sign up to receive our popular Get2DTLA Newsletter!
Meant to be enjoyed family-style, Cabra Los Angeles' opening Peruvian inspired menu features a variety of shareable plates that are bold in flavor and bright in taste, such as the Avocado Dip with yuzu-tomato, queso fresco, and taro & sweet potato chips; and a selection of Ceviches, Tiraditos and Empanadas.

With nighttime views are as intoxicating as any cocktail on the menu….
Cabra cocktails have been designed to complement the expressive flavors of the savory menu. Led by Beverage Director Daniel Dooreck, guests heading up to the roof for cocktails and snacks or a full dining experience may enjoy a selection of Pisco cocktails such as the classic Pisco Sour and frozen Pisco Fever with vodka and guava. thehoxton.com
FIVE: Cara Cara at Hotel Proper
From the golden daylight to the twinkling evening, the endless skyline views and lush rooftop lounge entices visitors to dine high above DTLA while sipping cocktails, wine, or beer. Breathtaking views of Downtown Los Angeles mix well with delicious appetizers and specialty drinks served ar Cara Cara. "It's the perfect location for a romantic date or high-powered business meeting". 

SIX: Upstairs @The Ace Hotel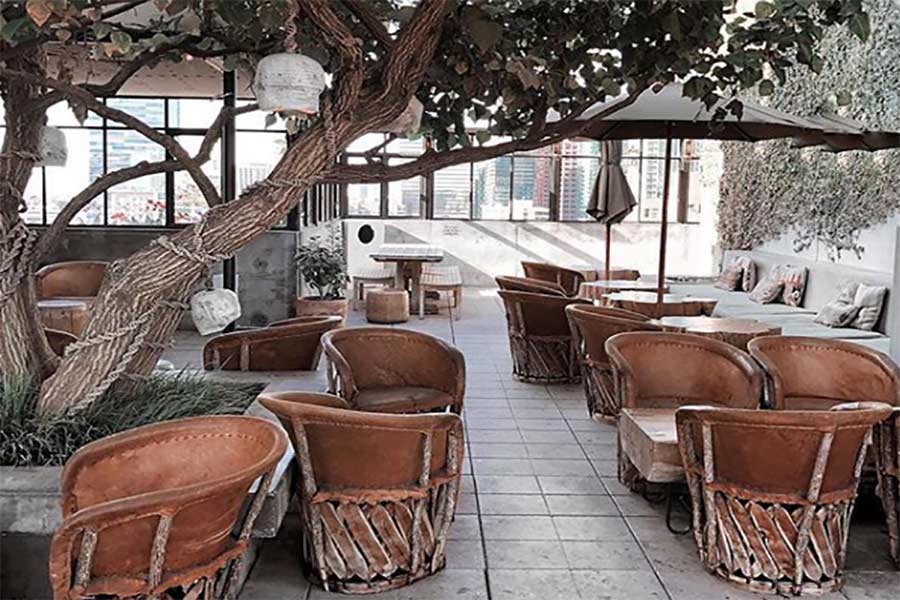 Inspired by Hollywood's famous Les Deux Cafe, Upstairs is the sky-high urban nest at Ace Hotel. With a miniature pool and city lights stretched out in all directions, the bunker-like rooftop bar hosts events most nights of the week.
The 13th floor keeps DJs and live bands in constant rotation. Security is stern, and the bartenders can be a bit too serious, but the drinks are always strong so it balances out nicely.
Plus, it's on top of a 100-year-old hotel. For history or architectural design buffs, from the lobby to rooftop, the renovated designs of the Ace Hotel are nothing less than splendid. acehotel.com
SEVEN: Broken Shaker @Free Hand Hotel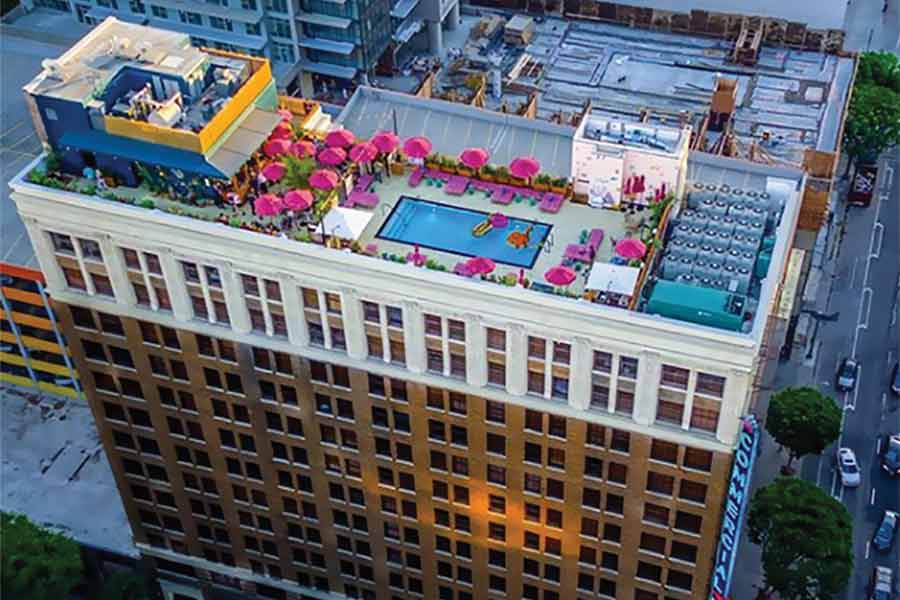 Freehand's hostel/boutique hotel brings DTLA a rooftop pool-deck bar full of culinary souvenirs from the Mediterranean to the tropics, with layovers in the Carribean and the Middle East. Playing on DTLA's love for exposed brick and rooftop pool parties with fantastic views, Broken Shaker quickly became an instant sensation.
Broke Shak's eclectic menu of handcrafted cocktails and small bites earned them the title of Winners of Tales of the Cocktail's Best American Hotel Bar award, and Downtown Weekly's Best Time While Intoxicated Award after enjoying, the Trash Tini, a peculiar mix of Grey Goose, Plymouth Gin, Luxardo Bitter Bianco, charred onion infused noilly pratt, accented with a celery shrub. freehandhotels.com
EIGHT: Takami Sushi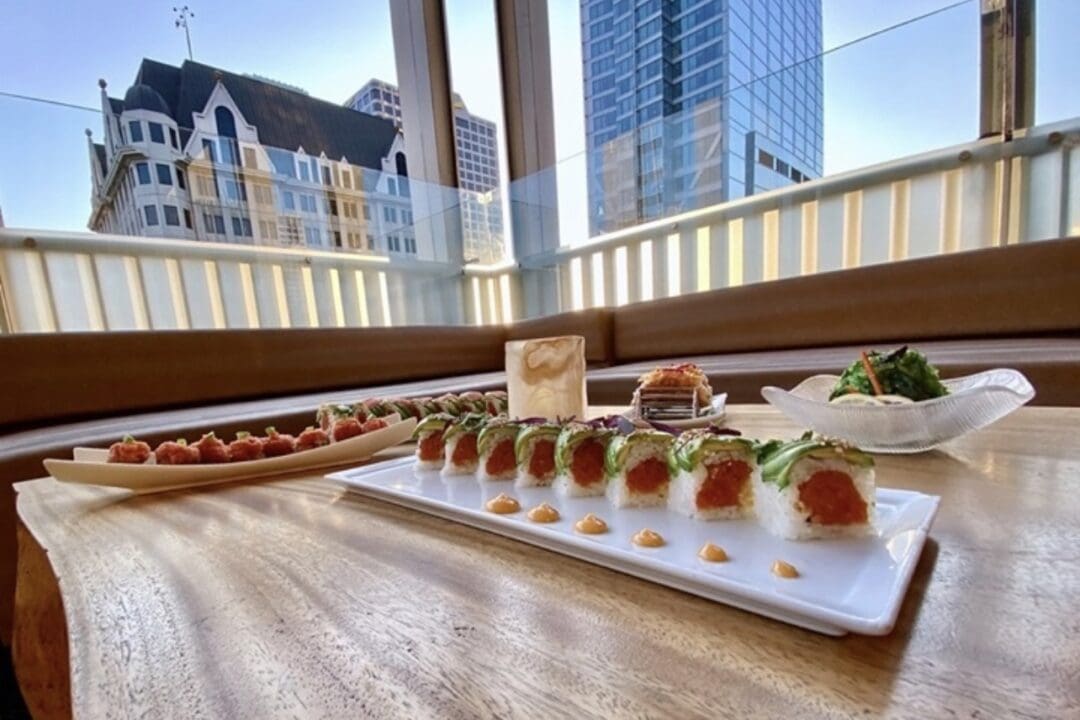 The Financial District has no shortage of skyscrapers. If you really want to have a blast, consider taking the elevator 21 floors up to one of DTLA's most unique rooftop lounging experiences. With a view that stretches around the corners of the rooftop exposing the south and west of DTLA and beyond, guests are only separated from the monstrous sky-capped neighbors by a thin smoked glass, making the atmosphere at Takami hard to top.
Takami has one of the most elegant wine list in Downtown beginning with their Bordeaux-style wine, Opus Meritage, One '07, '09, '11 from Napa Valley at $385, ending with classic metallic bottles of Armand De Brignac "Ace of Spade" Champaign from Reims, France, B at $550. 811 Wilshire Blvd, 90071. www.takamisushi.com
NINE: Bar Clara at Per LA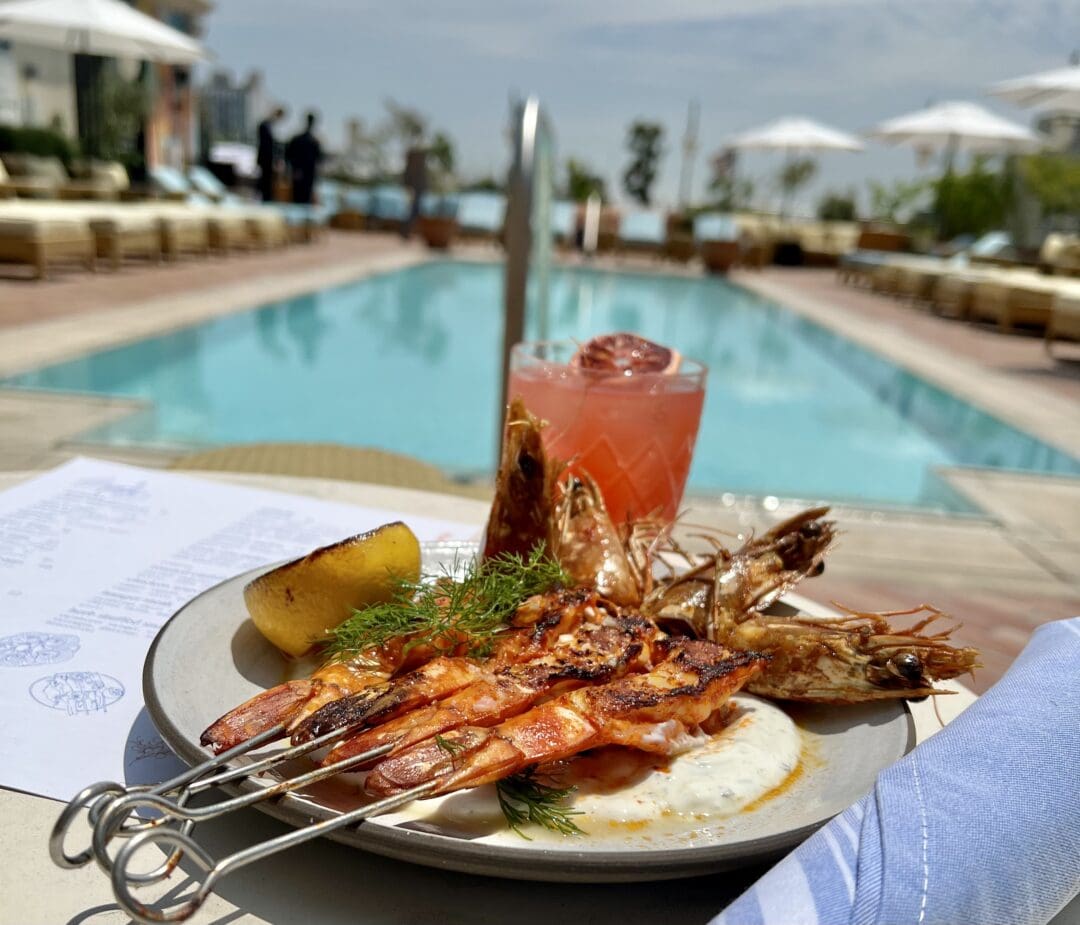 Per LA Hotel is taking the place of the Nomad Hotel that closed down during the harshest years of Covid, although it's got the same owners.
The decor inside and outside of the new hotel is fabulous. The historic building that houses the newly refurbished hotel was once an old Italian bank from 1922, complete with grand pillars, polished flooring and vintage decor.  

Closer to the stars, surrounded by the romance of our electric giants never gets old.
TEN: Spire 73@Intercontinental Hotel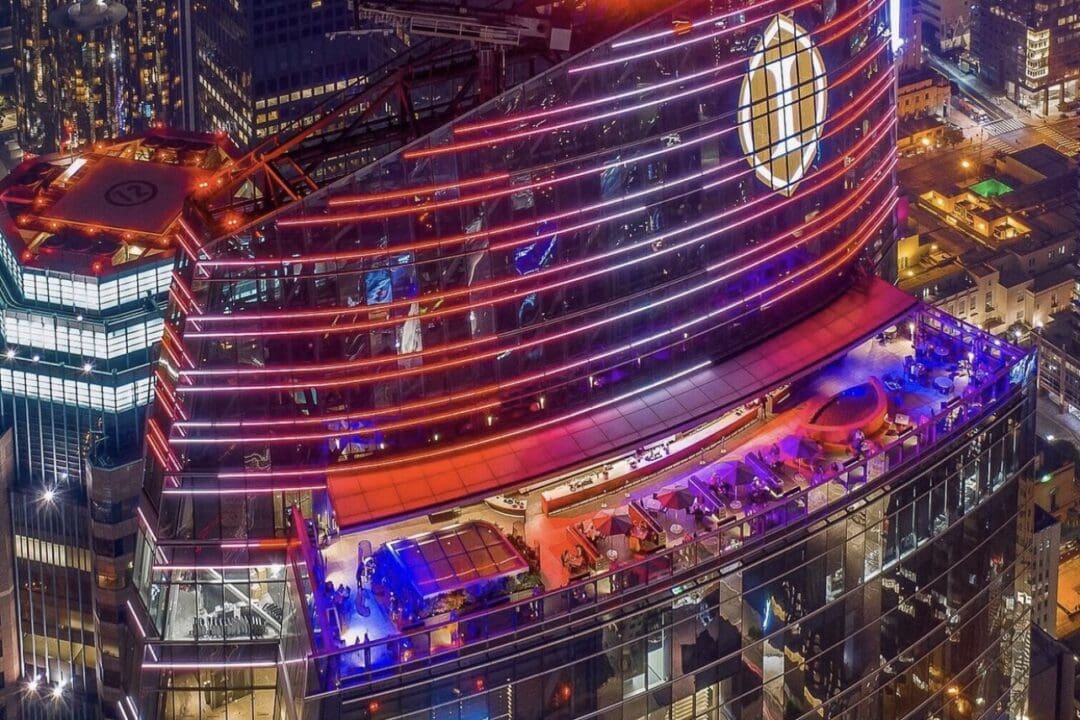 Enter the 73rd floor to Spire 73 – the tallest open-air bar in the Western Hemisphere. This rooftop lounge offers breathtaking views of the entire city, chic fire pits, signature cocktails and a wide selection of whiskey, including Downtown Weekly's recommended 1100 FEET, a mix of Glenmorangie scotch, Benedictine, Lillet blanc, creole bitters, and dried apricots as culinary expressions to rival the view. Entry is free for non-hotel guest but there is a $25 entry fee after 8pm. Enjoy. www.spire73.com