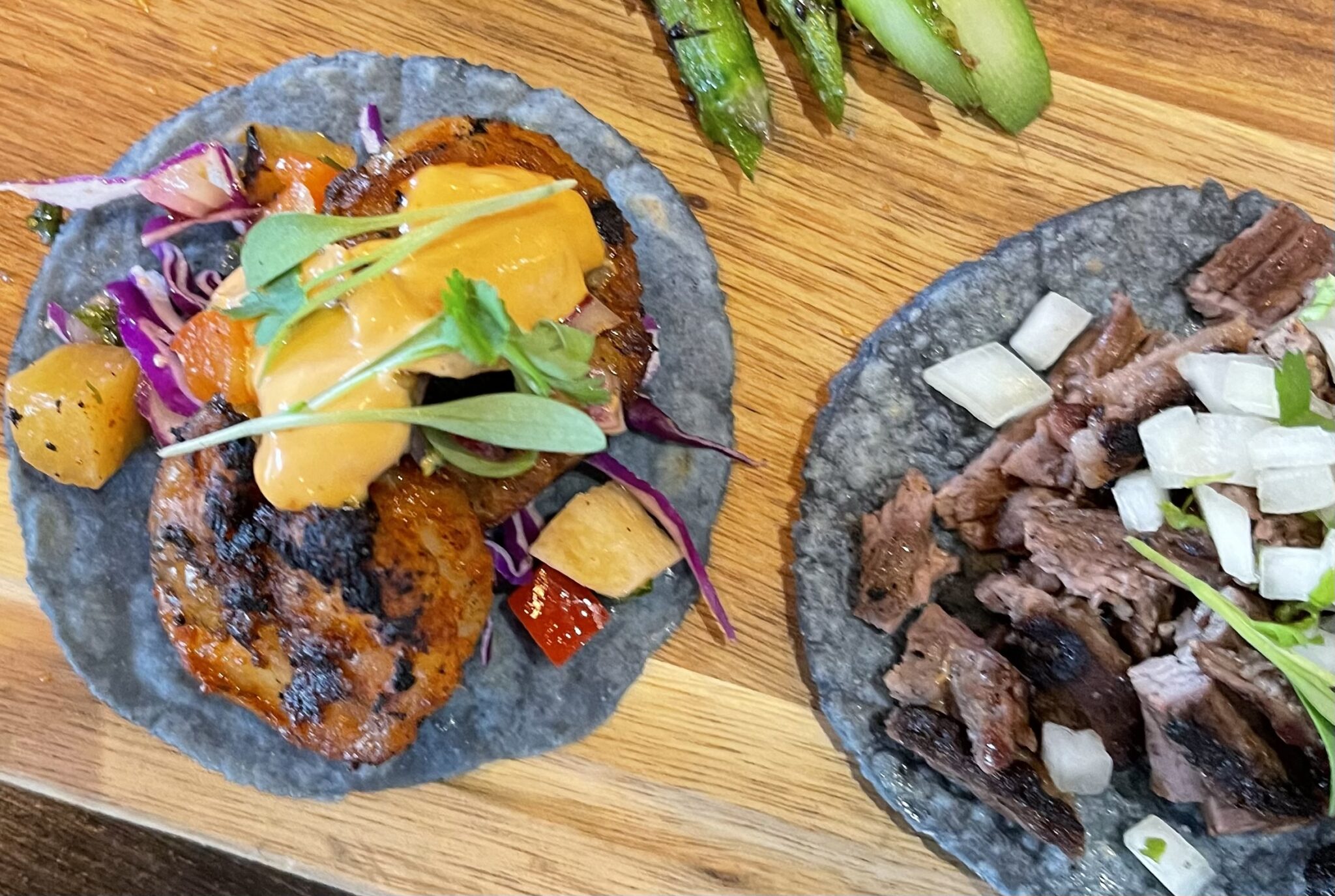 Sure, St Patrick and Old Saint Nick bring out drunken leprechauns and Cmas gifts, and its no secret Halloween brings out our sexiest costumes, but no celebration in Downtown LA will ever bring out the most delicious combination of tacos and drinks like Cinco de Mayo.

Here's a list of DTLAs Greatest Tacos and the Cinco De Mayo Celebrations that goes with them.
Located in the Old Bank District on 2nd and Main is one of Downtown's most treasured Mexican Food Restaurants, Dalia Cocina Mexicana. Due to its location (adjacent to City Hall, Cal Works HQ and situated in the base of the Higgins Building), you'll always find legions of diners enjoying the menu at this DTLA local favorite.

Uno – Dalia Cocina Mexicana.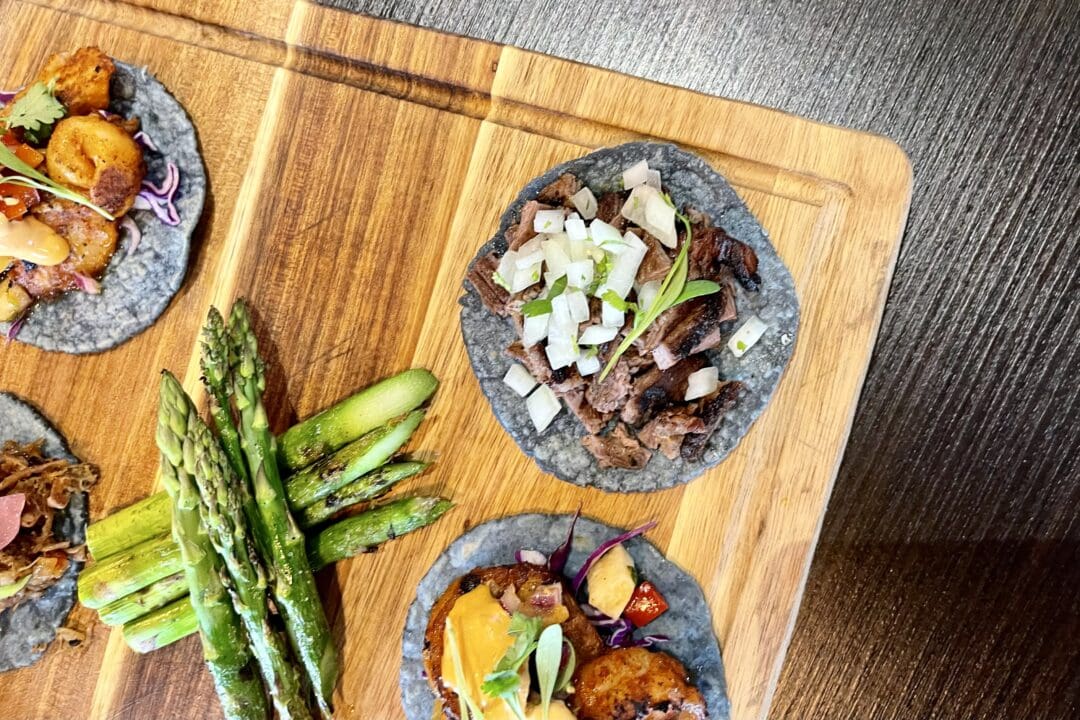 Placed upon a wooden board, Dalia deliciously delivers one of the most memorable "taco flights" you'll ever find in the City. Their most delectable gourmet tacos are made fresh to order using hand made blue-corn tortillas.

Dalia tacos come with fish, carne asada, carnitas, and shrimp varieties. The pork belly taco could possibly be the best tasting taco on earth, with Dalia grilled shrimp taco with mango salsa coming in a close second. For Cinco de Mayo Dalia will be offering their gourmet tacos for $3 each when you order a bucket of beers. Salut. www.daliacocina.com
Dos – Polanco Mexican Steakhouse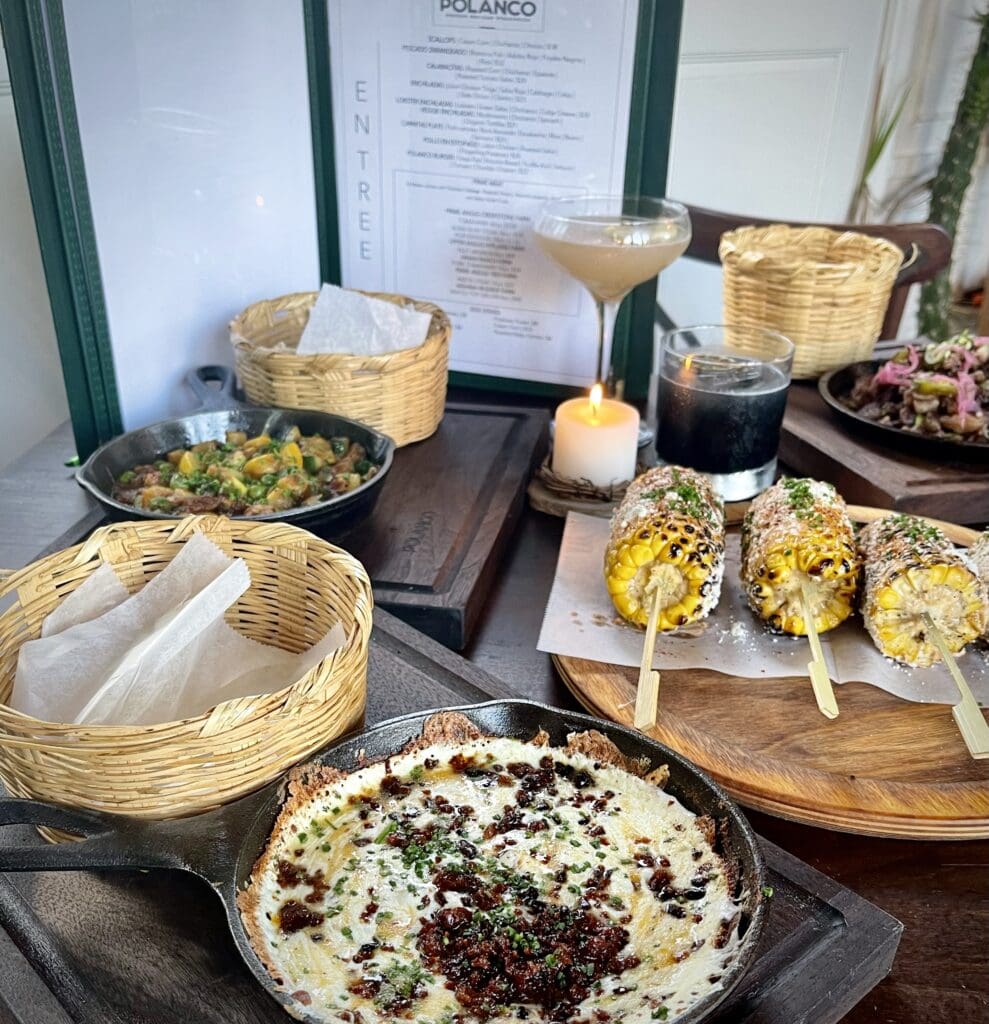 Celebrating the Mexican victory over the French never tasted so good then at Polanco Mexican Steakhouse. Their highly anticipated grand opening situates Polanco at one of DTLAs most historic locations, within the iconic triangular building at the entrance of the Historic Core where 9th, Main and Spring Streets collide.
Polanco Mexican Steakhouse, undoubtedly La Madre of all Mexican fine dining establishments in Downtown, took its name from the most affluent city in Mexico.
For Downtown, this means an extravagant gourmet food and beverage program that sets itself apart with specialty cocktails, authenticated dishes meant for the most opulent families of Mexico; Chef Daniel Godinez' roster of perfectly seasoned surf and turf, and delectable variety of well prepared steaks.
For Cinco de Mayo, enjoy happy hour prices all day!!! Complete with tacos filled with Rib Eye Chicharron, pleasant bites of fatty meat mixed in with guacamole, roasted onion, and cilantro or Queso Fundido made with fresh melted Oaxacan cheese sprinkled with Spanish chorizo.
Each cast ironed skillet comes in hot with its own basket of fresh roasted tortillas allowing diners to make their own tacos as they have for centuries in Mexico, battle after victorious battle. www.polancorestaurantgroup.com
Tres – Tulsi Indian Eatery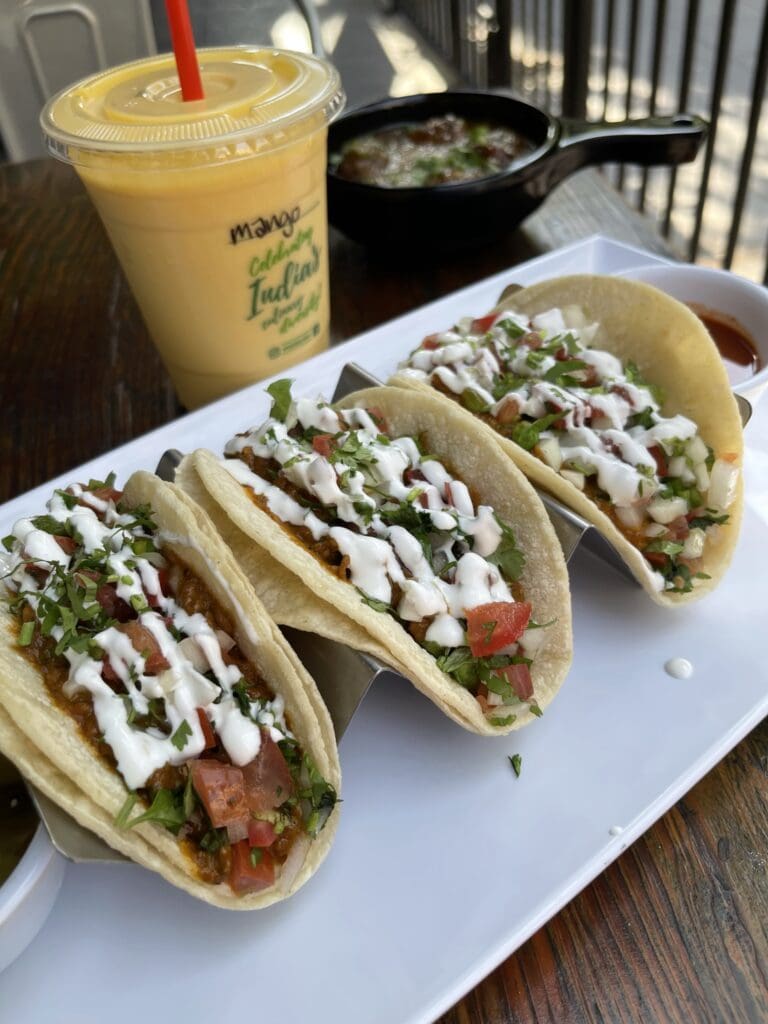 A wave of mouth watering conscious dining has hit Downtown in a whole new way, thanks to Tulsi Indian Eatery located on 4th and Main in the Old Bank District.

At Tulsi, Chef Antonio Kanickaraj proudly presents Indian comfort foods from the Northern, Southern and Western regions of India alongside several soothing flavors of lassi, Indian beers and wine.

It's a Mexican victory celebration alright, but in Downtown, everyone is welcome to enjoy the splendor of tacos in modern times made from all the kitchens of the world.
For those plant-forward eaters who love a bit of Indian spice with their Cinco De Mayo victory dance, Tulsi Indian Eatery is offering BOGO (buy one, get one half off) Kheema Tacos of seasoned Plant-Based meat with Indian spices and Paneer Tikka Tacos made with Tandoor cooked and marinated cottage cheese stuffed in tortillas with a drizzle of house-made sauce. Just add Indian beer for another BOGO offer of half off these two spicy tacos. www.tulsieatery.com
Cuatro – Mezcalero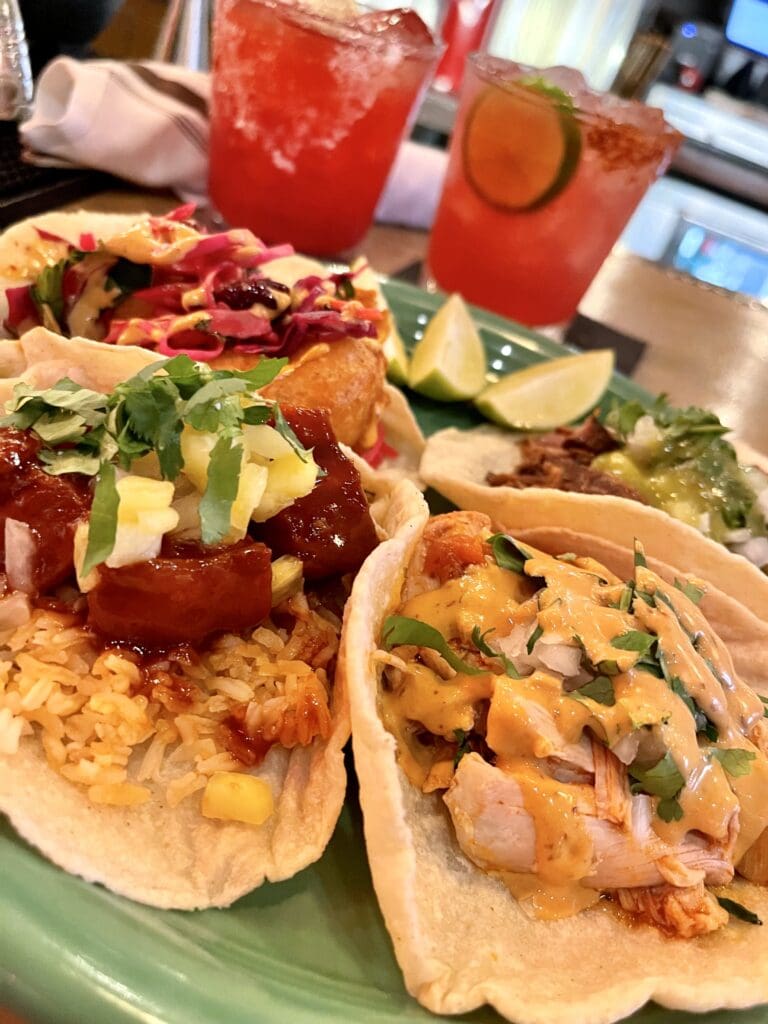 It's time to party like it's 1862 at Mezcalero on 5th and Broadway in the Historic Core. This Cinco de Mayo, patrons plan to reenact Mexico's victory over the French Empire into the wee morning hours, with a variety of $9 Margarita's made from some "berry" delicious blends of Tequila and Strawberry/Hibiscus, Blackberry, Blueberry and Papaya, among others.
Mezcalero is a Historic Core community favorite who've had plenty of time to perfect mezcal cocktails and Mexican inspired papas. Go for the tacos of Chicken Tinga, Beef Barbacoa and more varieties including Jackfruit; stay for Chef Leo's Mole Wings. www.Mezcalerodtla.com
Cinco – Sonoritas
At Sonoritas, real tacos are not fast food. Real tacos are full of the tender, juicy, rich flavor of a steak, cooked with at least as much care and dedication as a chef would put into any steak.

When it comes to a real fiesta, Sonoritas diners choose from corn or flour tortillas to hold deliciously prepared tacos full of grilled chicken topped with slices of avocado, pickled red onions and cilantro. And, of the few places that offer Al Pastor, taco lovers may enjoy the rotating display of soon to be sliced meat combining a Tijuana-style corn tortilla with marinated pork, spicy pineapple salsa, guacamole crema and onion.
This Cinco de Mayo Sonoritas is offering a flight of 6 Tequila shots for $9 to enhance the reality of South Park's most delicious taco revolution. www.sonoritastacos.com
Seis – El Granjero Cantina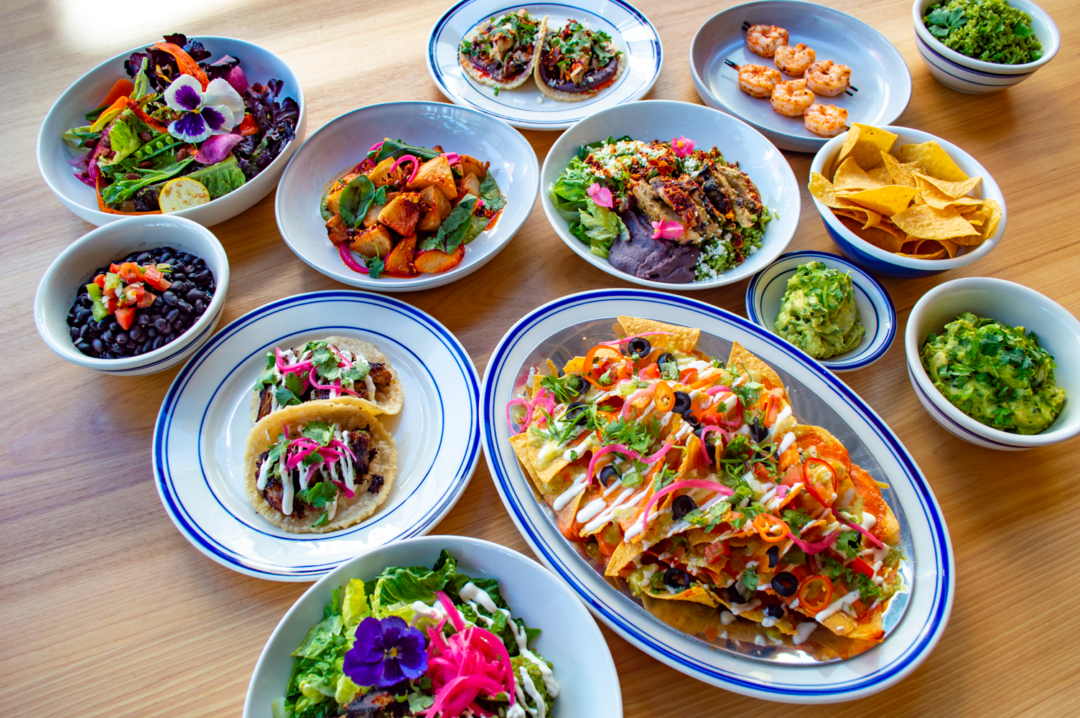 Looking to get out of DTLA for Cinco de Mayo? Grab your sombrero and get your tequila fix with live Mariachis at El Granjero Cantina in the Grove, at the Original Farmer's Market.
The party starts early from 10:00 am and goes until 8:00 pm promising tacos, Dorados, salads, burritos, and top shelf Margaritas, Sangria, specialty cocktails and more.
Executive Chef Jenni Sklar will feature three festive specials including "FRY-CHOS"made of fries, guajillo cheese sauce, black olives, pickled onions, salsa verde, pico de gallo and sour cream, Lobster Tacos with luscious crispy lobster, cabbage slaw, and spicy aioli, and Steak Tacos comprised of asada-style skirt steak, guacamole, corn salsa, Cotija cheese, and cilantro served with herb rice and beans.
To help relive the festivities following the Cinco de Mayo Battle of the Puebla victory, catch the Mariachis performing from 5:00 pm to 7:00. www.CantinaLA.com
Siete – RappBar!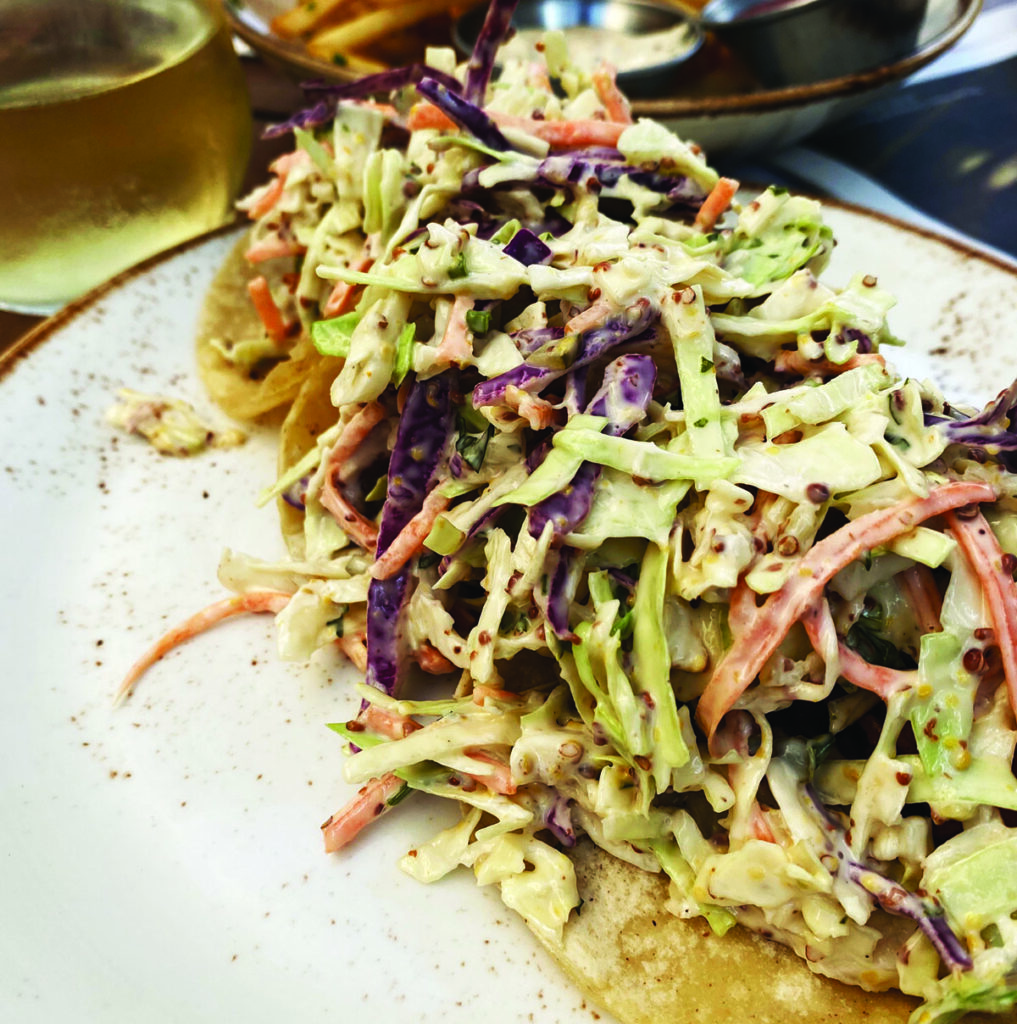 We've got five on it this Cinco de Mayo at Rappahannock Oyster Bar in the Warehouse District. That's $5 tequila shots, $5 Oyster Shooters, $5 Tecates, $5 Tacos de Ceviche and Dos Tacos de Camerons for $5 as well. That's two shrimp tacos for $5 for all you English speaking hombres.
Chef Wilson Santos may be outnumbered by oysters, shucking anywhere from 200 to 700 oysters a day, but the only thing he's giving up is fresh seafood deliciousness for the win.
www.RappBarDTLA.com
Ocho – Little Llama
Little Llama Peruvian Tacos may be new to the Old Bank District, but its creators Chef Jean Valcarcel and Co-Founder Angela Wagner are long-time DTLA culinary enthusiasts who have been wowing us with their one-of-kind dining experiences for almost a decade.
In 2012, inspired by the sophistication of DTLA's golden age, the pair launched Re Creo Supper Club, a DTLA-based pop-up supper club. It became known for fine dining experiences staged on rooftops and in lofts, warehouses, and art galleries throughout the city.
In 2016, the duo conceived Little Llama as a pop-up concept at the weekly Arts District foodie haven known as "Smorgasburg LA". When the cold chill of Covid forced the event to close, they turned 100% of their energy to their first brick-and-mortar location.
Now open at 222 S. Main Street, they're earning rave reviews for their signature Lomo Saltado Taco, a soul-warming combination of Angus steak marinated in garlic and ginger, crispy Yukon gold potatoes, Huacatay aioli, and tomato escabeche. @littlellamatacos
Nueve – Downtown Taco
When Angel City Brewery reopened they made sure to bring back Downtown Taco, the mobile kitchen attached to the side of the Brewery that serves a selection of delicious tacos inspired by the flavors of Oaxaca Mexico.
Downtown Taco sets themselves apart with their freshly hand-pressed, organic tortillas cooked to order over a very hot grill. Inside the tiny space of the mobile kitchen, the Chef keeps his choices of grilled meats and eclectic toppings within arms reach.
Our favorite??? The Mesquite filled flavor of the Chorizo Taco with spicy Spanish pork sausage and pineapples and a side of vegan cheese roles. Sure, it's contradicting. But, it's the balance between good and evil that just does it for us.
Follow @downtowntaco for up-to-date locations.
Diez – Sonoratown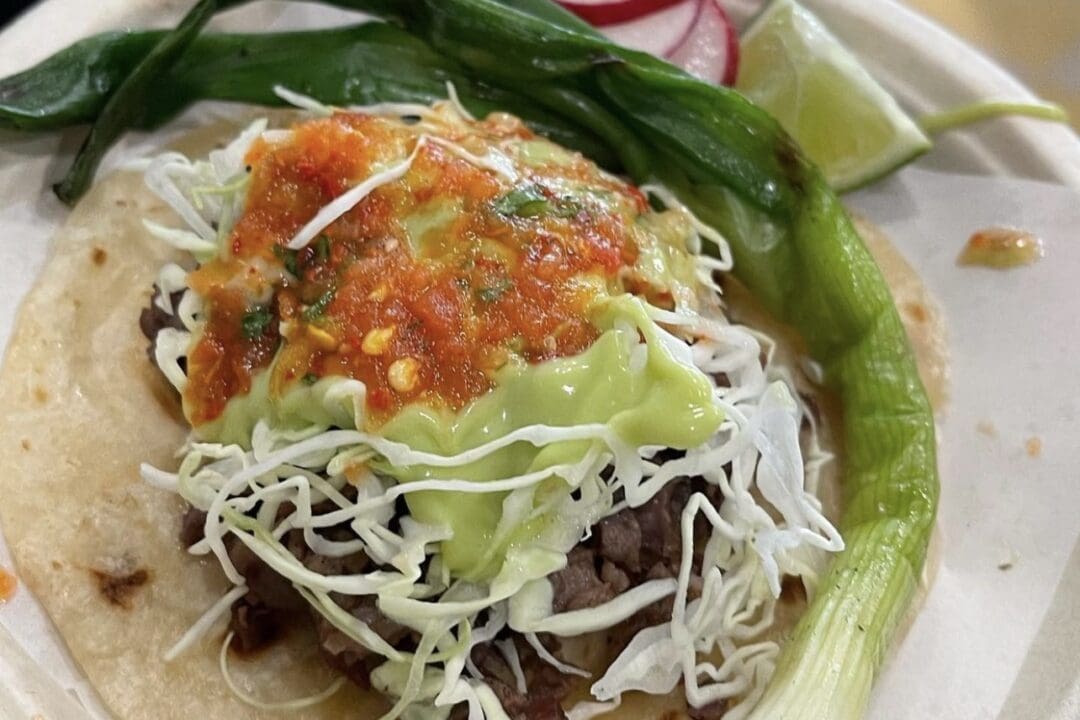 No list of DTLA Taco treasures would be complete without Fashion District's roaring favorite, Sonoratown. Here's a true taco success story. Owners Teodoro Diaz-Rodriguez, Jr. and Jennifer Feltham decided to serve tacos in the style of San Luis Río Colorado, Sonora—a part of Northern Mexico known for having the most delicious carne asada—cooked over mesquite wood fire—and also for truly excellent handmade flour tortillas.
This proved to be a great idea.
Visit Sonoratown on any given day, you can expect a line of overly-anxious customers (literally dancing in their seats) ready to enjoy their delicious tacos, burritos and chimichangas along with canned brews, filled dining area and outdoor patio, and one extremely busy kitchen.
Memorial Day will bring the Grand Opening of a second location for Sonoratown located in MidCity. www.sonoratown.com