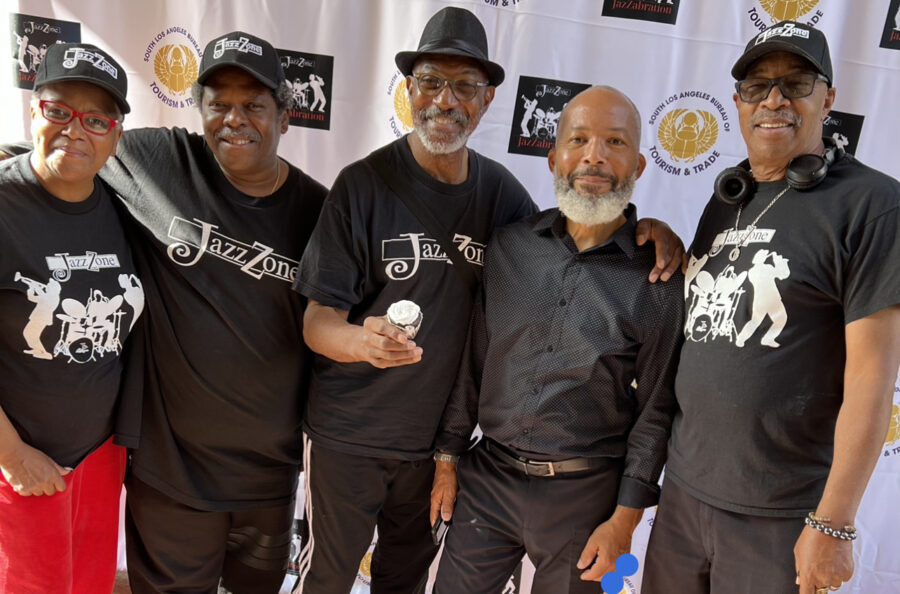 With Jazz in the Sky, legends of Jazz are invited to perform inside or atop of LA's most luxurious commercial high rises, private clubs and apartment houses.
Linda Sam is a member of the Leimert Park Jazz and Blues Society, and the founder of Jazzabration, a nonprofit organization whose mission has been preserving the legacies of Jazz and Blues Legends since 2010.
As the African proverb says, "…if you want to go far, go together."
Shortly after the formation of the non profit, Linda caught the eye of a fellow Jazz ensemble booker Roscoe Lee Owens who had long founded JazzZone, Inc, in tribute to his late father, Legendary Jazz drummer, Jimmy Owens.
After years spent producing numerous Jazz shows throughout Los Angeles, the two would eventually co-found a series of nonprofit events and organizations together including Jazz in the Sky, An Elevated Jazz Experience, featuring Jazz legends from around the world.
Despite showcasing hundreds of local musicians over the course of two decades, Linda perceives the current state of Jazz in the Sky and her work over the years as simply scratching the surface. It is her goal to take the movement national.
In Linda's words, "This is our passion and we want the world to know that this work needs to be supported not only in attendance but also through sponsorships and collaborations".
The Return of Jazz in the Sky
This weekend, the jazzy duo will be hosting their 16th Jazz in the Sky performance at the prestigious City Club in the Finance District.
Fifty-one stories high, views from the City Club are most impressive. The Los Angeles Social club is rich in diversity, networking opportunities and caters to some of the most passionate professionals in the City.
Jazz in the Sky will return to the City Club, July 30th, adding an A-list of talented performers, with honorees accepting awards during the event.
Honorees include Luther Hughes, Stuart Elster and Jerrell Ballard.
Bassist Luther Hughes has played with some of the biggest names in Jazz in a career spanning over 40 years. He has performed or recorded with Jazz Legends such as Gene Harris, Mundell Lowe, Joe Henderson and many more.
Stuart Elster is a professional pianist based in the Los Angeles area. Elster has performed and/or recorded with various pop, R&B, Blues and Jazz artists. He has also released award winning Jazz recordings. In addition to playing piano, Elster also works as a musical director in a plethora of local clubs.
Jerrell Ballard is one of LA's finest drummers. He has played with many recording artists such as The Temptations, The DeFranco Family, Linda Hopkins and The Marvelettes.
A celebration of Jazz culture in Los Angeles, Musical Director Charles Small and band will accompany Lettrice Lawrence and Marva Smith as they will be singing tributes to the late great Barbara Morrison.
Apart from soul moving Jazz performances, the event will also feature a catered buffet. For those who appreciate the historically black genre, Jazz & Blues this will surely be an event to attend. RSVP required at Www.jazzinthesky.org