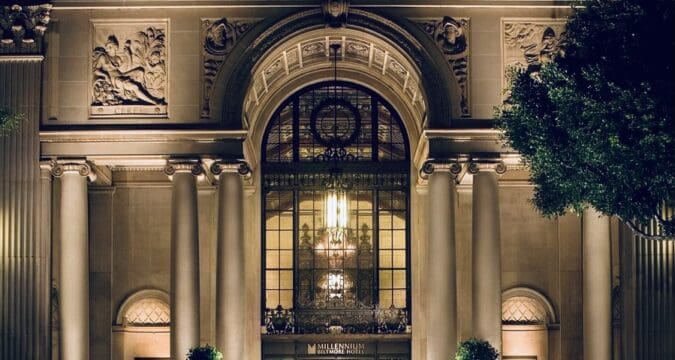 As the oldest part of Los Angeles, it's not surprising that downtown has many stories of murder and mayhem. There are plenty of ghost stories too, and, believe it or not, many of them have their origins in real reports from the dusty archives of the L.A. newspapers.
For Halloween, the DT Weekly decided to dig up a few…
506 S. Grand Ave
The Biltmore hosted the first few Oscar ceremonies and is decorated with angels, but the swirl of glittering chandeliers and afternoon tea can be misleading.
In early 1947 this was the last place – officially – that Elizabeth Short was seen before she became forever known as the Black Dahlia. The Gallery Bar's cocktail of vodka, Chambord black raspberry liqueur, and Kahlua, was created in her honor, and there's a picture of her in their Historic Corridor too.
Sign up to receive our popular Get2DTLA Newsletter!
In 1984 the Biltmore did duty as the "Sedgwick Hotel" when ghostbusters Ray (Dan Ackroyd), Peter (Bill Murray) and Egon (Harold Ramis) captured their first "Slimer", but real guests over the years have pointed out the ghosts of two kids, a boy and a girl, running across the – usually closed – balcony in the Crystal Ballroom, and a man in an Abraham Lincoln-style stove pipe hat has been seen in the corners of the Tiffany Room.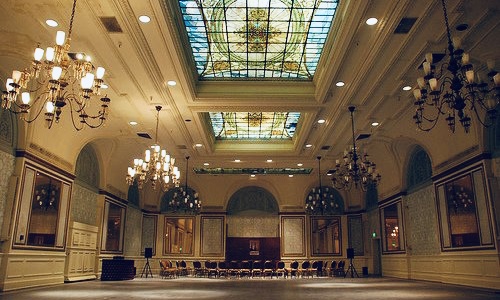 Alexandria Hotel – 501 S. Spring St
Opened in 1906 as the most luxurious hotel in town, "the Alex" was home to Fred Astaire, Sarah Bernhardt, Humphrey Bogart, Charlie Chaplin, Joan Crawford, Clark Gable, Greta Garbo, Vivien Leigh, Mae West, and many others.
Two men fell to their deaths during its construction, and it has some supernatural residents too, including a woman dressed in black who glides along the corridors, and a mysterious young female who dances in the Palm Court.
It's also the place where some people many checked out for good. In 1922 the Los Angeles Examiner declared "Ghost Woman Sought" when Oregon man Vaden Boge drunk cyanide in his coffee, and gasped that his wife was the poisoner. Police combed the city, but it emerged that there was no Mrs. Boge. The unhappy fake husband had created an elaborate hoax suicide, and, as the next day's headline read, "Had Feasted To Death Alone."
Outside, check out the fierce dragon statues and the grey, dusty windows of the "Ghost Wing," an annex of the hotel that was sealed off, and has been unoccupied for over 80 years…
Bradbury Building– 304 S. Broadway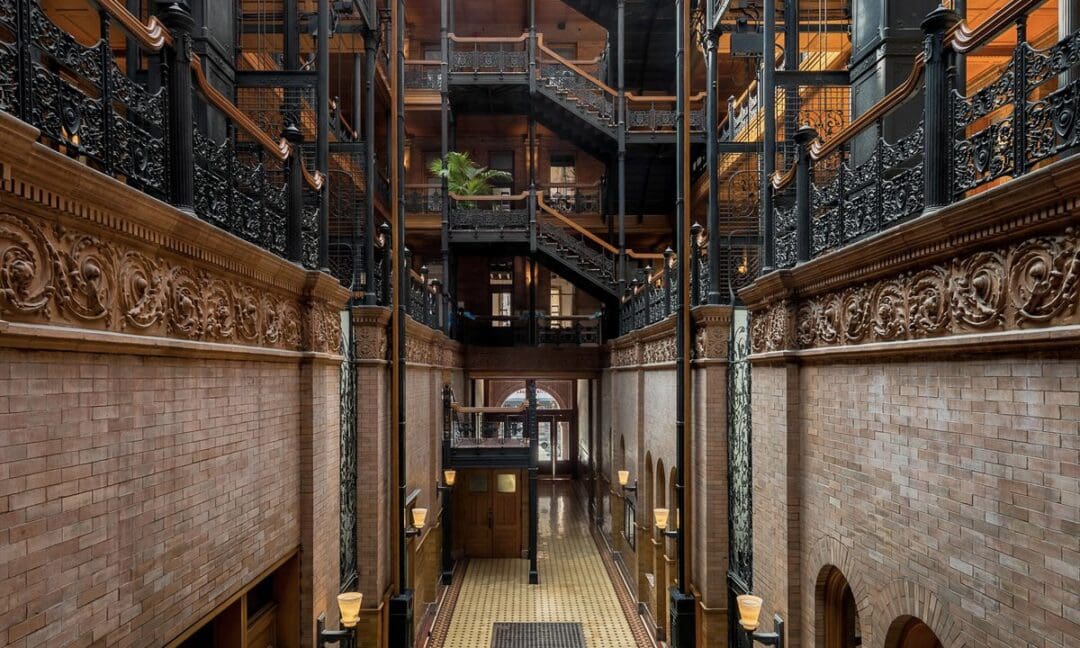 Rookie craftsman George Wyman was unsure about his first assignment, so he contacted his dead brother Mark through a device similar to a Ouija board. Spiritualism was popular at the time, and when he supposedly received the message "take the / Bradbury building / and you will be / successful," he went ahead with the $500,000 project.
The building opened in 1893, and in 1908 the head janitor was searching for his assistant, Carl King. Last seen on the third floor, he seemed to have disappeared into thin air – and on payday, no less. Tragically, he was many found many hours later at the bottom of the freight elevator shaft, "his skull crushed and many bones broken," the victim of a tragic accident.
Fine Arts Building – 811 W. 7th St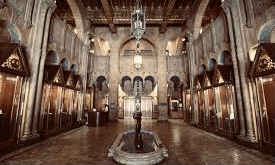 You'll spot spooky gargoyles and griffins on the outside of this Romanesque Revival building, which opened in 1926.
Inside is a bronze fountain sculpted by Burt William Johnson, who used his three-year-old daughter Cynthia Mae and his five-year-old son Harvey as models. Sadly, Johnson, who suffered from heart troubles throughout his life, died before the building was finished.
However, the ghost of an older man has been seen in the building, and a contractor reportedly once heard the giggle of a little girl. Staff and tenants have said they it's Johnson and daughter Cynthia, trying to reunite in the building he created.
Later, in 1967, two secretaries who worked at a brokerage officer here were found dead in Florida. After stealing a fortune in securities, they both left L.A. – and then unwisely got involved with infamous jewel thief Jack "Murph the Surf" Murphy…
The Cecil Hotel – 640 S. Main St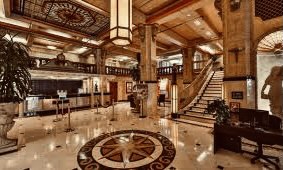 Infamously, this is the place where Canadian student Elisa Lam was found dead in the water tank in 2013, a tragedy that launched TV shows and countless conspiracy theories.
Thought some hotels might deny it, every one of them has story or two of suicide, and even an occasional murder – but the Cecil is where nearly 40 people have committed suicide, there have been several murders, a stalker, arsonist, and not one but two serial killers, including "Night Stalker" Richard Ramirez, stayed (and killed) while in residence. Want some bad dreams? Look up the history of the 98-year-old Cecil (now called Stay on Main) if you dare.