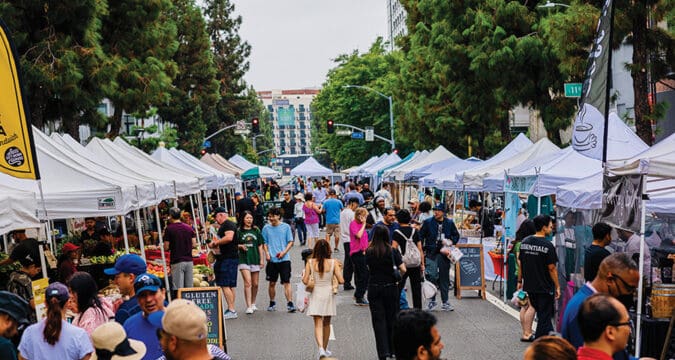 Much like the legendary beanstalk that grew overnight, the South Park Farmers' Market has rapidly transformed into a flourishing hub for the community.
Every Saturday, from 9 am to 2 pm, you can find this vibrant market on Grand Ave. between 11th Street and Olympic Blvd., offering the community of DTLA a delightful array of locally grown produce, free-range meat, artisanal foods, handmade crafts, and the soothing sounds of acoustic music.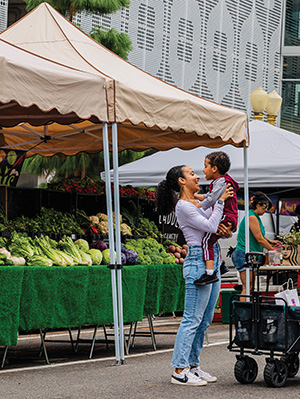 In just a little over a month, South Park can now boast hosting one of DTLA's most successful farmers' markets to date. This flourishing market, set against the backdrop of high-rise lofts, owes its existence to the nurturing support of the South Park Business Improvement District (SPBID).
Rich Sarian, SPBID's Partnerships & Programs Manager, when interviewed by DTLA Weekly, shared that the idea for a farmers' market in South Park was a seed already planted in the back of everyone's minds. All that was left to do was feed and water it with the right collaborative partner to help reap the rewards.
Although it proved to be a more challenging task than expected, South Park eventually found the perfect collaboration with Farm Habit.
Farm Habit, formerly known as Farmer Mark, brings a wealth of experience to the South Park Farmers' Market.
With over fourteen years of market operation under their belt, Farm Habit understands the importance of local, sustainable agriculture. As Mark Anderson, Founder of Farm Habit, puts it, "Farmers' markets are the new town squares. This is where neighbors still bump into one another—in person." In a world where digital interactions often overshadow face-to-face encounters, the South Park Farmers' Market aims to rekindle the joy of community and connection.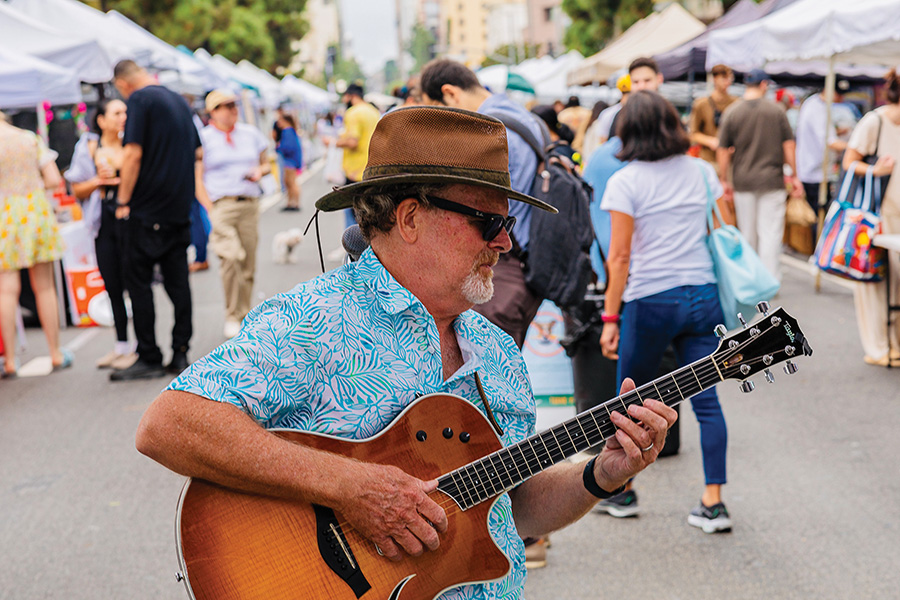 The South Park neighborhood, known for landmarks like the Crypto.com Arena and the Los Angeles Convention Center, has undergone a transformation in recent years. It has evolved into a desirable residential district, and the addition of the South Park Farmers' Market only enhances its appeal.
According to Nolan A. Marshall III, Executive Director of the South Park BID, "South Park is home to cultural institutions like the Belasco Theater and Grammy Museum, and championship teams like the Lakers and Kings. Only in South Park do we get to see LeBron play, host the BET Awards and the world's largest Anime expo, and close a main street every weekend just so that we can pick up our artisanal cheese, grab some fresh fruit, buy a new candle, eat some Egyptian street food, or take home a muffuletta and jambalaya. This farmers' market has the potential to be special just by being authentic to the identity of this diverse neighborhood."
The benefits of supporting local farmers and markets like this one are numerous: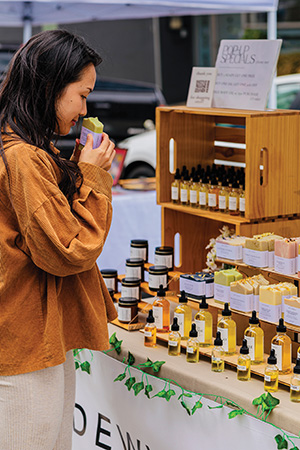 Nutrient-Rich Produce: Vegetables grown in healthy soil, allowed to ripen naturally, are more nutritious and flavorful than those harvested prematurely and transported long distances.
Environmental Impact: Small farms prioritize crop diversity, reducing the need for harmful pesticides and fertilizers. Additionally, buying locally translates to fewer carbon emissions from transportation.
Health and Wellness: Eating fresh, locally sourced food is essential for good health, and now everyone can have access to such options in South Park.
Community Empowerment: Every purchase at the farmers' market is a vote for a sustainable, community-focused community in DTLA.
Another vital figure in this growing endeavor is Aubrey Yarbrough, Director of Community Outreach at Farm Habit, who is just as excited about the South Park Farmers' Market. She emphasizes that the market will feature a diverse array of farmers, food vendors, and artisans.
Visitors can look forward to locally grown fruits and vegetables, fresh fish, delectable French pastries, Southern gumbo, tamales, local cheese, and free-range meat. Rain or shine, the market will be open every Saturday from 9 am to 2 pm. Those interested in participating should complete the online application thoroughly to secure a spot.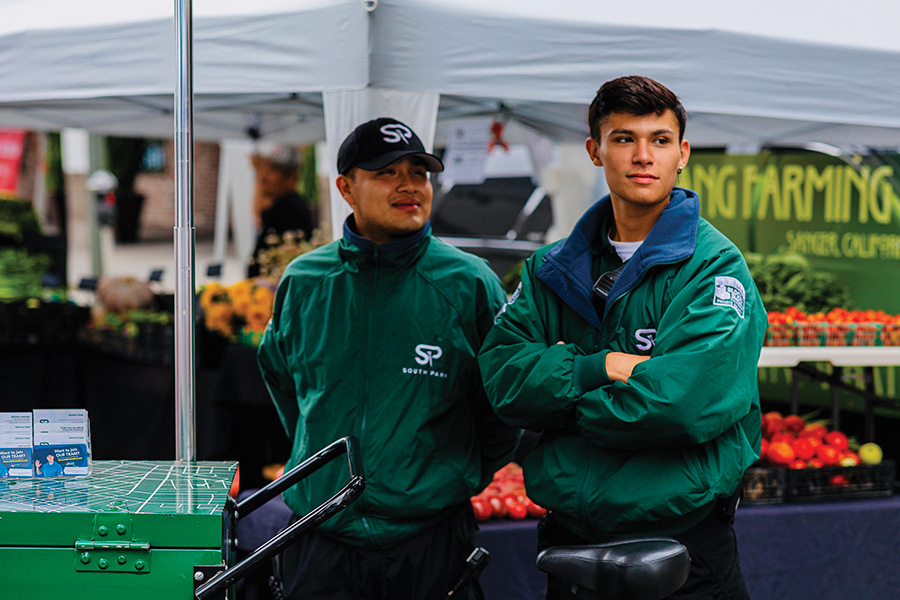 The South Park Farmers' Market is more than just a place to find food; it's a hub for building community and making environmentally conscious choices. Following the belief shared by numerous urban planners, is South Park BID's new Executive Director, Nolan A. Marshall III, who joins the list of growing city planners who advocate for cities that prioritize people over cars. According to Marshall, the market is dedicated to creating a denser, more walkable environment within its confines.
Marshall brings with him a lifetime heading Business Development Districts from New Orleans to Canada, and now, as head of The South Park BID, wants to reshape its mission beyond just clean and safe programs, to provide DTLA with an authentically vibrant neighborhood, where people want to live, invest in local businesses, and celebrate community.
Not only is South Park Farmers' Market a part of this exciting new chapter, it marks another fresh new beginning for DTLA. www.southparkla.com
***photos by Shawn Smith