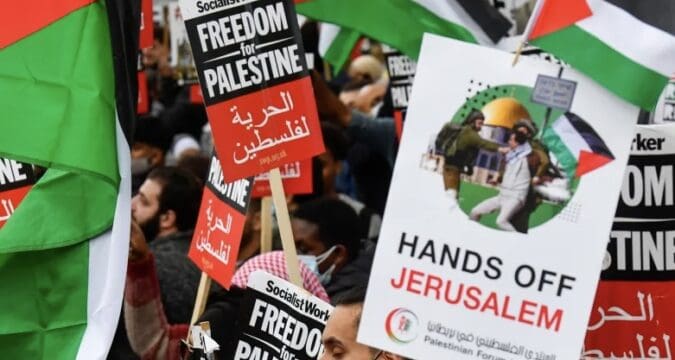 The sun soaked day couldn't have shown a brighter light on the sentiments of thousands of protestor united to protest in support of the Palestinian people.
The rally, held on October 21, 2023, occupying Downtown from Pershing Square to City Hall was meant to send a strong message advocating for an end to the Israeli occupation and the ongoing conflict in the Middle East.
The event, organized by various community groups, attracted a diverse and passionate crowd that included individuals from different ethnicities, religions, and ages chanting slogans and holding signs, as protesters passionately expressed their solidarity with the Palestinian people.
The signs carried messages like "End Israeli Apartheid," "Justice for Palestine," and "Stop the Occupation." The protest was part of a larger movement taking place across the United States, where similar rallies aimed to raise awareness and call for justice.
Yet, as the protestors marched through the streets of the city, war was still raging in Gaza.
While hospitals overfilled, packed with the wounded, the dead, and the unbearable cries for lost loved ones, the United Nations, US, China, Israel and a league of Arab Nations continued packing the Middle East with military force, humanitarian aid, protestors and more and more money in strategic locations.
Speakers at the rally shared emotional stories, highlighting the impact of the ongoing conflict on Palestinian families. They spoke of the need for a just resolution, emphasizing the importance of international support to end the Israeli occupation.
While the demonstration was largely peaceful, the Los Angeles Police Department (LAPD) had to manage the traffic and ensure the safety of both protesters and the general public. Intermittent road closures on side streets were required to allow pedestrians to cross safely.
Unlike the protest held in previous weeks involving counter-protesters, police interaction and pepper-spray assaults, Downtown streets used to hosting such rallies, showcased the complex nature of the Israeli-Palestinian conflict and the varying opinions within the Los Angeles community as peacefully as possible with passionate voices and diverse participation highlighting a growing global interest in finding a just and speedy resolution to the now centuries old middle-eastern conflict.