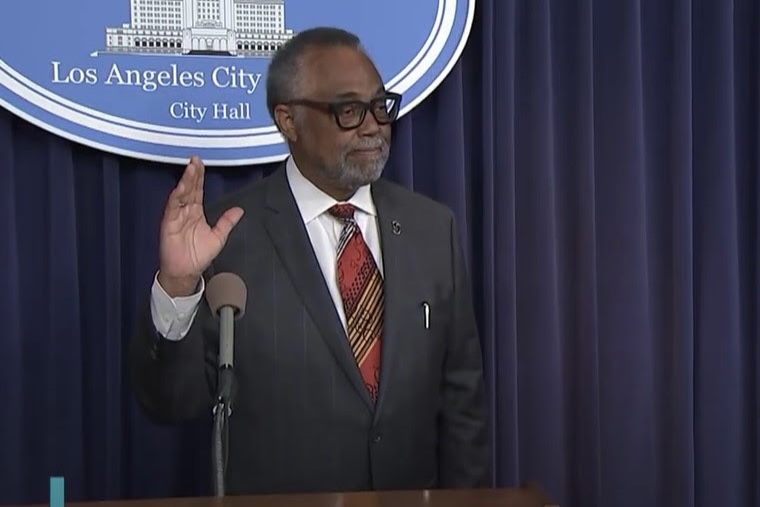 Councilmember Curren Price Jr. of CD 9 has been sworn in as President Pro Tempore of the Los Angeles City Council.
The 71-year-old Councilmember represents Council District 9 covering areas in South Park, USC and parts of South Central.
Since his beginning days on the LA City Council, Price has been on the job overseeing areas of tremendous growth in his district including job training and retention, business expansion, land use and public facilities, police protection, consumer retail, housing, and transportation.
Elected to the City Council in 2013, Price now chairs the Economic Development and Jobs Committee, adding to his political Repertoire of good deeds spanning the course of four decades.
Before being elected to LA City Council in 2013, Councilmember Price served on the California State Assembly and Senate, chairing the Assembly's Committee on Elections and Redistricting and Committee on Governmental Organization, and the Senate's Business and Professions Committee. He was also chair of the California Legislative Black Caucus in 2010.
Like many Council members, President Price has done his due diligence with a solid track record and kept up his reputation as a positive entity in-line with the needs of the people.
Now facing his third term as Councilmemeber for his district, branded as The New Ninth, Price has overseen the rise of Banc of California Stadium, Metro Expo Line, and USC Village.
Born and raised in Los Angeles, Price was head of his class earning a Scholarship and Bachelor's in Political Science from Stanford University followed by a Juris Doctor degree from the University of Santa Clara, School of Law. Once a strong candidate for Mayor of Inglewood, there probably isn't a more reliable or likable city official than President Curren Price. Known to the majority of Angelenos as a friendly, caring and highly competent commodity, working hard for the City of Los Angeles.
Now second in command, President Curren Price will serve as the next president pro tempore of the Los Angeles City Council, after his colleagues voted 11-0 to appoint him to the post.
Councilman Mitch O'Farrell briefly held the position said this of Price.
"Whether any of us sit in this chair or around the horseshoe, we are all public servants…Curren is a dedicated and very capable leader. I feel it's important that Curren have the opportunity to serve as pro tem. He'll do a terrific job."
Fellow Councilmember Monica Rodriguez, was quoted saying, "I look forward to working with the new Council President and the rest of my colleagues as we work to help our City heal, restore public confidence and bring honor back to City Hall."
President Price stated,
"Over the years, we have come together as one body with one goal: to lift all Angelenos up and leave no one behind. I will continue to lead the charge on progressive priorities that will benefit the entire City. Together, we will forge ahead with pathways to prosperity by advancing racial equality and economic opportunity for all."
We've got some difficult days ahead but as one of my heroes, Rev. Dr. Martin Luther King, Jr. said, "We must accept finite disappointment, but never lose infinite hope."
On Tuesday, Nov. 1 at Banc of California stadium where Councilmember Price will be sworn in for a third and final term to the Los Angeles City Council. The public is encouraged to attend the festivities which will consist of live entertainment and refreshments.

The City Council is the governing body of the City, that enacts ordinances subject to the approval or veto of the Mayor. It orders elections, levies taxes, authorizes public improvements, approves contracts, and adopts traffic regulations. The Council adopts or modifies the budget proposed by the Mayor and provides the necessary funds, equipment, and supplies for the budgetary departments. The Council also confirms or rejects appointments proposed by the Mayor and prescribes duties of boards and officers not defined by Charter.