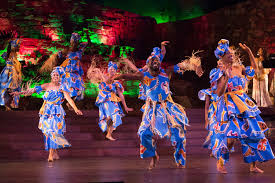 Downtown Los Angeles is pulsating with excitement as Grand Performances now heading into its second month of sensational performances, vibrant music, and captivating poetry to the heart of the city.

June kicked off the season at California Plaza on Bunker Hill with a bang, exploding with the high energy of cumbia punk marimba rockers Son Rompe Pera electrified the stage, alongside performances by La Verdad and La Papaya Club.

The following week brought The COLA Artist Fellows partnering with the City of Los Angeles Department of Cultural Affairs to deliver a night of artistic brilliance.

Iranian musician and political activist Shahin Najafi captivated audiences with his powerful performance, presented by the Farhang Foundation.

And the groundbreaking West African kora master Sona Jobarteh showcased her extraordinary talent, accompanied by Nubian Sound Group ft. Dexter Story and DJ Passionfruit.
Moving into July, Grand Performances shows no signs of slowing down as the summertime venue makes way for more exhilarating weekends filled with incredible talent and diverse sounds.

July 8: Viver Brasil and DJ Muñeka – Be prepared to immerse yourself in the infectious beats and energy of Viver Brasil and DJ Muñeka as they take the stage and create an electrifying atmosphere.
July 15: Jazz is Dead presents Garrett Saracho – Rediscover the magic of Chicano jazz pioneer Garrett Saracho as he delivers a captivating performance, presented by Jazz is Dead.
July 22: KCRW Summer Nights – Prepare for a magical night of performances curated by KCRW, featuring a lineup of talented artists who will leave you spellbound.
July 29: Martha Redbone – Experience the unique blend of folk, blues, and gospel as Martha Redbone graces the stage and captivates the audience with her soul-stirring music.
Grand Performances' Legacy: Grand Performances has a proud history of showcasing exceptional artists. Since its inception in 1986, it has brought legendary performers to the stage, including the likes of Stevie Wonder, Ozomatli, Kamasi Washington, Seun Kuti, Madame Gandhi, Ana Tijoux, Soulection, Aloe Blacc, Angelique Kidjo, and many more. The stage has become a platform for renowned talents, leaving audiences in awe of their remarkable artistry.
All Grand Performances events are free and open to all ages, ensuring that everyone can partake in these captivating experiences. The California Plaza, located at 350 S Grand Ave. on Bunker Hill, serves as the vibrant backdrop for these extraordinary performances. The events typically take place from 6 pm to 10 pm unless otherwise noted. It's always advisable to check the schedule for specific start times and any updates.