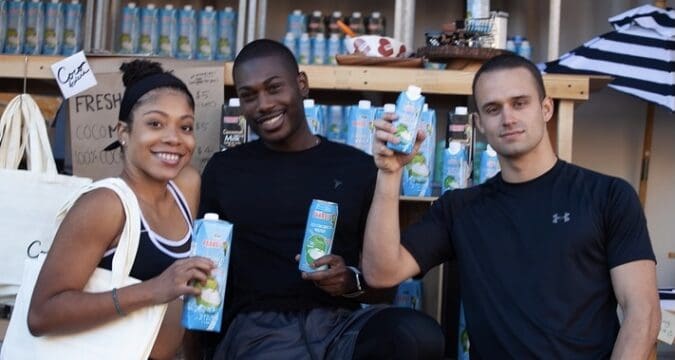 In the heart of the Arts District, located between a local candle shop, RXLA, and a concierge medical start-up, Ready Responders, there is a brand new store in town called Cocodealers, your friendly neighborhood coconut shop. From the same people behind the beloved Parrot products and juices, comes a brand that exclusively focuses on high-quality, natural coconut products, including the product that started it all, non-GMO 100% Parrot coconut water. No preservatives. No additives. It even comes in recyclable paper packaging. "I think you can have a very exciting and complicated life, but the foods that you eat should always be simple," says Julie, the founder and general manager of Cocodealers.

On the menu, Cocodealers offers Parrot coconut water, Parrot coconut milk, fresh coconuts (weekends only), all of which can be pre-ordered on the Cocodealers' website and picked-up or delivered if you live in DTLA. If you're in the area, you can stop by in the afternoon to get your daily coco fix. The Cocodealers will gladly open the coconut for you and show you how to do it at home. For those that are eager to do it themselves, Julie laughs, "of course you can do it yourself, but wielding a big old knife is risky, get a kit from Amazon, make life easy on yourself."

The most fascinating aspect about Cocodealers is the variety of coconut related products. The fresh coconuts offered are from Mexico, available on weekends only. These coconuts are hand-selected to be the freshest possible and never frozen. To put this in perspective, most retailers offer shaved coconuts from Southeast Asia which are prepackaged in plastic and kept in freezers for months at a time before being displayed in the markets. While that doesn't mean the coconuts are bad, it's always best to get the freshest possible, which is something that the Cocodealers are extremely passionate about. Pro tip: When choosing a coconut, shake it, a fresh young coconut should have lots of water inside. Also, look for browning around the "eyes", pick one that is clean without bruising.

Come Spring, the Cocodealers will be expanding their product line to potentially include coconuts from all over the world, as well as packaged goods like coconut oil and coconut toothpaste. "There's so much you can do with coconuts," says Julie, "there's something made from every part of it and it should play a bigger role in our mission to be part of a sustainable economy. It's always fun to talk to our customers about the many different ways to coco."

One of the most unexpected products to launch in spring is the reusable coco bowl. This bowl is made from the shell of the coconut and brings the coco cycle full circle, using all parts of the coconut for the ultimate eco-friendly coconut shop.

Cocodealers is located at 1308 Factory Place and is open to the public Monday through Saturday, 1:30PM to 5:30PM. As their slogan goes, Get the Good Coco!