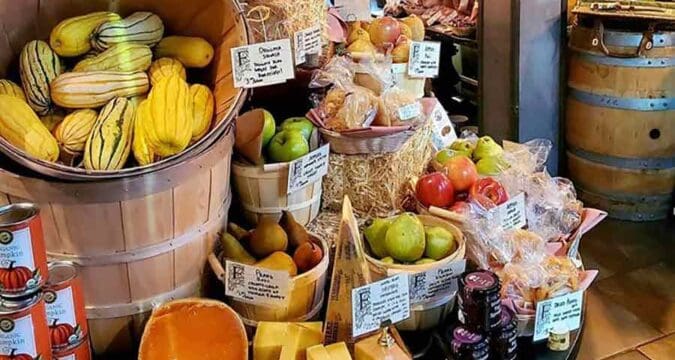 New specialty market Fable brings the neighborhood together with an impressive aesthetic and even more impressive menu.
From the owners of The Burrow come their latest adventure Fable. The specialty market/restaurant is making waves in Downtown Los Angeles.
Located just a few feet away from The Burrow, Fable is a hybrid between specialty cheese market, coffee shop, bar, and restaurant. If that sounds confusing, rest assured it's not. Their flawless aesthetic paired with mouthwatering food, delicious drinks and friendly staff makes Fable a unique, must-try spot.
Downtown Weekly was fortunate enough to speak with one of the co-owners Taylor Brown on the origin of Fable.
Taylor met his business partners Curtis McDonald and Nathan Blanco while working as a general manager in San Fransisco. When they got word of a spot opening up in Los Angeles, the three visited and fell in love with Downtown's artsy vibe and strong sense of community. They took the plunge and opened The Burrow.
That was two years ago. The success of Burrow prompted them to open Fable, which is more of a casual daytime spot just a few steps away.
"It's a different feel than other cheese shops," Taylor says when talking about what sets Fable apart from other specialty markets or restaurants. "People could go to Ralphs, they could go to Smart and Final or Whole Foods but that's more pandemonium."
"It's really the neighborhood feel," Taylor continues. "We know most of our regular customers. People come in once a day…they get the same coffee, same sandwich. Fable has given us an opportunity to do what we couldn't at The Burrow because (the kitchen) was so small and limited. Now we have a huge kitchen and all of this space so we're trying to recreate something that wasn't here before."
That they did. The trio's diverse background and skill set makes for a killer combination. Nathan, who designed both the Burrow and Fable, has a background with fine cheeses and Curtis is a classically trained pastry chef. That plus Taylor's experience as a general manager creates a unique, memorable restaurant experience.
Taylor's favorite thing on the menu? He says that's a tough choice. "The sausage egg and biscuit breakfast sandwich is phenomenal," he says. "We have a burger now that's really, really good. We also have hamón ibérico – supposedly the best ham in the world according to the Spanish. It has almost a cult following in Europe. We have a great Rosé that everyone has agreed is the best. It's called Carpenter."
Another knockout is their lavender-infused goat cheese called Purple Haze. If you're a pastry fan, you'll be pleased to know each delicious pastry is baked in-house. Coffee fanatics will be happy to learn they stock Stumptown and offer imaginative specialty drinks such as a Salted Burbon Caramel Latte or a Pistachio White Chocolate Mocha.
Of course, launching a new business during Covid can be stressful. But Taylor tells other restaurant owners to stick with it. "It's a trying time for everybody but it's going to improve." In a time when it's nearly impossible to feel a sense of community, Fable is doing its best to bring people (safely) together – even if it's just for a coffee on their outdoor patio.
Come check them out! Autumn is harvest time at Fable offering favorites from the Northern Hemisphere to DTLA and beyond. They're open from 8am-8pm every day and are located at 819 Flower Street.