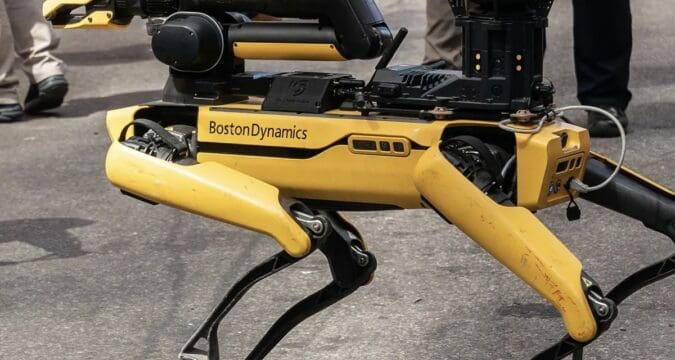 Get ready for some robot ruckus! On Tuesday, a protest is set to shake up the Los Angeles City Council's discussion on whether to fetch themselves a fancy "Quadruped Unmanned Ground Vehicle" (QUGV) or Robot Surveillance Dog for Metro's SWAT team. This decision has unleashed a howling debate, with folks barking about its crime-fighting prowess and the potential pitfalls involved.
The City's first robotic surveillance dog would costs $277K and would be donated through the Police Foundation, a wealthy group of law enforcement supporters who work with LAPD to secure funding quickly. Communities across Los Angeles are calling on the Los Angeles City Council to vote down LAPD's proposal to acquire a dog-like military robot. The City Council will be discussing this robot dog and potentially voting on it Tuesday, May 23rd at 10am.
Some in the Los Angeles community however are not amused. Those including an organization mobilizing the protest, called Stop Police Spying are demanding that the City Council roll over and play dead on LAPD's proposal. They're not impressed with the idea of "dogging" the budget, as costs for training, overtime, data storage, and management start to chase their tails. And let's not forget the dreaded mission creep—once these robot dogs are welcomed in, who knows how many more they'll invite? The City Council might soon find themselves buried under a pile of pricey pooches!
Now, here's where it gets a bit ruff. Turns out, this specific robot dog, known as SPOT, wasn't even originally designed for police work. It's more accustomed to prowling around warehouses and manufacturing sites, sniffing out routine routes and repetitive tasks. But hey, who needs experience when you've got a manual warning that untrained folks might end up in the doghouse—or worse?
Oh, and let's not overlook the potential hot spots where these popo-pooches will be deployed. Critics howl that they'll end up disproportionately targeting already under-resourced neighborhoods, wagging their tails in areas that have seen more than their fair share of police presence.
The LAPD thinks they're barking up the right tree, with Chief Moore and Deputy Chief Kawasaki calling SPOT "the future of policing."
Keeping us on our paws with innovative technology they've got crime stoppers intrigued once again and ready to embrace the cutting-edge technology in support of these not so furry, metal friends. Just like those facial recognition drones and body cameras that started as trials and eventually became indispensable tools for law enforcement, robo-mutt has the potential to become LA's newest four-legged partner in crime-fighting.
Labeled conspiracy, critics question the implications of a dog-eat-man world where machines call the shots, while the rest of us are left scratching our heads.
In the midst of this canine chaos, it's essential to reflect on the bigger picture. The protests serve as a reminder that introducing newfangled technologies into law enforcement should be a thoughtful and calculated process. Cities need to consider the concerns of the community, avoid burying the budget under a pile of costly contraptions, and ensure their not trading our humanity for a shiny metal tail-waggers.
So, as the City Council weighs this woof-worthy decision, opponents hope they listen to the howls of the people and avoid falling into the doghouse. After all, when it comes to the future of policing, we shouldn't be chasing our tails—we should be wagging our way toward safer, more inclusive streets.