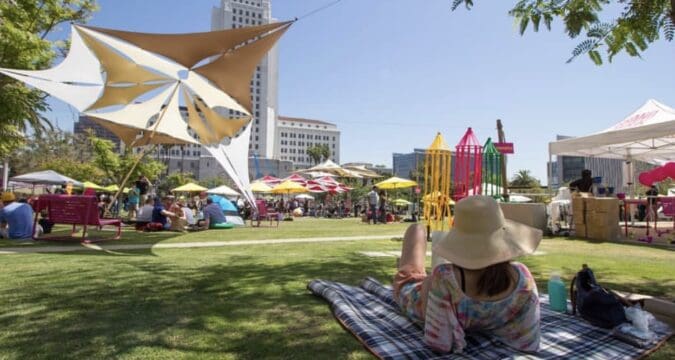 Gloria Molina Grand Park, powered by The Music Center, has unveiled its exciting lineup of spring and summer events in Downtown L.A., cementing its position as a premier outdoor destination for thrilling and free family-friendly activities.

According to Rachel S. Moore, CEO and president of The Music Center, "Grand Park is a vibrant outdoor space located in the heart of Downtown L.A.'s cultural and civic center where Angelenos come to be themselves and connect with each other." She encourages everyone to rediscover Grand Park and the unique energy and fun that can only be experienced in Downtown L.A.
From the delightful Easy Mornings to the mesmerizing global house music rhythms of Sunday Sessions, Grand Park offers an array of unforgettable events suitable for all ages and identities. Moreover, participants can enjoy these family-friendly experiences without straining their wallets since all of Grand Park's events are free.
Julia Diamond, director of Grand Park, emphasized that the park's 2023 programs reflect the inner strength and collective power of Angelenos with a diverse lineup of events creates unparalleled opportunities for connection, self-expression, and inspiration.
Let's dive into the exciting events happening at Grand Park:
Grand Park's Lunch à la Park Every Tuesday, Wednesday, and Thursday from 11:00 a.m. to 2:00 p.m., head over to Grand Park's Olive Court and give your kitchen appliances a break. L.A.'s most popular food trucks will be serving a wide variety of delicious dishes to satisfy all taste buds. Whether you're a juror, local employee, or a park-goer, you'll find these delectable food options conveniently parked between Grand Avenue and Hill Street.
Take it Easy with Grand Park's Easy Mornings
On Saturday, April 15, and Saturday, April 22, from 10:00 a.m. to 2:00 p.m., kickstart your weekends with relaxing and family-friendly activities at Grand Park's Easy Mornings. These programs aim to deepen relationships with yourself, the community, and the park. This summer's Easy Mornings will feature captivating performances, engaging activities, and interactive workshops focusing on dance and music, nature, health and wellness, digital arts, and more. The event will also shine a spotlight on Los Angeles-based small businesses and nonprofits, inspiring everyone who attends. Co-curated in partnership with Streetlet, an opportunity-matching and growth engine for small business owners and makers, Grand Park's Easy Mornings promises an enriching experience.
Uncover LA at Grand Park
Launch of the Uncovering LA Initiative On Thursday, June 1, Grand Park will launch the Uncovering LA Initiative—an ambitious, multi-year project that aims to develop a new interpretive pathway through the park, enhancing visitors' everyday usage. This initiative draws inspiration from the advocacy and visioning led by the First Peoples communities of Los Angeles, whose land Grand Park now occupies. The pathway will consist of more than 60 physical way-finding markers and will incorporate public art installations in the years to come.
The Lorraine Hansberry Initiative
From Wednesday, June 14, to Friday, June 30, Grand Park will host the national tour of The Lorraine Hansberry Initiative's To Sit A While art exhibit. Lorraine Hansberry, a renowned playwright, journalist, and activist, made history with her groundbreaking play, "A Raisin in the Sun," becoming the first play written by a Black woman to be produced on Broadway. The exhibit, created by sculpture artist Alison Saar, features the figure of Hansberry surrounded by five bronze chairs, each representing a different aspect of her life and work.

Grand Park's 4th of July Block Party
On Tuesday, July 4, from 4:00 p.m. to 9:00 p.m., get ready to celebrate the largest free Fourth of July event in Downtown L.A. Grand Park's Block Party promises a holiday extravaganza filled with fun for the whole family. Indulge in delectable food, enjoy live music, dance along to captivating performances, and witness an unforgettable light show. This year's celebration will also feature immersive art installations, showcasing the vibrant cultural scene of Downtown L.A. DJs will spin an eclectic mix of Hip-Hop, Cumbia, Jazz, House, Funk, and Latin Soul, creating an electrifying atmosphere.
Breakin' it Down at the Bboy | BGirl Summit
Established in 1994, the B-Boy | B-Girl Summit is the nation's longest-running annual Hip-Hop event. On Sunday, July 16, from noon to 8:00 p.m., Grand Park will be alive with the essence of Hip-Hop culture. The event will showcase classic and current Hip-Hop fashion, skills, and knowledge, featuring Poppin Battles, B-Boy & B-Girl Battles, Kids Battles, Breakin' Workshops, Graffiti Artists, and panel discussions. Past performances have included renowned artists such as DJ Battlecat, Far Side, The Souls of Mischief, Grand Wizard Theodore, Skeme Richards, Rokafella, and DJ KS360. This year's summit will include a special tribute to the 50th anniversary of Hip-Hop, featuring the Pros to Protégés Battle and a captivating Outlaw Rock Dance Showcase.
Stay Healthy DTLA
Beginning on Wednesday, September 1, and running every Wednesday and Friday from noon to 12:45 p.m., Grand Park prioritizes health and well-being with Grand Park's Health & Wellness Programs. These programs are an expansion of the popular yoga series and offer a range of outdoor activities that promote movement, restoration, and reinvigoration in less than an hour. Participants can enjoy Restorative Yoga, Tai-Chi, Meditation, Yoga Therapy, Sound Baths, Chair Yoga, Yoga en Español, Chinese Dance, and more.

As Gloria Molina Grand Park embarks on another season of spring and summer events, Grand Park remains dedicated to fostering connections among Angelenos, uplifting local artists, and creating an inclusive environment for all. Whether it's indulging in the diverse flavors of food trucks during Lunch à la Park, exploring the creative landscape at Easy Mornings, uncovering the stories and history of the land through the Uncovering LA Initiative, engaging with the legacy of Lorraine Hansberry, celebrating Independence Day at the 4th of July Block Party, immersing oneself in the vibrant culture of Hip-Hop at the Bboy | BGirl Summit, grooving to the beats of house music at Sunday Sessions, or prioritizing health and well-being through the Health & Wellness Programs, Grand Park offers something for everyone.
For a more in-depth look at Grand Park's spring and summer events at Grand Park, visit their official website. Www.grandparkla.org.