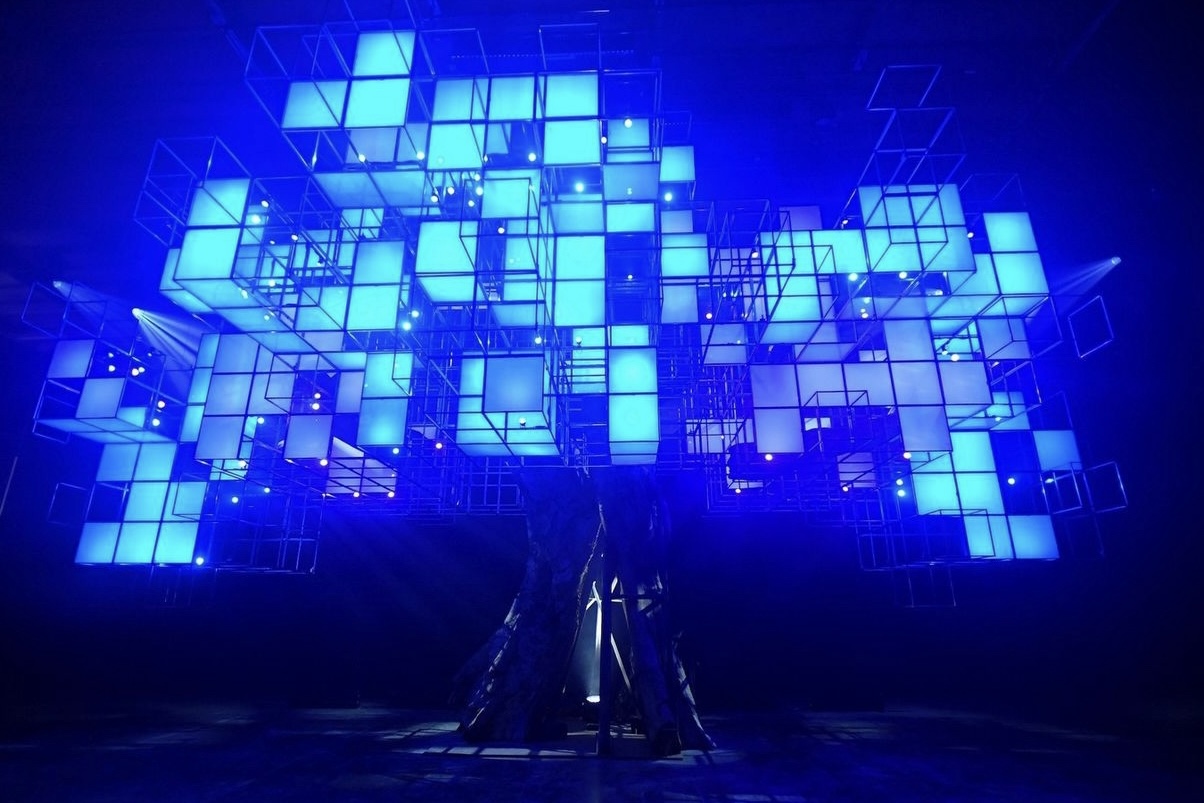 In the beginning…there was Eli Broad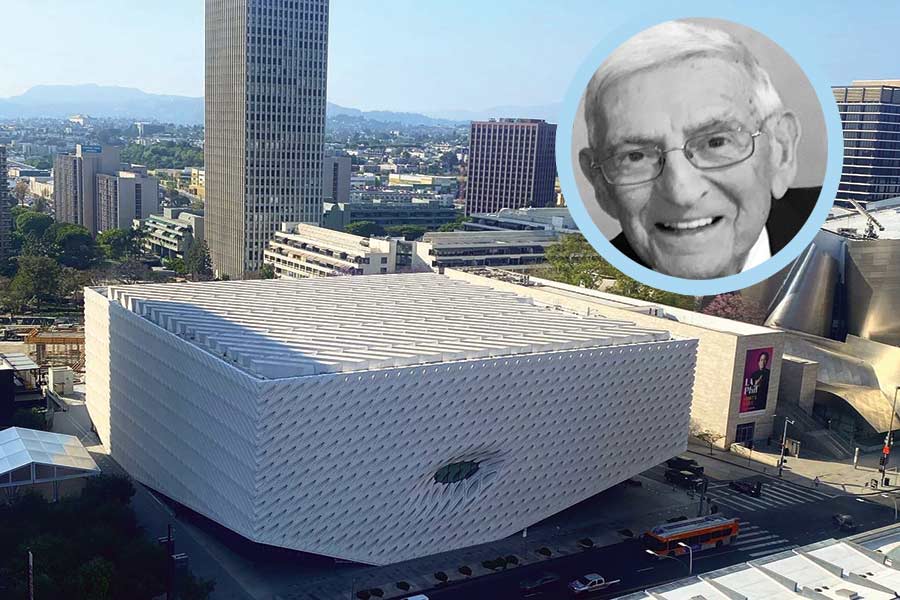 Eli and Edythe Broad first led the way for Downtown LA to augmented reality (AR) earlier this year with Takashi Murakami: Stepping on the Tail of a Rainbow exhibition at the Broad Museum.

The exhibit allowed museum visitors to experience recent and earlier works of Takashi's career both inside and outside of reality as we know it.

Sign up to receive our popular Get2DTLA Newsletter
Takashi spent a lifetime exploring subject matter such as globalization, postwar Japan, pop culture, and religious iconography in his famed art pieces. His works, up until May 2022, had spanned mostly sculpture, painting, and wallpaper, yet the future and DTLA would offer the artist something different.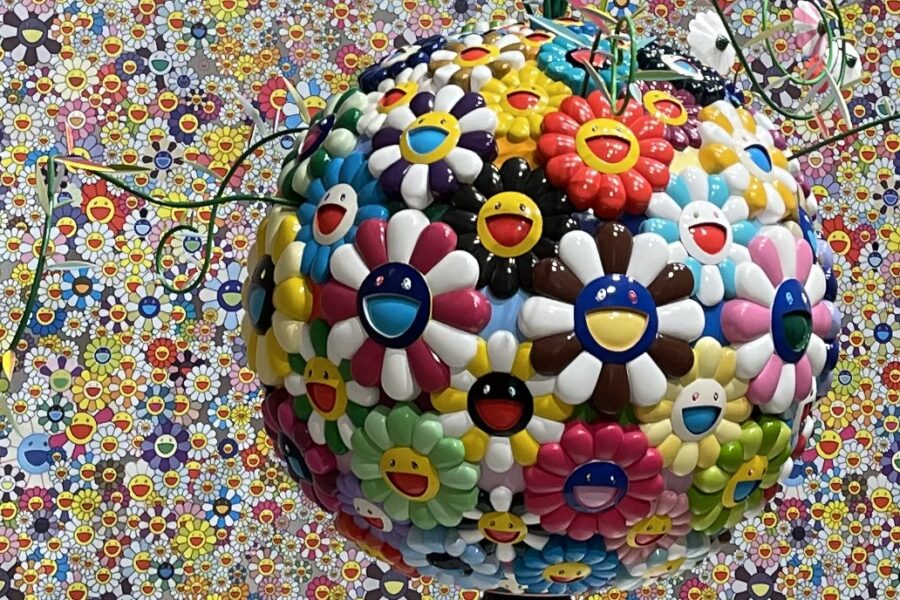 As visitors anxiously awaited for the exhibit to reveal his famed works, the museum doors opened to an entire, new way to view the visual arts.
Markers on the museum floor instructed cell phone users just how to release the computer-generated avatars (created by the artist himself) that stood beside his pieces in Augmented reality. Even the outside of the Broad held markers to bring his augmented works to this realm.

Grand Ave Augmented Up and Down the Hill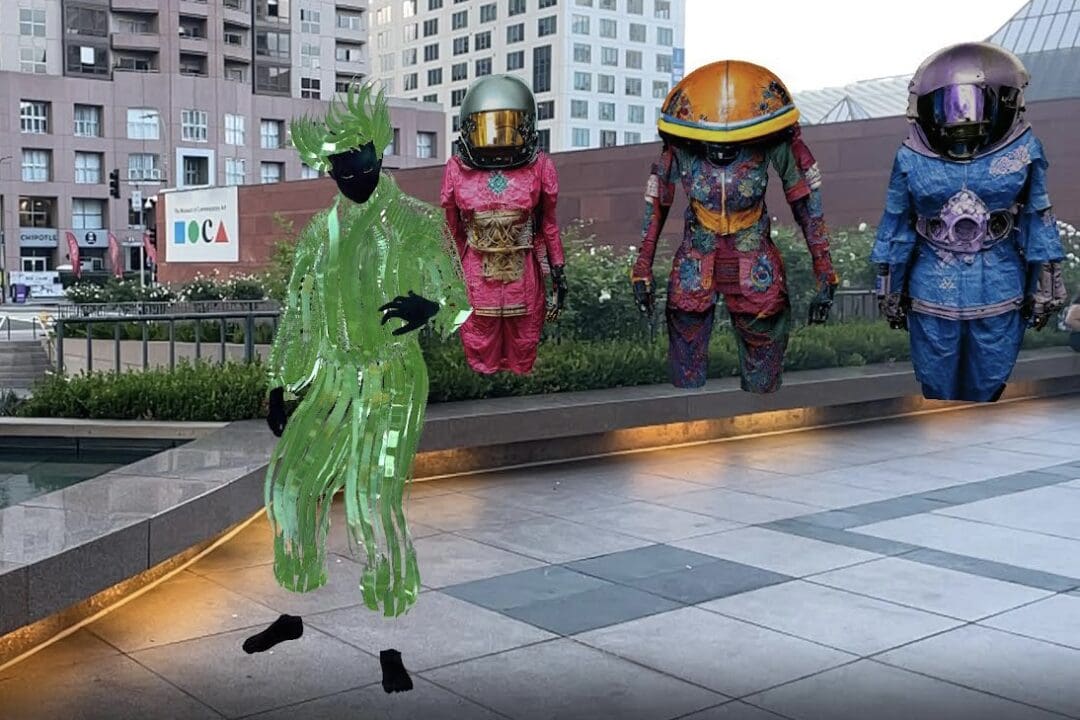 On Saturday, October 22nd, Grand Ave Augmented plans to host more than 40 AR experiences, 3-D animations, interactive holograms, virtual musical and audio performances, and immersive 360º environments that promise to push the boundaries of art and technology to the edges of the imagination.
Users will gaze upon larger-than-life animated artworks from local creators and be transported to normally inaccessible places such as the helipad atop the 72-story US Bank Tower, behind the curtain at the LA Opera, or into a penthouse at the newly opened Grand by Gehry.
Viewers have the opportunity to watch a virtual brass ensemble on the plaza of the Colburn School or experience a spatial audio journey with the LA Master Chorale from beyond the curved walls of the Walt Disney Concert Hall. Giant banners at The Music Center become multi-media displays, noted artworks from MOCA and The Broad appear in whole new dimensions, and once familiar public spaces like The Yard at Cal Plaza spring to life with only one's imagination limiting the possibilities.
And how was all of this made possible? It's all about the Hoverlay App.
During Grand Ave Augmented, simply download the free Hoverlay App, tap on the DTLAugmented channel, and follow the onscreen map and directions to locate and activate the installations up and down DTLA's famed Grand Avenue. https://downtownla.com
Fully Immersed at Street Art Alive at Lume Los Angeles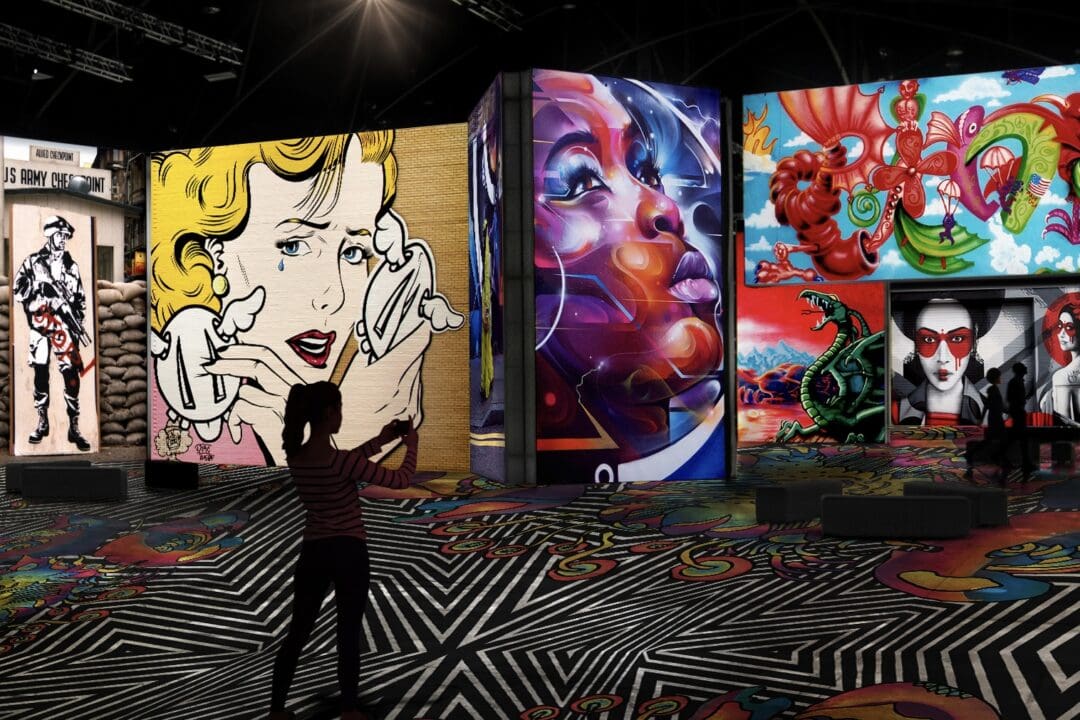 STREET ART ALIVE at THE LUME transports visitors on an unforgettable journey through the streets and alleys of more than 20 iconic cities, including New York City, London, SaÞo Paulo, Melbourne and Berlin throughout 25,000 sq. ft of 360-degree multi-sensory galleries inside Expo/USC district's Magic Box at the REEF.
Within this continuously multi-sensory exhibit of movement that continuously immerses visitors in street art, walls, floors to ceiling, Grande Experiences, owners and creators of THE LUME Digital Art Galleries, and creators of STREET ART ALIVE, worked in collaboration with prolific artists, including Blek Le Rat, D*Face, RISK and Lady Pink. STREET ART ALIVE pays homage to pioneers, legends and graffiti art genre, once highly condemned, that would emerge to change the way artwork was perceived throughout the world. https://thelume.com
LUMINEX 2.0: Projected Realities in South Park EXTENDED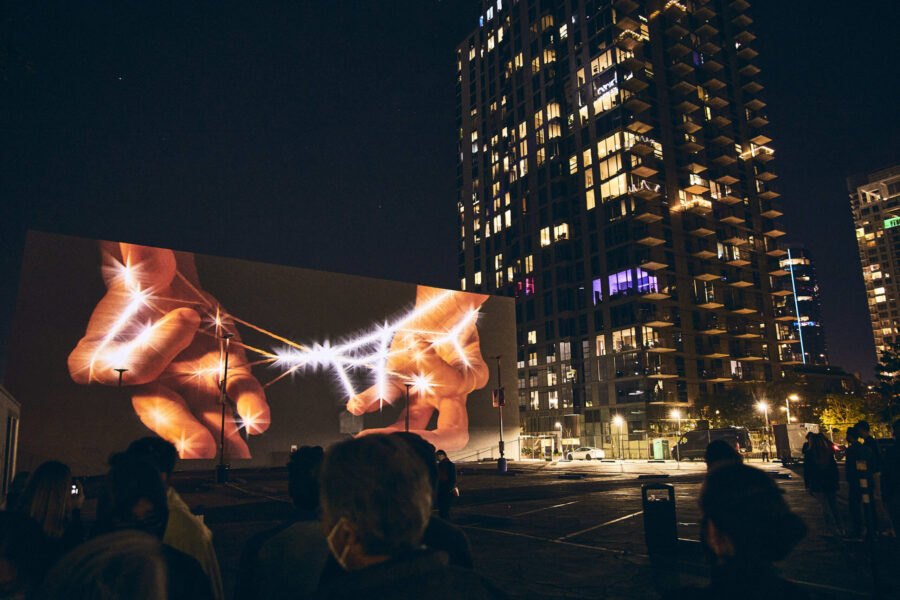 The beginning of fall brought the return LUMINEX 2.0: Projected Realities, South Park's nighttime, bright-time art exhibit utilizing downtown LA's buildings as massive projector screens for the visual arts.
The artist-led exhibition featured 12 internationally acclaimed and leading artists and their creatively fluent digital artworks across 12 site-specific sites from Olive to Broadway.
Recently, creator-visionaries NOW Art, announced LUMINEX 2.0: Projected Realities will be accessible as an Augmented Reality Art Exhibition through Fall 2023.
Once again, Hoverlay Augmented Reality App will extend the exhibition experience through an interactive map, holograms, and enhanced reality. So far, over 2,500 people worldwide downloaded the app to participate in Luminex 2.0, with over 31,000 total views. https://luminexla.com
A Forest for the Trees at Ace Center Studios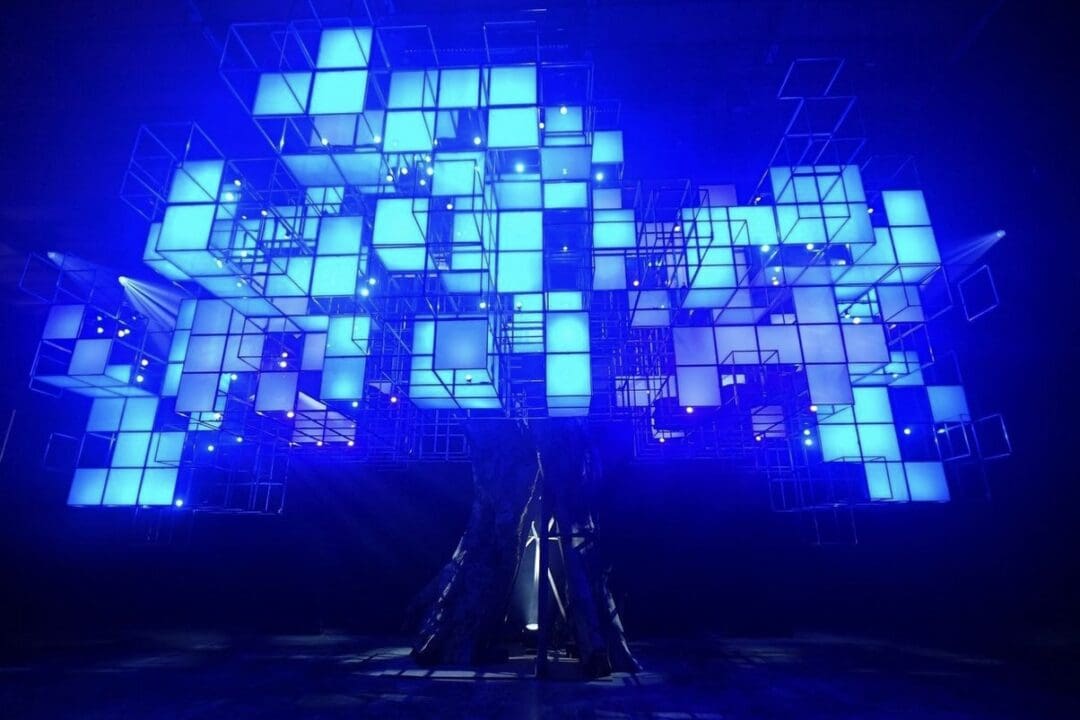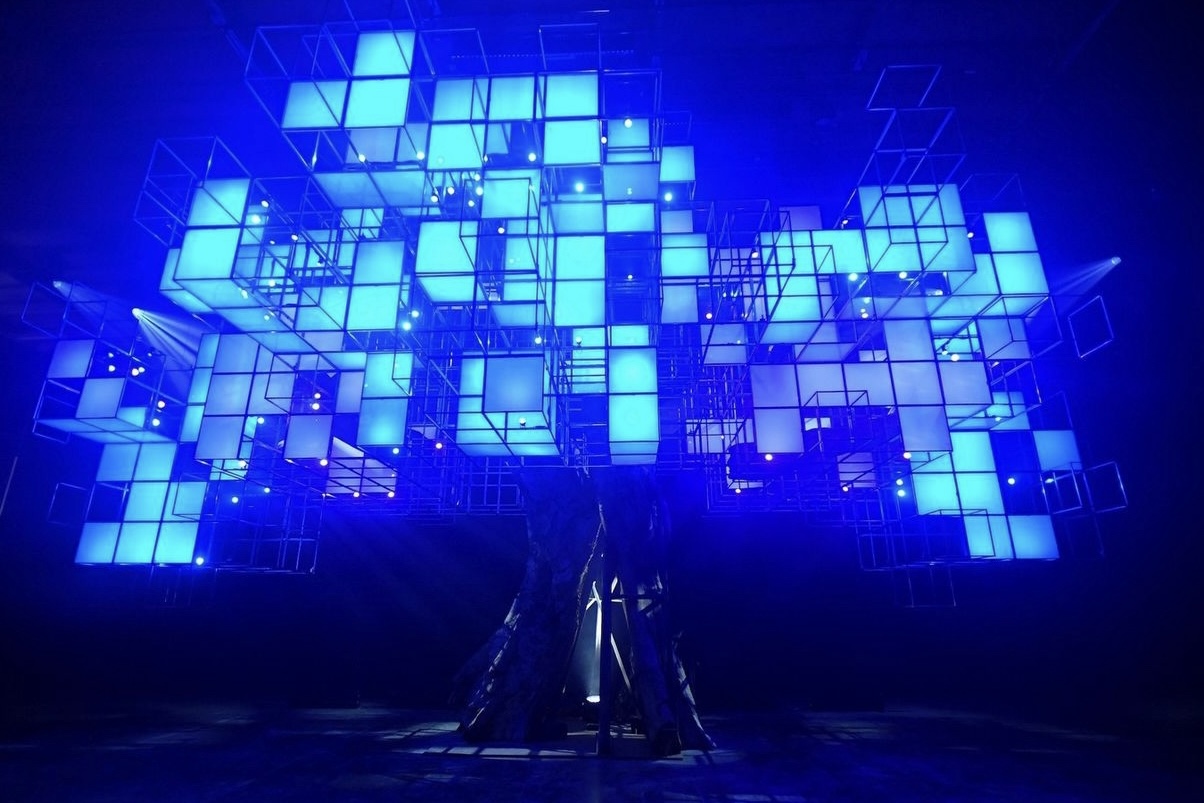 A Forest for the Trees transports audiences on a journey through a surreal forest of magic, music, and wonder as visitors reimagine their relationship with the natural world. The surreal and calming show is a widely acclaimed immersive art show created and directed by native Los Angeles artist Glenn Kaino. Together with The Atlantic, Superblue, and presenting sponsor Mastercard, the show is inspired by The Atlantic's extensive writings that have shaped American attitudes toward nature for more than a century.
"Arborglyphs & Astronomy Lesson with Spacemami" is one of many programs that run throughout the show and shares a brief history of the West Coast's only known Native American arborglyph (words or pictures carved into the bark of a living tree.) The arborglyph, created by Chumash tribe members, depicts Ursa Major in relation to Polaris (North Star), giving insight into Chumash astronomy and star monitoring. Participants will then be able to design their own arborglyph before touring A Forest for the Trees.
The Immersive Art show's centerpiece is an ethereal installation of an iconic 144-year-old fig tree from Olvera Street that's been brought back to life through art, light, and sound.
The Campfire Concert Series launches with various musical acts each week, from now until October 31st. www.aforestla.com
Coming in November – Beyond King Tut at the Magic Box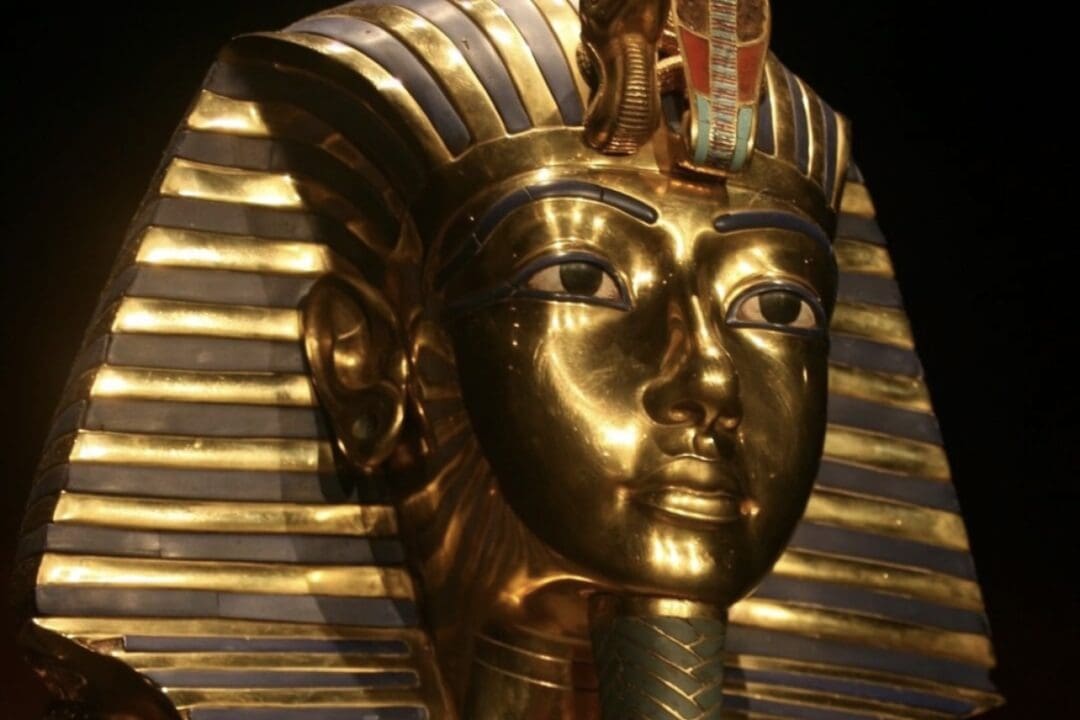 It's been exactly 100 years since archeologists discovered the Tomb of King Tut.
Beyond King Tut: The Immersive Experience is a new exhibition, developed in partnership with the National Geographic Society that will debut in downtown Los Angeles at Magic Box LA beginning November 4th.
Celebrating the 100th anniversary of what is still considered one of the greatest archeological discoveries of all time, the exhibit revisits the 1922 discovery of King Tut's tomb as stored in the archives of the National Geographic Society.
Beyond King Tut is a captivating journey through the boy king's life within a labyrinth of nine immersive multimedia galleries ending in the exploration of King Tut's burial chamber filled with all his golden treasures. www.beyondkingtut.com