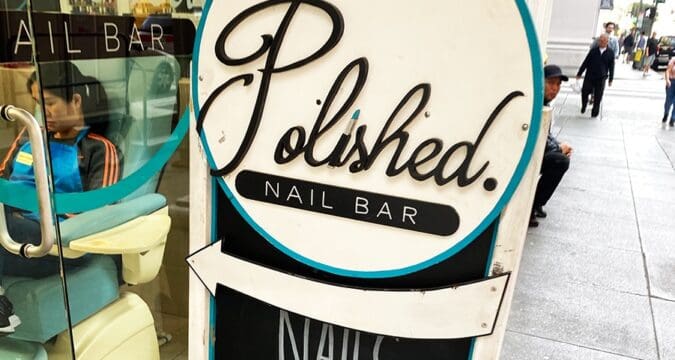 As businesses reopen under California's new Covid-19 color-coded plan, Los Angeles hair salons and barber shops have opened their doors. Nail salons, however, are ordered to remain shut. 
Six months into the pandemic, Los Angeles makes its second attempt at reopening businesses under California's new Covid-19 color-coded plan. Barber shops, hair salons, as well as a variety of other businesses are allowed to conduct business indoors up to a 25% capacity. Excluded from this list are nail salons who must continue to operate outside.
That isn't so easy for salons located in the heart of downtown Los Angeles. Due to a rise in homelessness, lack of space, and record-breaking heat waves, operating outside is nearly impossible, leaving many nail salons completely shut down since the middle of March.
Governor Newsom has been candid about his concern for nail salons being high-risk businesses. He has cited nail salons being the source for California's initial Covid-19 outbreak and health officials have likened the risk of nail salons to that of gyms.
Yet no specific information has been released to prove nail salons are high risk, leaving salon owners and customers alike frustrated and confused. This frustration has grown as California salon owners watch nearly every other state in the U.S. allow their nail salons to open.
Nancy Nguyen, owner of Polish Salon, has been vocal about her growing frustration.
"I don't get it," she says. "To watch the media and hope to hear news of any type of opening would be hopeful but the city and county couldn't really give any information on when. Now as they finally reopen hair salons (and) barber shops at 25% but not other beauty businesses…it's just crazy."
Nail technicians in California need an extensive amount of sanitation training already, which adds to the confusion of why nail salons have been singled out for being high risk. In fact, technicians must log a total of 400 hours of training in health and safety, disinfection, and sanitation to achieve their nail technician license.
"Our beauty industry has been targeted so unfairly. We are one of the safest industries because we have always worn face masks and gloves. Sanitizing is part of the beauty license. You had to have many hours at beauty school about safety and pass that part of the test to hold a license."
Six months into the pandemic, the risk of businesses closing indefinitely is at an all-time high. More than 15,000 businesses have closed in July and 55% of businesses on Yelp have closed permanently since the start of the pandemic. With thousands of businesses closing by the week, Los Angeles business owners fear is rapidly increasing.
When asked how she's getting through this, Ms. Nguyen has been honest about how it has affected her spirits. "I have been depressed, stressed, financially concerned for all my techs livelihood and mine."
Nail salon owners all over Los Angeles have begun voicing their opinions. While Ms. Nguyen has reached out to Eric Garcetti over her concerns, other salon owners have joined a growing movement to reopen their doors in protest regardless of what the state of California says.
Hopefully nail salons will join their counterparts and reopen their businesses in the next coming weeks. Until then, we can only hope salon owners do their best to hang in there.