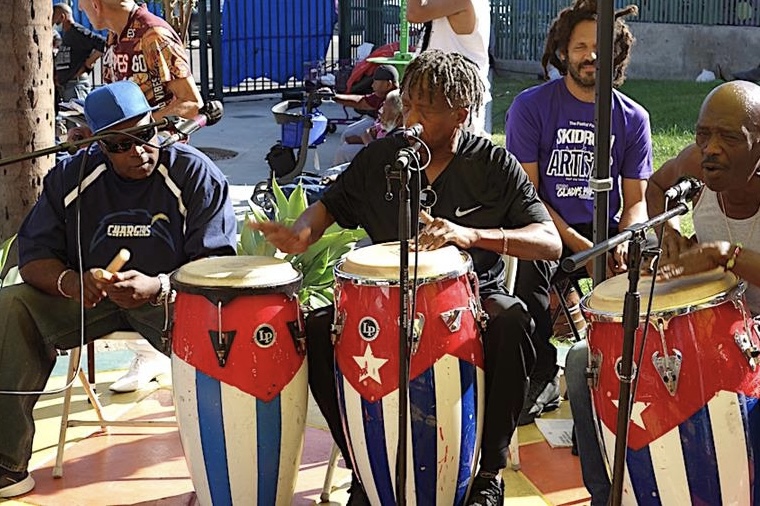 The Los Angeles Poverty Department (LAPD) presents the 13th Annual Festival for All Skid Row Artists on Saturday and Sunday, October 29 and 30, a two day festival of non-stop live performances, visual art, and participatory art workshops, for everyone.
Taking place in General Jeff Memorial Park / Gladys Park (corner of 6th Street and Gladys Avenue), the festival has become one of the most anticipated grassroots cultural events in Skid Row where over 150 Skid Row Artists perform or display their artwork to enthusiastic audiences.

Sign up to receive our popular Get2DTLA Newsletter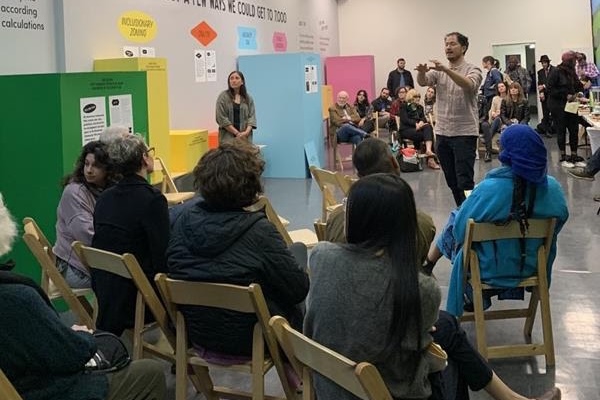 Festival attendees are invited to participate in a range of artist facilitated workshops and creativity stations. Visual arts workshops will be offered by Studio 526, Creative I, Piece by Piece, and Doodles Without Borders. Jen Hofer will lead poetry workshops and there will be a woodworking workshop by Would Works a non profit that trains people who are experiencing homelessness and poverty in basic woodworking skills.
Community groups will be there to encourage engagement and advance the quality of life in the Skid Row community. With the new Downtown Community Plan heading to City Council, Skid Row Now & 2040, a coalition of community members and groups, will be there to share their policy paper, The Green Paper, a vision for a Skid Row future without displacement and with housing for area residents now on the streets.

The 13th Festival for All Skid Row Artists is produced by Los Angeles Poverty Department and is made possible with the support of The Kindle Project of the Common Counsel Foundation; the City of Los Angeles Department of Cultural Affairs; the Los Angeles County Department of Arts and Culture; The Downtown Los Angeles Neighborhood Council; Kevin DeLeon, CD 14; the City of Los Angeles Department of Recreation and Parks and United Coalition East Prevention Project, (UCEPP).
Los Angeles Poverty Department celebrates and preserves the rich artistic heritage of Skid Row and beginning with the first Festival in 2009 has generated a registry of Skid Row artists, which now numbers more than 900.