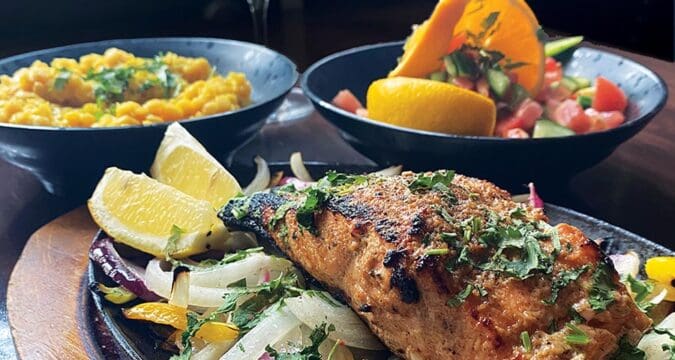 The waitress comes near with an aromatic plate of sizzling hot Tandoori still dancing with the steam, leaving a trail from the kitchen to the table. You realize then you're about to partake in flavors forged by the ANCIENT flames of the Tandoori oven. You could have chosen Tandoori Lamb or Chicken but preferred a healthy slice of sizzling Salmon laid atop a bed of sweet onions and mixed vegetables. YOU CHOSE WELL.
True to traditional Indian cuisine, each dish is enhanced with the Spice of Life…or should we say "THE Spices of Life", inviting all to discover the Seven Wonders of Kapoor's Akbar.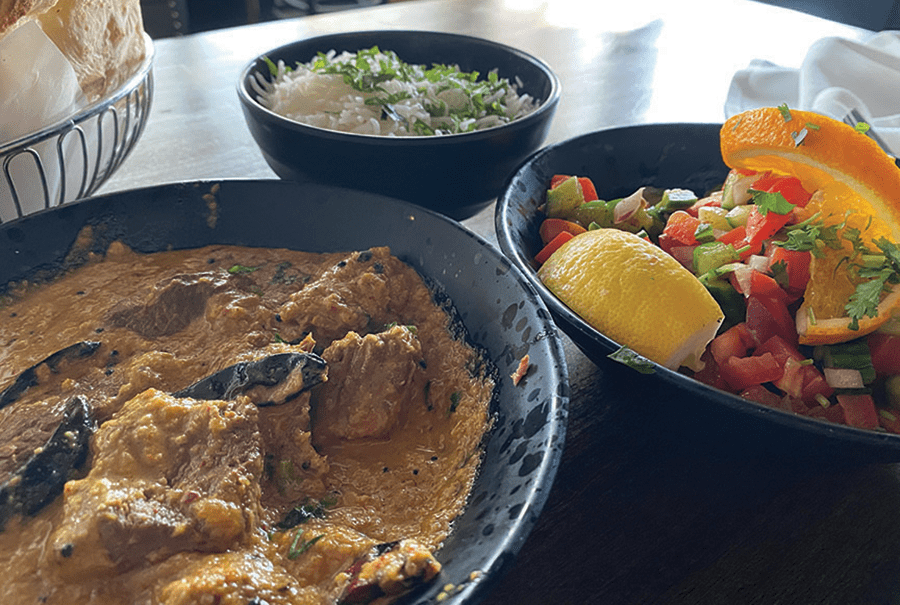 As did the ancient peoples of Asia, Chef Avinash Kapoor knows that every spice on Earth has a purpose in our life and when used correctly possesses their own unique healing powers.
Be it the turmeric which heals inflammation, the cooling effects of coriander and cumin, cayenne that raises one's heart rate or Himalayan pink salt, known to help the digestive system, come delight in food made with the finest spices money can buy.
Kapoor's DTLA takeout or patio dining experience may include garlic naan paired with a sectioned dish of colorful chutneys; coconut, mint and vegetable-pickle.
Katchumbar mixed with a special blend of spices, onion, cucumbers and chopped tomatoes or grilled Brussels sprouts come rich with vitamins and minerals.
Kapoor's selection of Lassis, a traditional yogurt drink with enough pro-biotics, will keep the promise of a healthy intestinal tract. Kapoor's Akbar has a Keto menu for those who have a more strict regimen of eating or dieting. Why should someone deny themselves the pleasure of eating sacred Indian food when it can be taken in smart and in a healthy manner?
Lunch is served Monday to Friday and dinner is served nightly.
Rappahannock Oyster Bar
Remember that time Downtown Weekly featured 10 Great Places for Oysters?
Well, Naysayers warned us the consumption of oysters in such a short period of time could be dangerous. However, we're still here to tell you – You can definitely trust the oysters we ate in Downtown LA.
After consuming just over 100 oysters in just 10 days, we have to say, we FELT stronger, more energetic, and a whole lot more frisky…
TOP OF THE LIST OF 10 GREAT PLACES goes to RappBar inside the Row.
There's an outdoor patio, and plenty of crustaceans and locally sourced fresh fish that outfit their signature dishes and studies show seafood is good for you.
It provides protein, contains less fat than other animal protein sources and is generally low in cholesterol, which is important for your heart.
Happy Heart Loves a Happy Hour.
With Happy Hour every day from 4-6 pm, we recommend a formation of a dozen or so delicious oysters in all varieties, from sweet to briny paired with a sweet glass of Chardonnay.
RAPPAHaNNOCK OYSTER BAR – 777 S. N. Alameda, LA CA 90021. www.rappbardtla.com
Boketto Cold Brew
Got Nitro?
Located just north of 8th on Broadway, Boketto Cold Brew is redefining boundaries with their innovative new coffee bar serving one special blend of cold brew coffee and a variety of cold brew artisan teas.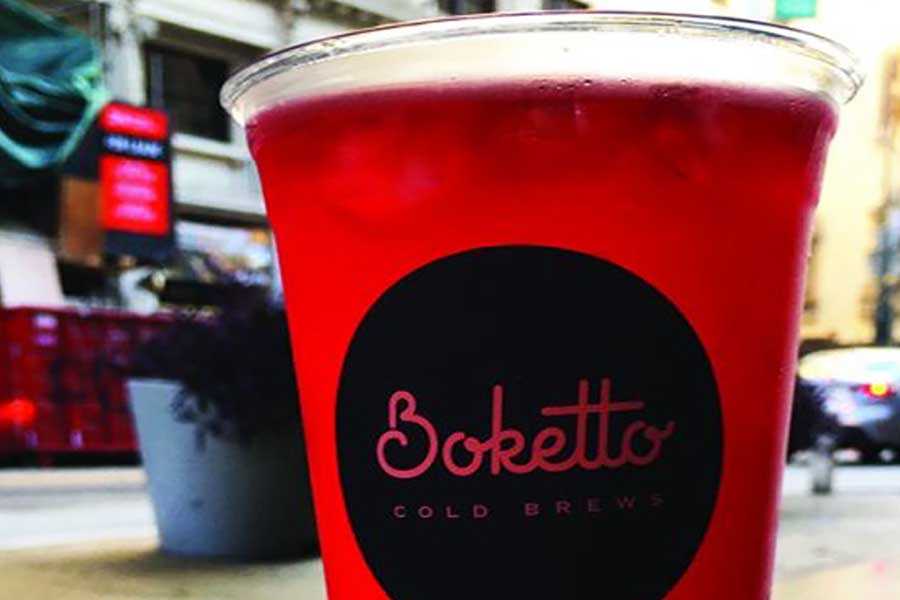 This isn't just an iced coffee. Cold-brew companies use a basic drip bean process of steeping coffee grounds in water at cool temperatures for 12 to 24 hours.
Boketto takes this a "steep" further by charging their cold brew with nitrogen which gives the coffee a rich creamy head, similar to that of a draft beer while enhancing the flavor and the benefits.
Boketto Cold Brew delivers!!!
Convenient delivery services make getting the best cold brew in town brought directly to your home or office.
Downtown LA can subscribe to Boketto Cold Brews and have 1.5 liter pouches of fresh cold brew delivered to our homes.
But wait, there's more! Boketto stocks their own special mix of bulk teas including Hibiscus blends that come with a full day's worth of Vitamin C.
BOKETTO COLD BREW – 743 S. BROADWAY AVE, LA CA 90014 – @bokettocoldbrew – www.bokettocoldbrew.com
Robeks DTLA
Robeks just feels right, doesn't it?
Happy Anniversary to Robeks DTLA as they Celebrate 1 Year of bringing Downtown fresh juices and smoothies at their Pico Blvd location.
The national franchise offers "taste-good and good-for-you" smoothies, juices and bowls using only the highest quality fruits, fresh vegetables, super-foods and other all-natural ingredients.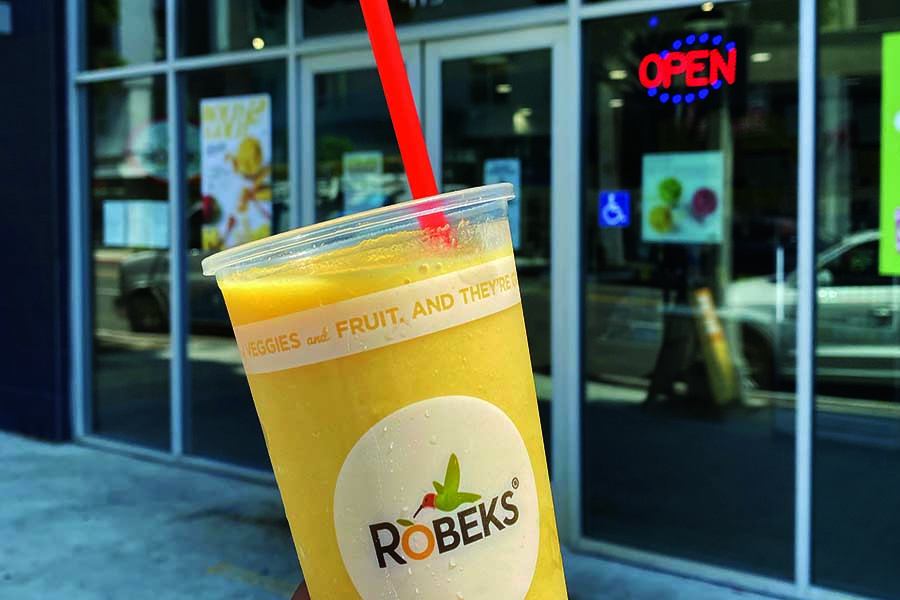 For our health, Robeks DTLA has introduced a new series of blended smoothies that are bolder and dreamier. Their new Berry Sumac, Bold & Gold, and Downtown Weekly favorite Avocado Dream smoothie will have you dreaming of sweet new ways to stay fit from the inside out.
ROBEKS DTLA – 419 W. Pico Blvd. LA, CA 90015 @robeksdtla
Bring home the taste of the Caribbean with Island to Table Jamaican Pattys
Husband and wife team Miguel and Alafia have been sharing their patties with Downtown and we absolutely love them for it. Chicken, beef, veggie and VEGAN patties make it hard to say no when walking past their mobile kitchen, usually parked on 8th and Spring.
So what does Downtown LA like in a Jamaican patty?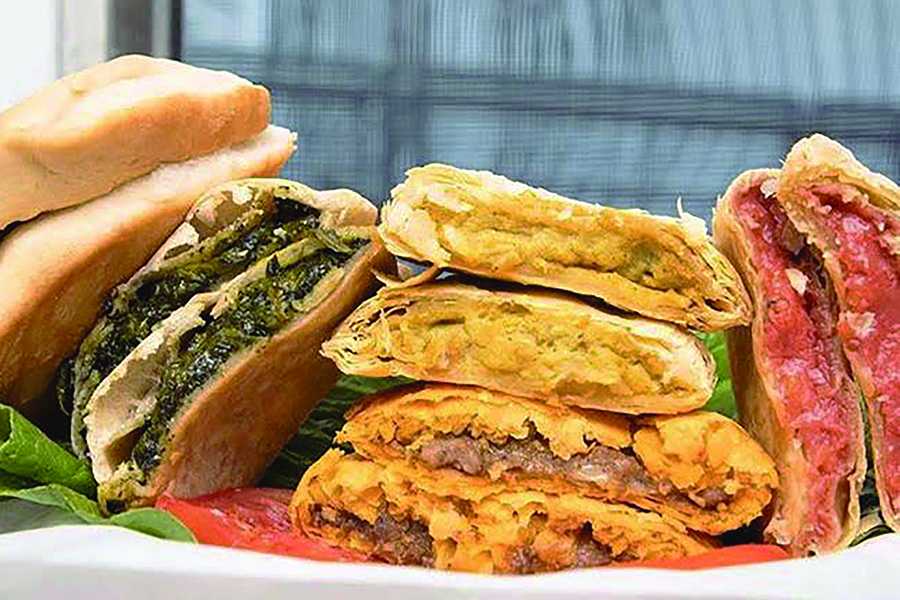 Exactly what Island to Table Patty Hut has to offer; a warm, delicate flaky crust filled with the taste of paradise. @island2tablepattyhut
DTLA – Are you hungry yet?
Limerick's Tavern DTLA
It's Saint Patty's Day every day at Limericks on 6th and Flower. Thank your lucky shamrocks there's an outdoor patio as well.
Limerick's Tavern earned its place as a neighborhood hot spot quickly thanks to their selections of whiskey, signature cocktails and an extensive list of gourmet tapas.
Grilled chicken sandwiches, tacos, fish and chips, and the Limericks Burger topped with lettuce, tomatoes, thick juicy bacon, avocado, and …but wait… we're talking healthy right?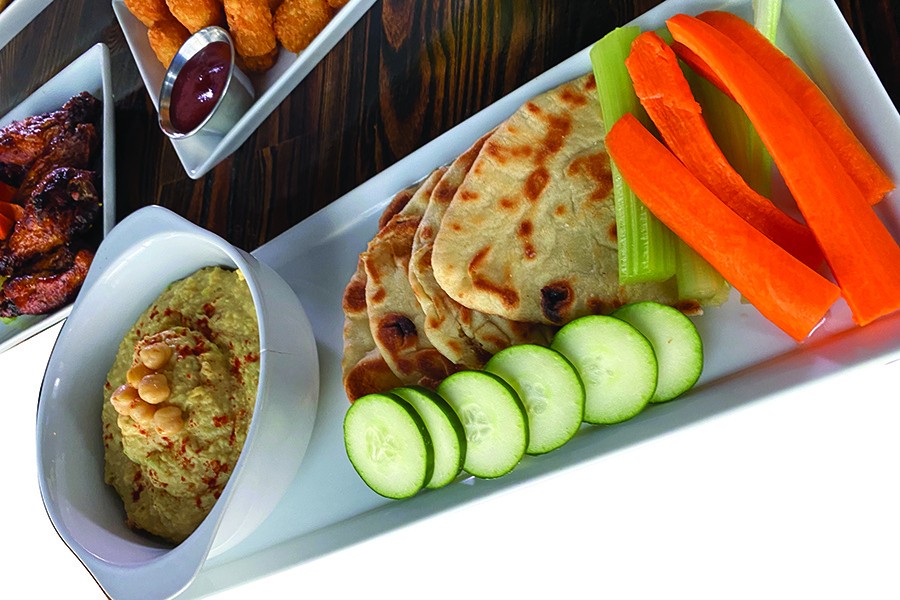 Well, in that case, let's go with the hummus and veggie dip. So warm. So right.
ATTENTION: Limericks has just added a Downtown Weekly Kingdom menu item! It's called Liquid Purp Cocktail!
Tag a photo of you or a friend on IG drinking the "Liquid Purp" and you could win a Hummus Veggie Dip plate on us. Limericks Tavern is located at 615 Flower Street, LA CA 90017. @limericks.dtla
PETITE PESO
In the heart of Downtown on the busy main drag of West 7th embedded between a coffee shop and a jewelry maker is PeTITE Peso, serving good old traditional flavors while adding mild twists to traditional Filipino recipes.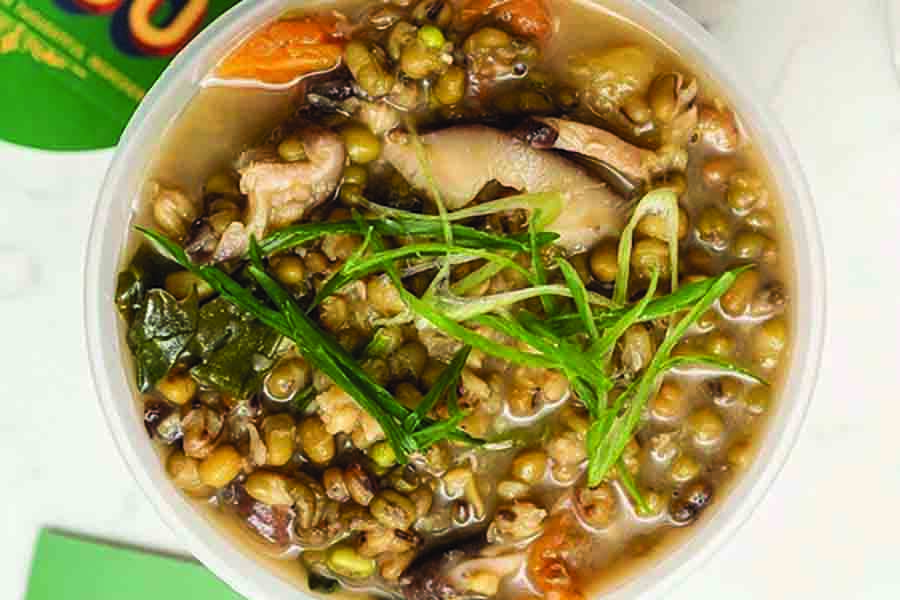 Customers often call ahead to order the French Dip, Chicken Adobo Sandwiches, and Machado Pot Pie, and while, traditionally Filipino cuisine uses meat such as pork, fish and chicken Peso sees new vigor in customers ordering the VEGAN options they offer as well.
The Pinakbet salad with pickled okra, family-style Munggo Bean and rice bowls are amongst the best of the chef's selection.
Stop by and support Petite Peso!!!
They are great at spreading the love, health and culture of the Philippines through delicious food and a strong community! @petitepeso
LA Biergarten
With an outside patio on 7th and Broadway, The Los Angeles Biergarten is ready to host beer drinkers who want to eat, sit back and unwind or get rowdy watching sports.
Modeled after the Beer Halls in Germany, LA Biergarten offers 100 different beers on tap, over 40 bottled beer selections plus shots of hard liquor to help get you in the spirit.
While the BBQ Wings, and specialty sandwiches on the menu make take your attention away when you're trying to watch your diet, their delicious healthier options will definitely keep you focused.
These choices include New York Steak Salad, Veggie Pasta and a Chicken Caesar Salad with fresh crisp Romaine lettuce tossed with a creamy Caesar dressing, grated Parmesan cheese, croutons, and topped with a marinated grilled chicken breast – all healthy enough to provide your body the energy it needs to cheer on your favorite team.
Los Angeles Biergarten is located at – 750 S. Broadway Ave, LA CA 90014.
@labiergarten