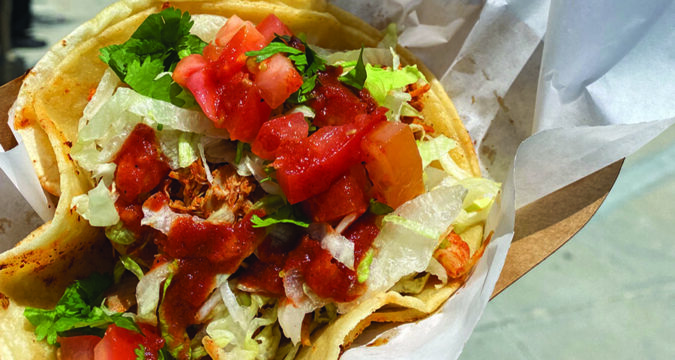 Meet Barbara Jean "Sky" Burrell, the proud owner and creator of Sky's Gourmet Tacos, a black-owned Mexican Food Restaurant chain that serves "Mexican with a Splash of Soul".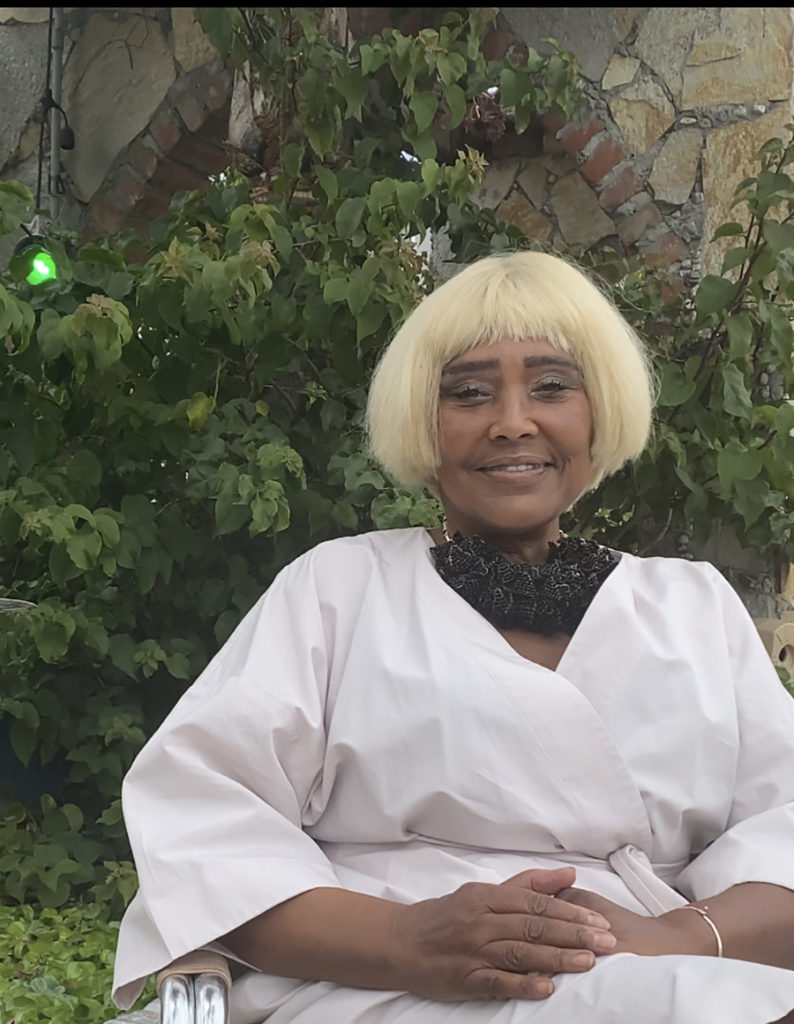 Sky's Gourmet Tacos boast several locations in LA, with the chain's flagship location on W. Pico Blvd., and marketplace in Marina Del Rey. However, Downtown Weekly had never been more excited than when we found out Sky's Gourmet Tacos had plans to open their newest cloud kitchen location close to Expo/USC.
Between the three locations patrons openly enjoy a great variety of Mexican food items, deli foods, margaritas and wine deliveries, and of course, Sky's famous "shrimp tacos".
Sky's the Limit
Raised in Illinois, Burrell's mother was a celebrity chef and her father, a classical musician. Because of this, Burrell found herself in the kitchen from the age of six prepping and exploring whatever dishes came her way. With her family's reputation and social circle, she was exposed early to the finer things in life.
As an adult, Burrell graduated from Michigan State University earning a Master's Degree in Strategic Business, later to serve as a director on multiple boards throughout the city, receiving dozens of accolades including landing on Fast Casual's Top 100 Movers and Shakers list, but admitted being celebrated in various aspects of her life, she always felt like something was missing.
Bold in spirituality, Burrell told Downtown Weekly it was her prayers that ultimately led her to the epiphany of serving tacos with soul.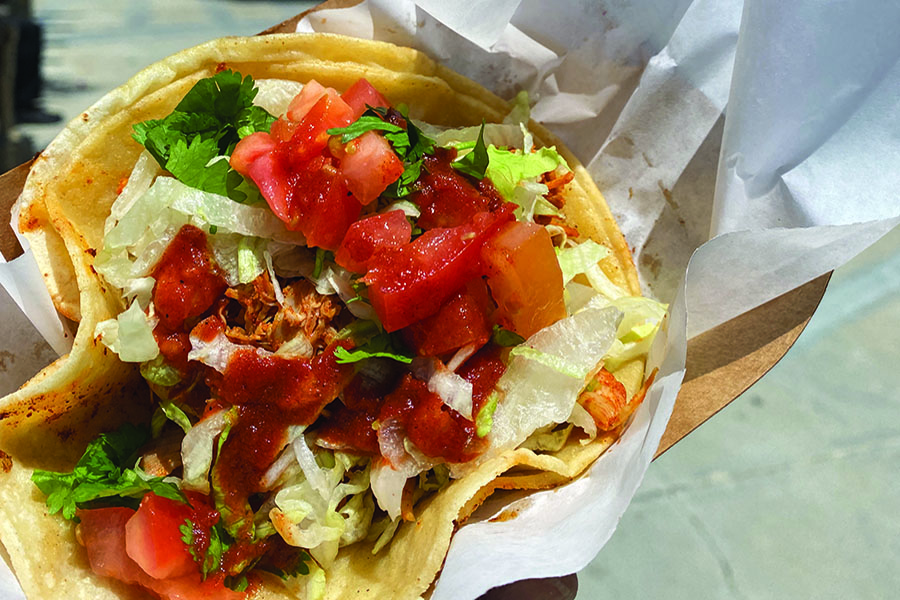 January 23, 1992, Burrell saw the light and quit her job to start her own business only to dive headfirst into a myriad of devastating obstacles; including the death of her fiancé coupled with being diagnosed with breast cancer.
It was then, in a time of civil and emotional unrest that she began to realize just how determined and strong she would have to be and just how much faith and devotion one person could ultimately muster.
A Family That Peels Together….
She requested the help of her two sons and worked tirelessly alongside other family members to develop Sky's delicious recipes, running their very first taco stand just across the street from where the Pico location is now.
As the months passed, Sky and the family team created their landmark specialty "Shrimp Tacos". Shrimp tacos that put the tiny taco stand on the map. https://www.youtube.com/embed/yFhzgWTUQVo?start=35&feature=oembed
But just as business was growing, calamity struck once again when her youngest son was tragically killed in a motorcycle accident.
Burrell was gutted, distraught and one would think that this would be the final straw.
On the contrary, Burrell marched forward on her new path ensuring that the memory of her son lived on with the restaurant's secret sauces that were originally handcrafted by the mother and son duo.
Over the span of 25 years, Burrell's recipes have managed to make almost every "best of" list in Los Angeles and very soon her signature sauces will be sold at Whole Foods Markets.
A pleasant return to the supermarket realm seeing that Burrell was the first African-American cashier to ever work at a Kroger.
Today, Burrell sits comfortably in the sunny courtyard of her Pico Blvd location, fashionably dressed and with one of LAs most welcoming smiles and open personalities.
Customers leave with TakeOut Bags full of steak, chicken, fish, sweet potato tacos and sides of beans and rice; and never forget to order a slice of her famed caramelized pecan cheesecake.
The restaurant's current menu also offers tantalizing vegan selections, including shiitake mushroom tacos drizzled with fresh salsa verde, onion and a delicate hint of citrus.
Speaking of citrus, Sky's has developed a variety of mixed fruit beverages that are as captivating to the eye as they are thirst quenching on a hot summer's day.
Fan favorites, hands down, are still the shrimp tacos thanks to the shrimp's special seasoning, made in-house that make the tastes of each crustacean incomparable.
From Tacos With Love
Burrell is a true visionary as she constantly thinks of more and more ways to spread her message of love, warmth and joy that comes with each taco.
To get an idea of her personality, she's been in business for almostthree decades. When people ask her when is she going to retire, she candidly responds with
"I'm still trying to wear these stilettos!"
Customers are family at Sky's Gourmet Tacos.
And how could they not be?
Older patrons tell tales of a taco haven that they'd bring their children to, only to find them returning home from college twenty years later, still just as hungry for Sky's Gourmet Tacos.
Even COVID had to take a back seat to Sky's Gourmet Tacos. Burrell and her team were already ahead of the curve, so to speak, being on all of the prominent food delivery apps, such as Uber Eats, Door Dash, Postmates, etc., when COVID 19 shutdowns were announced. Despite not being able to open indoors, Sky's TakeOut and catering options put up a good defense.
Party over here!
The Pico Blvd. location has long been sought out as a great event space, with an outside courtyard, calming cactus-flower garden, misters, picnic seating, parking, full bar and catering for star-studded celebrity events.
On any given day folks still, line up to support.
Pushing through anything with heart and soul; combining her childhood and her challenges to create something truly unique for the community is what makes Burrell's story extra special.
Burrell says, "When I go back and take a look at this company, it's about taco power. Because the tacos have led me to a real purpose. The taco is the thing that is spreading the love and I'm a trailblazer".
Yes, you are Ms. Burrell. Yes, you are! So happy to share the news you're blazing a trial now in DTLA.