In a lively collaboration between queer community members and local artists, a unique and uplifting street banner campaign will soon be unveiled that celebrates the rich history and promising future of the LGBTQIA2S+ scene in downtown Los Angeles.
Strategically placed on "The Run" which is fondly known as a circuit of queer-friendly spaces will host the long term banners over a span of 13 city blocks in locations that mark historical and modern-day significance and pay homage to a cherished era in downtown LA, which pre-dates the better-known LGBTQ+ community in West Hollywood.
The Run" was fondly known as a circuit of queer-friendly spaces (including bars and bookstores) traversing DTLA from Pershing Square to Main St. during a time when homosexuality was still criminalized (1940s-1960s).

The community thrived and found solace within this vibrant enclave. As the banners take flight, the cherished memories and resilient spirit of "The Run" will be forever memorialized and honored.
Drawing inspiration from iconic queer districts like "Castro" in SF and "Boystown" in Chicago, the banners aim to invigorate "The Run" with a sense of unity and belonging.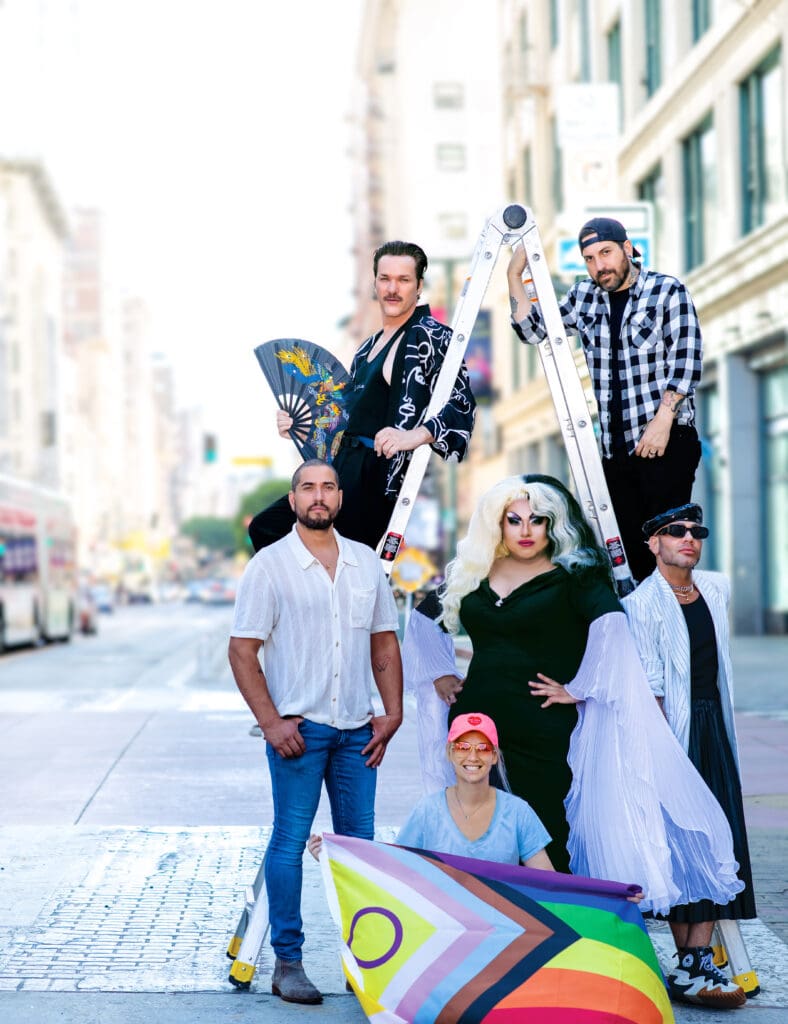 (L-R: Oliver Alpuche, Shawn Smith, Isadora Spreads, Jeremy Lucido, artist S.E. Mero, and Andres Rigal – Image by Shawn Smith and Simon Vincent.)
A Weekend to Celebrate!
To kick off "The Run," there will be a 2-day block party on Broadway (between 3rd and 4th) on Aug 26th and 27th from noon to 6pm. The street will be closed with a performance stage, photo booth, art installations, arts and crafts tables, lawn games and more!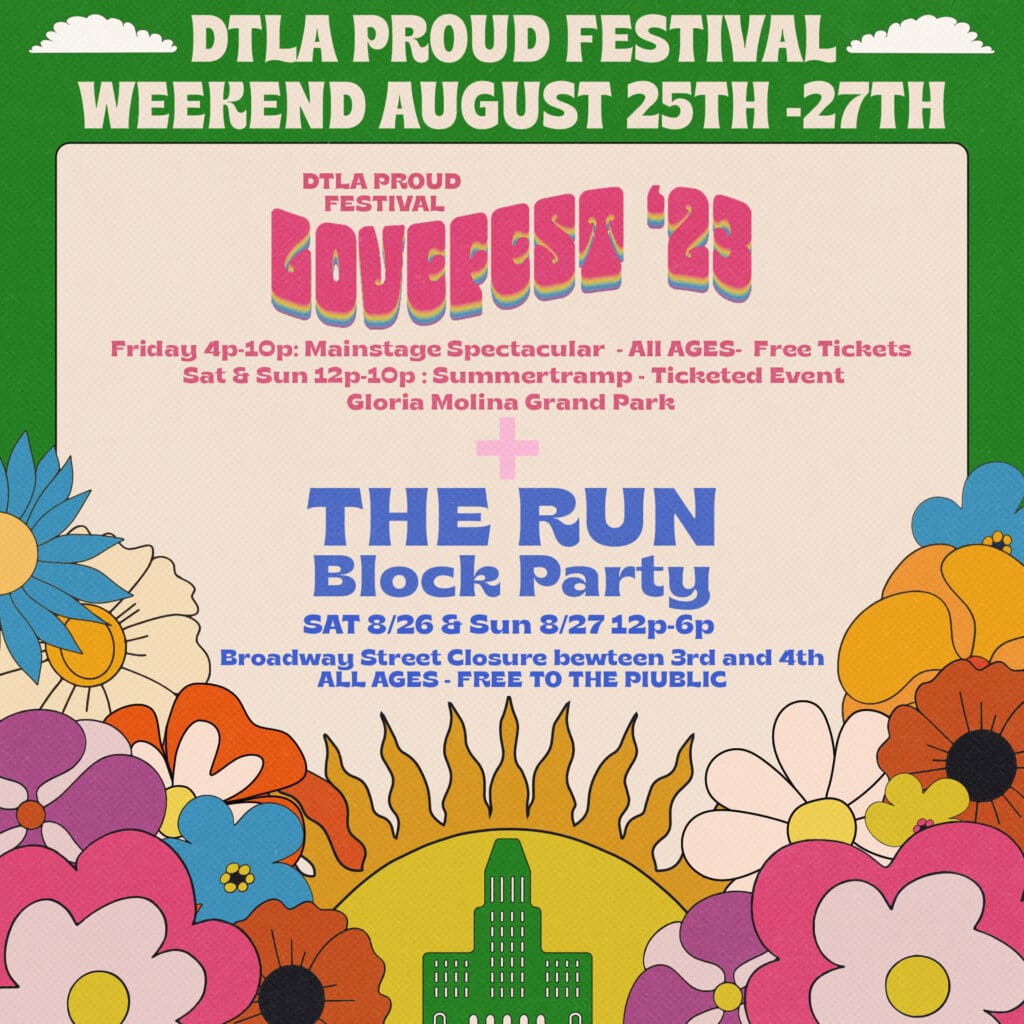 This event is open to the public and free of charge. The block party is the same weekend of DTLA PROUD's 8th annual Lovefest at Grand Park (Aug 25-27th), stretching this exciting celebration down Broadway (tickets here).
Fueled by Passion
At the core of this queer public infrastructure vision is Shawn Smith, a devoted DTLA resident since 1990. Fueled by a passion to celebrate the queer community, Smith's ambitious plans encompass more than just street banners.
Longtime DTLA resident Shawn Smith
Alongside the banner campaign, we eagerly anticipate the realization of rainbow crosswalks, captivating murals, and enchanting rainbow L.E.D. string lighting, adorning the sidewalks and streets within "The Run." With 4th and Broadway as its new epicenter, these visionary projects promise to illuminate the neighborhood, uniting past and present to celebrate diversity while creating safe spaces. The block party and infrastructure projects are being supported by Council District 14.
"As the campaign evolves, we are thrilled to be collaborating with S.C. Mero, a talented Public Art Artist, renowned for her ability to resurrect forgotten Downtown LA locales and transform them into valuable treasures. Mero's creative touch will undoubtedly infuse the banner and The Run campaign with even more vibrancy and artistic flair," said Smith.
Artist S.C. Mero with an installation on Spring Street
It's All About Pride
Leading the charge to empower the campaign is DTLA Proud, a non-profit founded by a dynamic grassroots collective of local residents, business owners, community leaders and nightlife promoters. With their mission to celebrate everyone's story and expand the definition of diversity, DTLA PROUD opened their community center at THE BLOC (700 W. 7th) known as ART (Accessibility + Representation = Thrive) last year.
ART focuses on a monthly rotating art gallery, free co-working space and a queer marketplace. With the establishment of "The Run," Downtown LA now has a clear identity and district for its queer community, continuing the mission of DTLA PROUD.
Rainbow steps at the Bloc, 7th & Flower, leading down to the DTLA Proud community center
Keep Your Eyes Peeled
"The Run" banners will be popping up at historic and modern locations around DTLA while also honoring the historic theaters along Broadway that have hosted and supported queer artists and events.


Historic Run:
Pershing Square, Biltmore Hotel Bar, Central Library, One INC, Dover Hotel, Purssord Turkish & Electric Lights, La Cita, Cooper Don-Nuts & Nancy Valverde Square and Yang Na L.A's original name, a historical location of the Tongva tribe near City Hall, whom allowed same sex marriage and believed homosexuality was determined before
birth.

Modern Run Additions will include:
Precinct, 10 DTLA, Lustern, Kiso (former Score), Bar Franca, Redline, The New Jalisco Bar, Mezcalero and Green Qween.