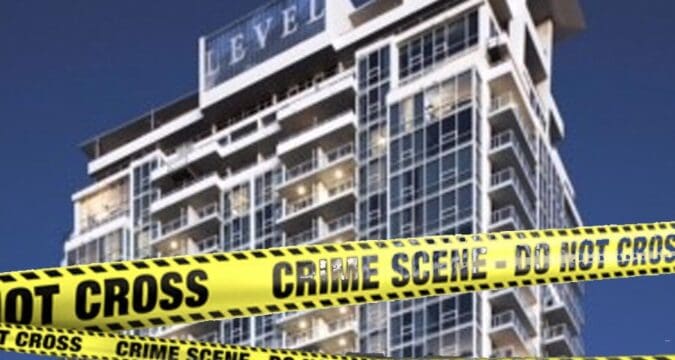 While gatherings of any size are still prohibited under Los Angeles County's coronavirus health order, private parties have been gathering attention throughout Los Angeles the past months. Often, they will take place in large rental homes. In addition to contributing to a health risk for the spread of coronavirus, they have caught the attention of the Mayor's office for crimes that sometimes accompany these gatherings as four publicized house party shootings took place in August alone.

And while there are no large homes in downtown Los Angeles, these private parties often take place in luxury high rises.
Last year an LAPD detective removed 250 pounds of marijuana after a man was shot and killed in the luxury Watermarke Tower apartments. One tenant who wanted to remain anonymous said that some residents have named the tower "Club Watermarke" due to the party atmosphere and what seemed like apparent drug dealings in the building.
Another such high rise recently drawing attention has been Level Furnished Living.
Level describes themselves as a furnished apartment or residential condominiums, and they have multiple listings on their website for short term and 1-night stays. This creates an ideal environment for people who want to throw fly by nightclub parties with large groups 30+ of people into a single apartment.

A former Onni resident and owner of the page Level is Cancelled on Facebook has stated, "I was awakened four times in two weekends by gunshots from Level and the area surrounding it".

Others have reported bottles and objects being thrown from balconies and are accusing Level's management of facilitating the situations further by creating a nightlife environment. Complete with crowded common areas, velvet ropes, security pat-downs, and wrist bands for guests.

Two other businesses, casinos and strips clubs, forced to continue to remain closed are also popping up within these luxury downtown apartments as well.

A search of location tags for Level Furnished Living will return poker games and impromptu gentlemen's club style parties, often showing people with large amounts of cash, drugs, guns, and scantily clad entertainers.

According to Level is Cancelled, Mary Duron of Onni Group's 825 South Hill Street property, has said she understands the community's concerns as she also lives in the building and that they are enforcing new rules on the number of guests allow (3 for a 1br, 5 for a 2br) and minimum bookings of 3-night stays.
As of September 10th, 2020 Level has stated that, "They have adopted a zero tolerance policy for any partying, violence, etc. happening on the property.

Tia S. Strozier a neighborhood prosecutor with the Central Division Office of the Los Angeles City Attorney commented on the matter, "Thank you for reaching out about LEVEL. LAPD, the Mayor's Office, CD 14, myself and the City Attorney nuisance abatement unit are working on this location.
As recent as last week, the property owner was given environmental recommendations, including monitoring guests, installing cameras and doing more to prevent blatant lawlessness. These recommendations were asked to be implemented immediately and advised that further non-compliance could result in criminal action. The Mayor's office is also aware that their current conduct violates existing emergency order restrictions."