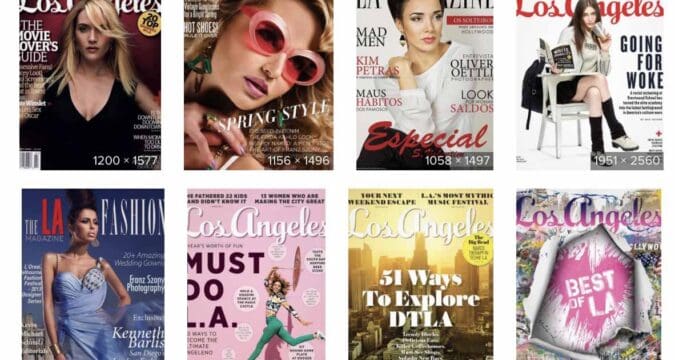 Los Angeles Magazine has undergone a recent change in leadership, with the departure of former editor-in-chief Maer Roshan and the appointment of Shirley Halperin as the new editor-in-chief, effective June 15. The move comes after Engine Vision Media, the publication's parent company, acquired Los Angeles Magazine late last year and has since added 15 new positions in editorial, digital, and sales.
The change in leadership and acquisition by Engine Vision Media signal a shift in direction for the publication, with a renewed commitment to diversity and a fresh vision for the future. According to Engine Vision Media's press release, Halperin will be tasked with shaping Los Angeles Magazine's vision for the future, with a particular emphasis on news and culture. She will also lead efforts to celebrate the city's diversity while keeping current events, politics, and sports related to the area relevant.
Halperin, who is well-known in the music industry, has previously worked for The Hollywood Reporter, Billboard, Entertainment Weekly, Los Angeles Times, and Wenner Media. Her appointment is seen as a key step towards achieving Engine Vision Media's goals for the publication. In a statement, Christopher Gialanella, the newly-installed president and publisher, praised Halperin's background and experience, saying that she will help lead the team to great heights.
The appointment of Halperin reflects a broader industry trend towards diversity and inclusion, with many media organizations prioritizing the hiring of people of color or, at the very least, publishing ads and editorials featuring people of color. This is something the old avant-garde simply couldn't manage, for whatever reason.
Ada Guerin has been named as Los Angeles Magazine's creative director. Guerin, who previously worked at L.A. Weekly, is expected to play a key role in shaping the publication's visual identity and creative direction. Together, Halperin and Guerin will lead a team of writers, editors, and designers to create compelling and relevant content for the Los Angeles community.
The new leadership at Los Angeles Magazine is also expected to bring a fresh perspective to the publication's coverage of entertainment, music, society, lifestyle, dining, home, real estate, and fashion. While these topics have always been a part of the publication's DNA, Halperin's expertise in music and entertainment is expected to take the coverage to the next level. At Variety, Halperin expanded the trade publication's music coverage and helped launch live events like the buzzy Hitmakers franchise, an annual issue, and A-list event.
The appointment of Shirley Halperin as the new editor-in-chief of Los Angeles Magazine also represents a significant moment for the publication and the broader media industry. Halperin's appointment signals a renewed commitment to diversity and a fresh vision for the future, with a particular emphasis on news and culture. Her expertise in music and entertainment is expected to take the publication's coverage to the next level, while Ada Guerin's role as creative director is expected to shape the publication's visual identity and creative direction. Together, Halperin and Guerin will lead a talented team of writers, editors, and designers to create compelling and relevant content for the Los Angeles community. www.Lamag.com