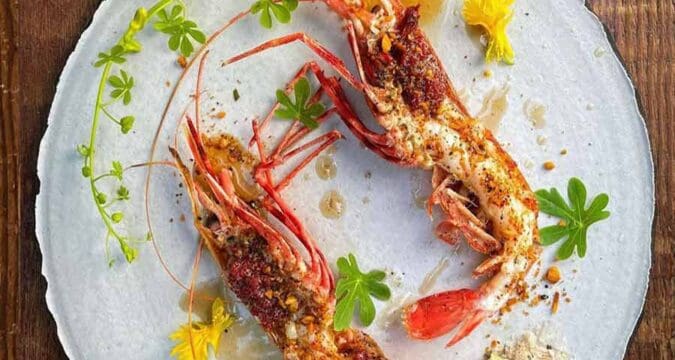 It's starting to feel like normal again in the streets of Downtown LA. As more and more people return to gather with friends they've missed these past months, newly opened IL Fiore DTLA and its Italian flare is quickly becoming one of Downtown's most admired dining and specialty cocktail destinations.
The promise of great cocktails, Michelin Awarded restaurants, and nights of extreme pleasures; at one time, this was the inspiration for many to frequent Downtown LA.
During this time, Downtown Weekly cast and crew first met Robert Katrikh, then operating partner of Circa 93, the geniuses behind the Queensbury, The Association, The Room in Hollywood, and the Old Bank District's The Continental Club.
The musician first came to LA as part of a touring band and eventually settled in DTLA thanks to his newfound business partnerships.
Flash forward to 2021, with our community still suffering the effects of a city laid dormant while visiting the O Hotel on 8th and Flower, our crew ran into Robert again.
This time through his newest hospitality venture, IL Fiore.
The Flower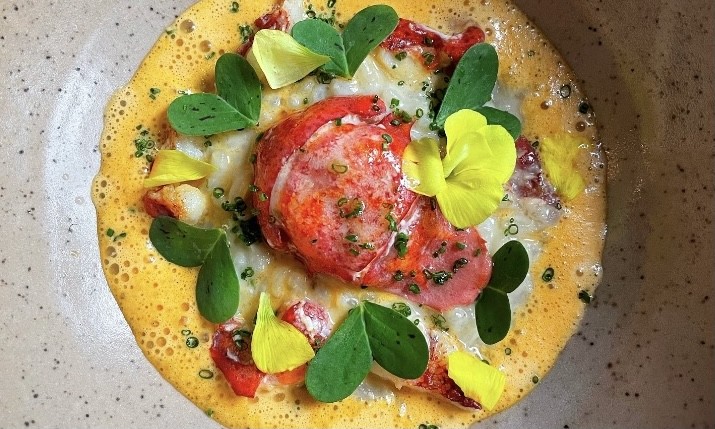 With IL Fiore now operating at the street level inside the O Hotel, it is directly above Robert's former Queensbury location. As if the seed he planted in the fertile soil of our city had sprouted from its roots below.
Behold, IL Fiore (the Flower) symbolically broke through to the surface, now having everything it needs to survive; sunlight, atmosphere, and plenty of admirers from the downtown community and beyond.
It seems, during the Covid months, Robert turned his attentions towards reinventing the hotel's base into a rustic garden of wood, metal, and fire. Purposely dimmed ambiance lighting is set to complement the dancing flames of the room's fireplace, while daytime hours expose IL Fiore to rays of natural light.
A Michelin Star is the ultimate hallmark of culinary excellence. Chefs are not awarded; their restaurants are. Because Michelin doesn't rate ambiance or interior decoration, it's the chefs' responsibility to create award-winning dishes of an exceptionally high standard.
Enter Chefs Joel Stovall from Michelin Awarded Orsa & Winston, Clay Cassis formally of Vespertine and Bestia and beverage director Suzi Chou of the Wolves in the Historic Core.
Downtown, think about this culinary combination for a minute.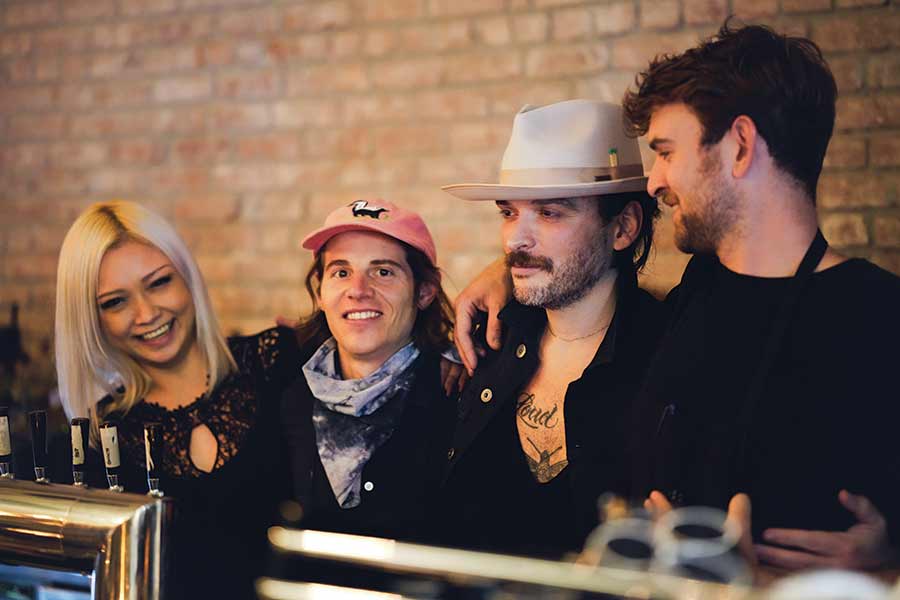 Robert K, with his background in hospitality, music and interior build-outs, two young chefs of equal talents, genius pallets and Michelin Awarded restaurants on their resumes, joined by one of Downtown's most talented and most lovely mixologist (who may or not be a wolf in sheep's clothing, just like her delicious cocktails with the proper tendency to sneak up and grab you).
At the bar we watched the delicate fingers of Suzi Chou carefully place tiny spoonfuls of bee pollen atop a King Ice Cube while it rested in a cup of our tasty cocktail pick, the Honey Bee Waggle; an almost creamy blend of Gin, honey, and lemon.
In the time she prepared our second drink, the Raspberry Daisy, Chou shared the motivation behind her beverage program. Her efforts to utilize healthy plant-based ingredients were evident with the Raspberry's Daisy's blend of Tequila, raspberry, lemon, seasonal fruits and mint; with a sprinkled bit of sugar to help the medicine go down.
The two chefs Joel and Clay, arrived as a pair and placed plates of selected items from both the dinner and brunch menus.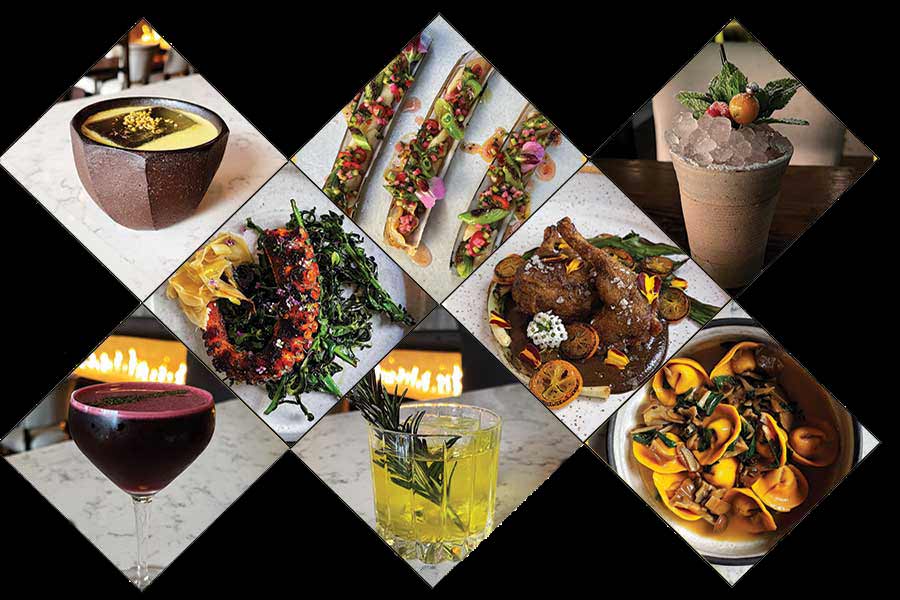 The first dish, Hen Egg Raviolo, was remarkable with unfertilized eggs from Joel's own hen coup, cubed beef cheek, fresh ricotta, and asparagus-pea cream.
The second, Spanish Octopus roasted to perfection, adorned with Oaxacan Chile, Pickled Fennel and charred Spigarello.
The Chefs prepare the tentacles so precisely we recommend beginning at the smaller end to work your way up to the larger slices for a savory experience that forces you to slow down the chewing process in hopes not to miss the moment of satisfaction an adequately seasoned and prepared octopus dish can give.
The third dish, Butter Poached Lobster Risotto, with wild Sorrel and uni is nothing less than surreal. At this point, we're pretty appreciative of the quartet's delicious bouquet of healthy memorial plates. Yet, the chefs want us to explore our time in their flower field just long enough to experience a plate of Scallops drenched in Shiitake mushrooms, Serrano Aguachile, Fuji and chickweed.
This dish was followed by a twin pair of open-faced Spot Prawns stuffed with their own Roe, melted butter, finger lime and Nasturtium.
It's this time that we're confident IL Fiore will be just as appreciated by anyone we recommend, even a secret Michelin judge out looking to share one of their prestigious stars, or two or three.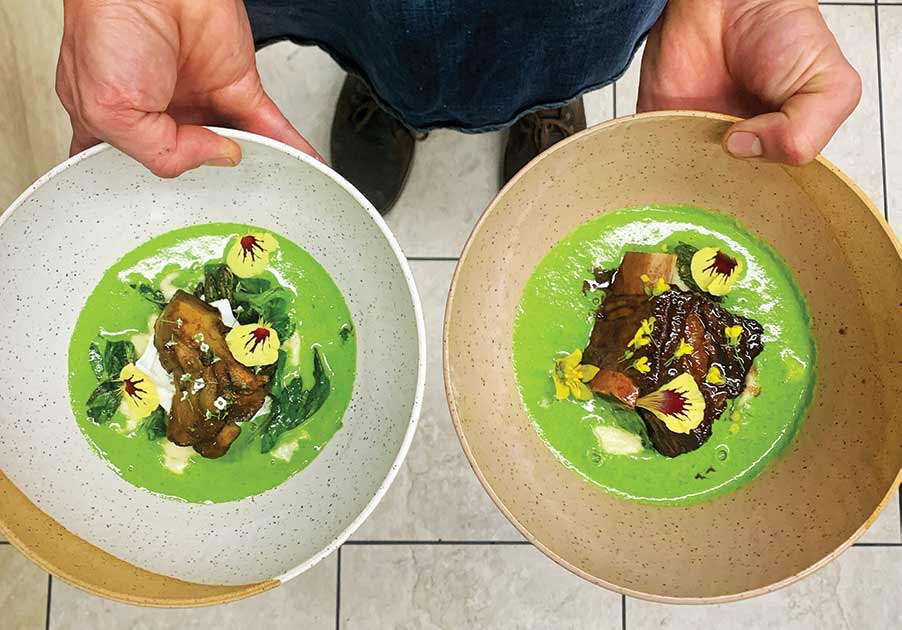 IL Fiore is located at 812 S Flower and opens for breakfast and brunch from 8 am to 2 pm and again for dinner and cocktails Wednesday through Sat from 5 pm – close.