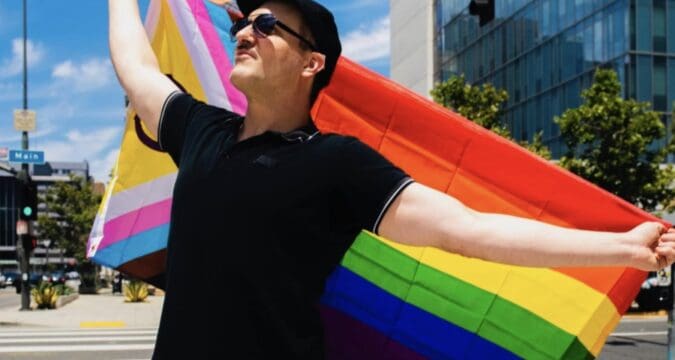 Acclaimed Los Angeles tour company Esotouric is set to unveil a fascinating new walking tour that delves into the rich tapestry of gay cultural history in Downtown Los Angeles. Dubbed "The Run: Gay Downtown History Walk," this tour promises to uncover hidden stories and landmarks, shedding light on a vibrant LGBTQ+ community that thrived even during a time when homosexuality was criminalized.
Founded in 2007 by married cultural historians Kim Cooper and Richard Schave, Esotouric has made it their mission to unearth lesser-known tales of Los Angeles, champion historic preservation, and foster a sense of community. Their dedication to "Looking Out For Los Angeles" has been showcased through various endeavors, including chartered coach bus tours, walking tours, forensic science seminars, webinars, blogs, podcasts, social media channels, and historic preservation campaigns.
Esotouric's commitment to preserving history and promoting unique tours recently caught the attention of Virgin Atlantic's VERA Magazine, which featured a story on their tours and historic preservation advocacy in its May 2023 issue. The article showcased the company's passion for unearthing untold stories and preserving the heritage of Los Angeles.
Responding to popular demand, Esotouric is thrilled to announce the launch of their newest cultural history tour, The Run: Gay Downtown History Walk, which will take place on Saturday, July 8.

This captivating tour will be led by Esotouric's expert guides, Nathan Marsak and Bob Wolfe, and will explore LGBTQ+ landmarks of the 20th century. Drawing on original archival research and featuring unpublished images, The Run tour aims to bring to life the experiences and contributions of fascinating individuals who shaped the LGBTQ+ community in Downtown Los Angeles.
The tour will commence at Grand Central Market and traverse through various locations where LGBTQ+ history unfolded. From Pershing Square to the Main Street fun zone, from private encounters to political organizing, from groundbreaking legal cases to discreet bars and bathhouses, the tour will offer a comprehensive view of the rich tapestry of LGBTQ+ life in Downtown Los Angeles.

One notable stop on the tour is the 1920s-era speakeasy beneath the King Eddy Saloon, a designated National Register landmark, where tour guests will have the opportunity to view scrawled hook-up messages in the only cruisy bathroom of its kind.
Adding to the allure of the tour, Esotouric debunks the urban legend of a gay uprising at Cooper's Do-Nuts that predates the Stonewall Rebellion by over a decade. Through the extensive historical research conducted by Nathan Marsak, the tour sheds light on this imaginary incident and explains how it led to a real apology from the Los Angeles Police Department to the queer community—a significant moment in the city's LGBTQ+ history.
The Run: Gay Downtown History Walk concludes with a delectable mystery snack, evoking the era when LGBTQ+ individuals had to engage in elaborate subterfuge to live authentically. This delightful ending serves as a reminder of the resilience and creativity of the community during a time of adversity.
Esotouric's upcoming lineup also includes a range of bus and walking tours catering to diverse interests. These tours encompass the Echo Park Book of the Dead Crime Bus Tour, The Run: Gay Downtown History Walk, Westlake Park Walk, Raymond Chandler's Los Angeles Bus Tour, Angelino Heights & Carroll Avenue Walk, and Charles Bukowski's Los Angeles Bus Tour. Each tour offers a unique perspective on Los Angeles' rich cultural and literary history, providing an engaging and immersive experience for both locals and discerning travelers.
Since its inception, Esotouric has aimed to challenge the expectations of guided Los Angeles tours and offer an alternative to the lowest common denominator highlighting iconic authors such as Raymond Chandler, Charles Bukowski, and James M. Cain, and architecture tours that delve into California culture, Esotouric has established itself as a premier choice for those seeking a deeper understanding of the hidden gems and captivating characters that have shaped Los Angeles.
Photo courtesy Shawn Smith