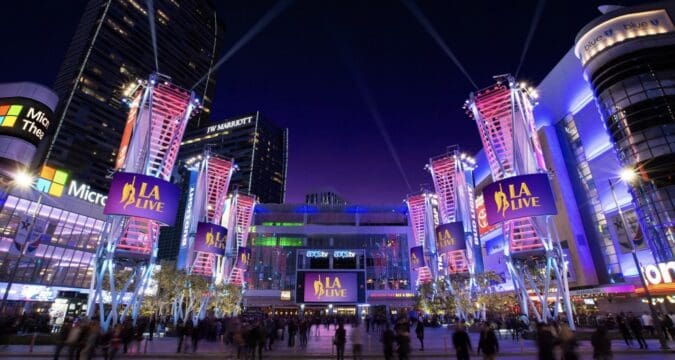 Downtown Los Angeles is in for another surprise as L.A. LIVE announces its newest transformative makeover, and game changer…or should we say name changer?

Most likely just as shocking as the time Staples Center forfeited its name to Cyrpto Arena, just announced, more name changes coming soon to L.A. LIVE, Downtown Los Angeles' 4 million square foot sports and entertainment hub.


Beginning July 11, two entertainment destinations at LA Live will be renamed as the all-new Peacock Theater and Peacock Place. In a groundbreaking multi-year naming rights agreement, Peacock, NBCUniversal's premium streaming service, and AEG, the world's leading sports and live entertainment company, have joined forces to create an unforgettable entertainment experience.
Formerly known as the Microsoft Theater, the 7,100-seat concert and special events venue will now be known as the Peacock Theater. This strategic alignment between Peacock and AEG sets the stage for a fusion of premium entertainment and extreme fandom. It's a match made in entertainment heaven!
Not only that, the entertainment district's 40,000 square foot open-air plaza, previously known as XBOX Plaza, has been transformed into Peacock Place. This vibrant space will serve as a hub for immersive experiences, bringing the Peacock brand to life for the millions of fans who visit L.A. LIVE each year.
Kelly Campbell, the President of Peacock and Direct-to-Consumer at NBCUniversal, expressed her excitement about the partnership, stating, "Like Peacock, L.A. LIVE is at the epicenter of premium original entertainment, exhilarating sports, one-of-a-kind experiences, and extreme fandom. Through Peacock Theater and Peacock Place, we'll have the opportunity to bring all the elements of our brand to life with the millions of fans who visit L.A. LIVE each year, while partnering with the incredible team at AEG to further cement Peacock as the ultimate destination for audiences."

Nick Baker, the Chief Operating Officer of AEG Global Partnerships, shared in the excitement, emphasizing the limitless synergies between both organizations. He said, "We are ecstatic for the opportunity to be able to partner with the amazing leadership team at Peacock for this long-term relationship. The content within the Peacock platform is ideal for our audiences, and the synergies between both organizations around our variety of events are limitless."
Lee Zeidman, President of Crypto.com Arena, Peacock Theater, and L.A. LIVE, echoed the enthusiasm, expressing the eagerness to collaborate with Peacock to create new content and programming that will complement the existing roster of amazing concerts, awards shows, and special events known at all the iconic L.A. LIVE venues.
As part of the comprehensive agreement, Peacock will have an enhanced brand presence across L.A. LIVE, including significant interior and exterior signage at Peacock Theater, fixed signage at Peacock Place, a branded content studio, and customized fan activations and brand integrations throughout select premium locations of the sports and entertainment district.
One of the standout features will be the dedicated LED marquee, a brand-new addition located prominently at the corner of Figueroa and Olympic Blvds., one of downtown L.A.'s busiest intersections. The LED marquee will feature two state-of-the-art video boards permanently attached to L.A. LIVE's façade, providing Peacock with 100% share of voice, 365 days a year. These eye-catching signs, measuring over 29 feet high and 56 feet wide and more than 29 feet high and 88 feet wide, will give Peacock premium exposure to millions of people annually.
With Peacock's innovative technology, creative partnerships, and unmatched content library, the platform aims to deliver a truly entertaining experience for its audiences. Offering exclusive original series, live sports, hit movies, new shows from NBC and Bravo, fan-favorite library content, live news, and live channels from renowned brands, Peacock ensures there's something for everyone.