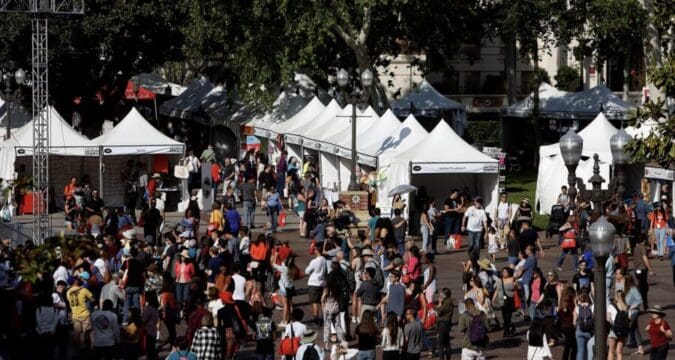 The Los Angeles Times Festival of Books is an annual event that brings together writers, publishers, and book enthusiasts from all over the country. The festival is usually a calm and focused affair, with attendees browsing book stalls, attending readings and talks, and engaging in discussions about literature and culture.
However, this year's festival was disrupted when a group of about 15 masked protesters rushed onto the small stage where archaeologist Richard Hansen was being interviewed by L.A. Times en Español columnist Alejandro Maciel. The protesters were targeting Hansen's excavation and research at El Mirador, a vast ancient Maya complex in Guatemala.
As Hansen was being interviewed, the protesters toppled chairs, shouted slogans like "this is stolen land!" and "f— imperialism!", and unveiled a large banner that read "Gringo colonizer fuera del Mirador." A tussle broke out between the demonstrators and the event crew, with one crew member left with a bloodied nose. The police arrived quickly and formed a line between the demonstrators and the stage, but the protesters continued to shout at Hansen.
Despite the commotion caused by the demonstrators, the festival's purpose remained the same: to celebrate books and reading, and to foster a sense of community among those who love literature. The festival is an important platform for authors and publishers to showcase their work, and for readers to discover new writers and ideas.
After several minutes of chaos, Hansen and Maciel were escorted to a nearby tent for event speakers, while the crowd eventually dissipated and the event ended. According to the Los Angeles Police Department Sgt. Gutierrez, one person was in custody on suspicion of battery.
Hansen, whose proposals have won support from a number of Maya leaders, has been accused by critics of wanting to develop the El Mirador area to increase archaeological tourism, which could harm the local population, many of whom are Indigenous. The area has been plagued by issues such as drug trafficking, human trafficking, and illegal deforestation.
Despite the controversy, Hansen has claimed that his proposals are environmentally sustainable, would provide jobs for Indigenous communities, and would help to mitigate the influence of the "mafias" operating in the region. Maya Vision, a group based in Los Angeles, has expressed its support for Hansen's work, while others, including Sunday's protesters, have berated him for accepting awards from Guatemalan administrations and business-affiliated groups.
In an interview following the disruption, Hansen said that he had not been touched during the incident, although one of the demonstrators had seized his laptop, which was later recovered. Maciel, who had his young daughter with him, said that neither he nor his daughter were injured.
Veronica Alvarado, the organizer of Festival of Books programming that seeks to promote reading in Spanish within the Southern California community, said: "We all have the right to express our opinion and demonstrate, but what is not right or fair is the use of violence." Despite the disturbance, the organizers of the festival remain committed to their mission of promoting reading and literacy, and to providing a forum for writers and readers to engage in meaningful dialogue.