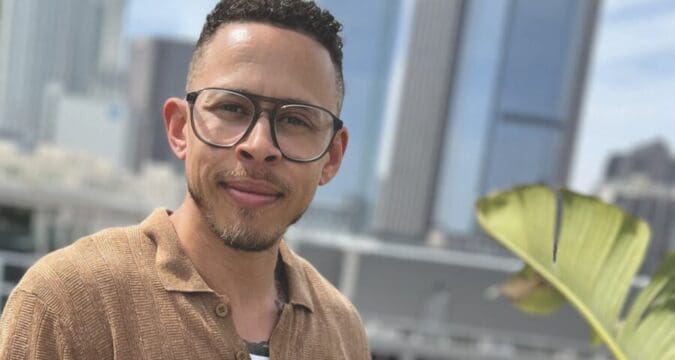 Ready for positive change in Downtown LA? Lawrence Carroll is ready too.
Lawrence Carroll, the South Park Resident Candidate for DLANC says he's ready to take on the challenges of Downtown LA!
Lawrence says he believes in the potential of Downtown LA and is ready to take action to bring the area back to life. He's seen the need for improvement, and he's ready to be a part of the solution process, "We attract what we are ready for. I am ready to get my 'hands dirty' and work with the stakeholders of DTLA to improve the quality of life in downtown."
Well known for his due diligence as the Vice President of Los Angeles based PR agency DOG AND A DUCK, his clients range from beloved Los Angeles institutions like Randy's Donuts, to local DTLA businesses like The Pie Hole and THE BLOC.
He's also the Chair of the Pride 365 Committee for LA Pride and the Founder and Board President of Majesty Gallery, a non-profit youth and children's art gallery helping families raise money to cover the costs of their children's education.
Having warm relationships with city officials, corporations, and nonprofit organizations throughout LA County, Lawrence is a man recognized for his passion for civic engagement. As an active community member of Downtown Los Angeles who sees the good before the bad, he's quite possibly an ideal candidate to win the seat of South Park Resident of DLANC.
DTLA musical chairs…
DLANC is the neighborhood council for Downtown Los Angeles. They are a dedicated group of volunteers who work to represent the community in matters such as land use, transportation, and public safety. DLANC is made up of a board of directors, committees, and task forces, all of which work together to improve the quality of life in Downtown LA. They hold regular meetings that are open to the public, and encourage community members to get involved and share their ideas and concerns.
On the ballot for Downtown LA Neighborhood Council (DLANC) elections being held on Thursday, May 4, 2023. He along with Sara Eastwood, Debby Zhou, Asha Abdella and Kevin Seybert are competing for the 3 spots available for South Park Resident.
The elections will be run by the City Clerk's Office and offer voters a choice between voting by mail (VBM) or in-person on May 4th at the Los Angeles Central Library. You do not need to preregister if you are planning on voting in-person. Stakeholders who want to vote-by-mail must first apply for a Ballot from the City Clerk before April 15th.
Join him and the other DLANC candidates in their mission to make the community an even more welcoming place to be. @lawrencecarroll #solutionstogether