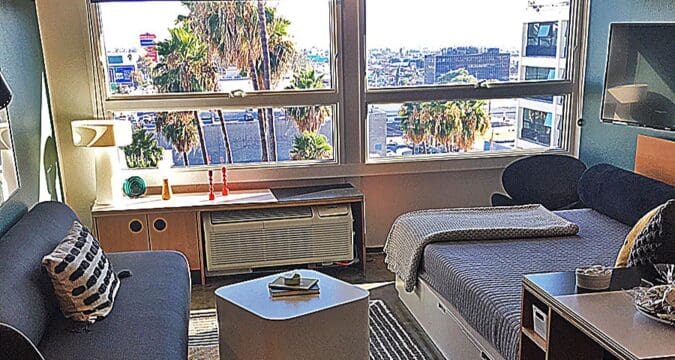 Definitely on our list of Top 10 Great Places to Live, named after Britain's commonly used title for 'apartment' – it is our pleasure to present to you, the Flat.
DTLA can't wait to move into the Flat Apartments and it's a no brainer as to why.
With nearly 4,000 new apartments under construction in downtown Los Angeles, at least 3,999 could take a few pointers from the Flat. That is, if they are yearning to present themselves as practical living spaces that most of DTLA can instantly fall in love with.
The Price:
As we speak there are places with less square footage in rougher parts of town asking for hundreds, sometimes thousands more for rents, while the Flat Apartment's market rate stays within the range of a modest $1585-2815 a month.
Amenities:
The Flat offers studio apartments with a cozy, luxurious feel, community rooms, heated pool, sun deck, parking on site, fitness and yoga center, laundry rooms, and splendid views, all within a 30 minute walk from Downtown's most exciting entertainment paradises.
Just on the edge of the Financial District, heading west, the Flat is located at 750 Garland Avenue, centered Less than a half a mile from LA Live, Bunker Hill, Whole Foods, Ralphs, The Bloc, Fig & 7th and Metro.

Hidden in Plain Sight: Location, Location, Location
Did we mention the Flat is just a block away from the 110fwy? Built in the late 70s as a Holiday Inn, the building has a practical feel with a facade one could easily drive by a hundred times and never suspect as a residential dwelling.
This, in part, can be accredited to its stand alone location in an area less known for residential complexes, broad windows for each unit and elusive entryway for automobiles and such.
Unlock the Doors to Your New Home!
The apartments are smaller than typical lofts as the Flat was formally a hotel, but in no way tiny. The view is provided by a wall of glass with fold out windows that allow for observation of the world outside. Depending on the unit, you may scope palm trees, the Financial District, LA Live, Bunker Hill or Hollywood, take your pick.
The spaces are more boxy than linear so there's plenty of room to move around. The space we toured lent enough square footage for a full sized bed, dining area, sofa and countertop bar that separated the main area from the kitchenette.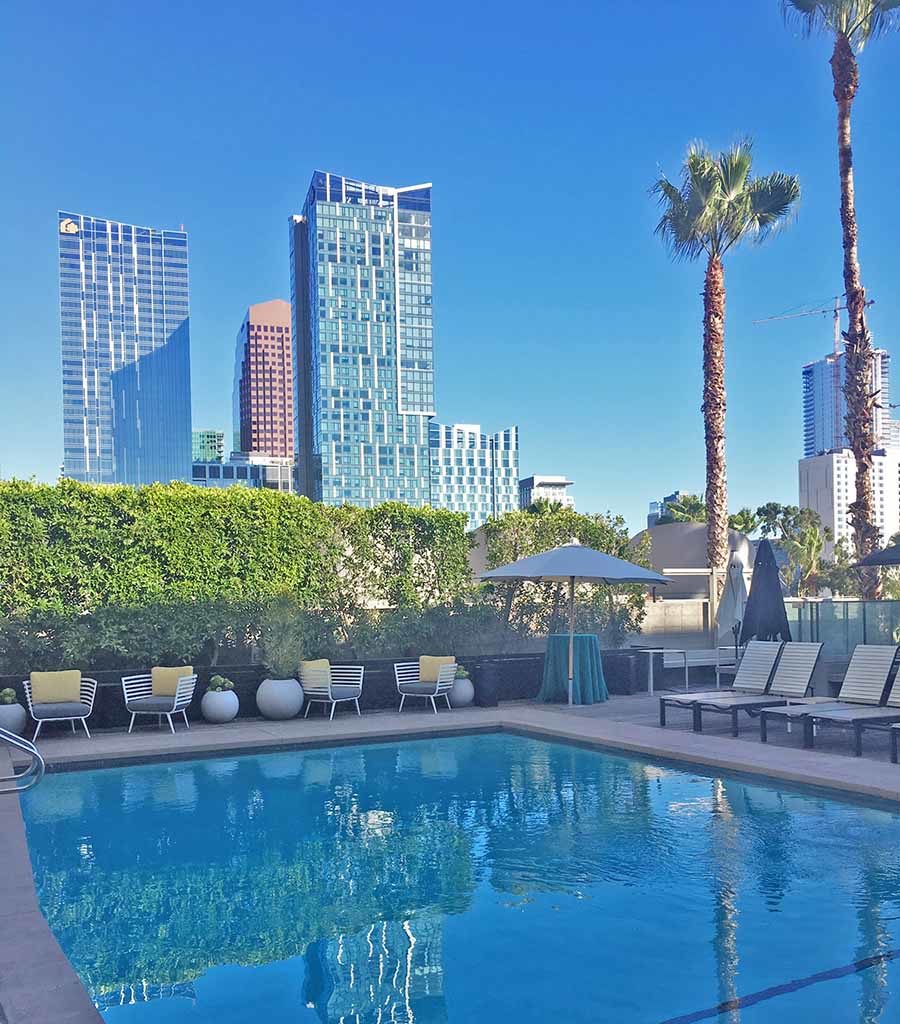 Basin, dual burner electric stove, mid sized frig and counter top bar made the kitchen workable. The modern fixtures adorn the bathtub and vanity combo inside a bathroom with adequate room to complete any daily hygiene ritual.
Closet and shelf space is reserved. Although the units don't accommodate a washer and driver, the Flat Apartments do provide well-kept laundry facilities on each floor.
Furnished or No?
The Flat decor is billed as "mid-century modern". If you don't have an eye for interior design there's no need to worry. Heres one all-studio apartment community in the heart of downtown Los Angeles, that offers both furnished and unfurnished apartment homes.
The Community:
From what we observed were mostly young professionals. Obviously content with their surroundings, the tenants spoke of the pleasures of being able to live in downtown la without the worry of recent rent spikes in a time when the cost of living plagued so many.
They spoke to us openly about their rents with sighs of relief sometimes between breaths.
This, while lounging inside the community room amongst others who had gathered to watch the large flat screen, during what they told us was "movie night".
This community den also offered WiFi and free office space with different sets of furniture, the same as you would find in any trendy co-working space in downtown.
The halls were quiet with black and white polka dot carpeting which gave a serene fun house effect. The colors, as with the rest of the decor were not over bearing, but established themselves as being the epitome of DTLA modern-chic.
The complex itself seemed to stretch out in two directions at a 45 degree angle, with the southern annex being slightly lowered than that of the north.
The six-story, 205-unit complex, originally constructed as a hotel, was converted into apartments in the mid-2000s.
Now owned by Waterton, in partnership with The Kor Group, the developers purchased the hotel In 2014, quickly placing the Flat under renovation about a year ago.
Now, within its Grand Revealing, we recognize the development group for the accomplishments they've made and stand by their vision, completely confident in their ability as being entirely in-tune with the wants of the prospective and existing population; people investing in community and experiences over materials and goods.
The Flat is ready to make a splash!