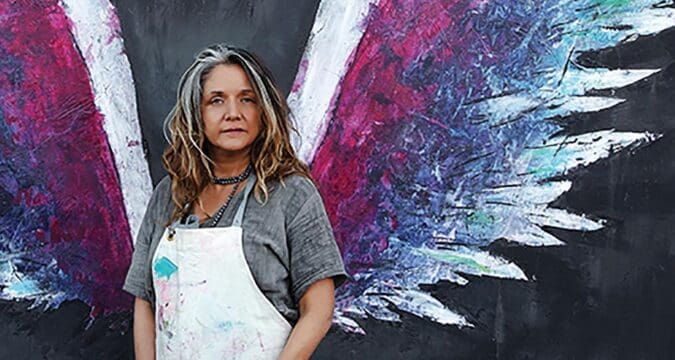 It' s been 8 years since Colette Miller created her first pair of angel wings on Hewitt Street in the Arts District of Downtown Los Angeles. What started as a way to get others to connect with their higher divine selves has grown into what the world now knows as Colette's Global Wings Project.
Divine Gift To Humanity
Colette Miller spoke with Downtown Weekly about her first inspiration to paint life-size angel wings which came to her while driving around DTLA. Normally living a life of meditation and humanitarianism, on that day an image of wings would "pop" in her head.
The City of Angels
What was initially deemed as graffiti would soon grow into commissions as thousands would use the interactive wings to lift their spirits and the spirits of others in photos around the world. When standing in front of Colette's wings at the right angle and distance, photos reveal the true angelic nature in all of us.
These twinned splashes of colorful divinity catapulted Colette into international stardom and gave Downtown a reason to prove once and for all – this is the City of Angels.
Colette's future is bright as she continues with the angelic commissions to add to her growing list of acrylic paintings and other signature paraphernalia including a commissioned jewel studded pendant now in the works.
Today and everyday people areposing in front of Colette's wings in cities and countries across the world; El Segundo, Hollywood, D.C., Harlem, London, Dubai, China, Japan, Taiwan, Canada, Kenya, Cuba, Australia, Malaysia, France, Italy and the list goes on.
It's not just everyday people who have enjoyed being immortalized for their angelic qualities either. Countless poses and relentless posts are being shared on social media of pets, ballerinas, yogis, city council members, celebrities, CEOs, etc.,