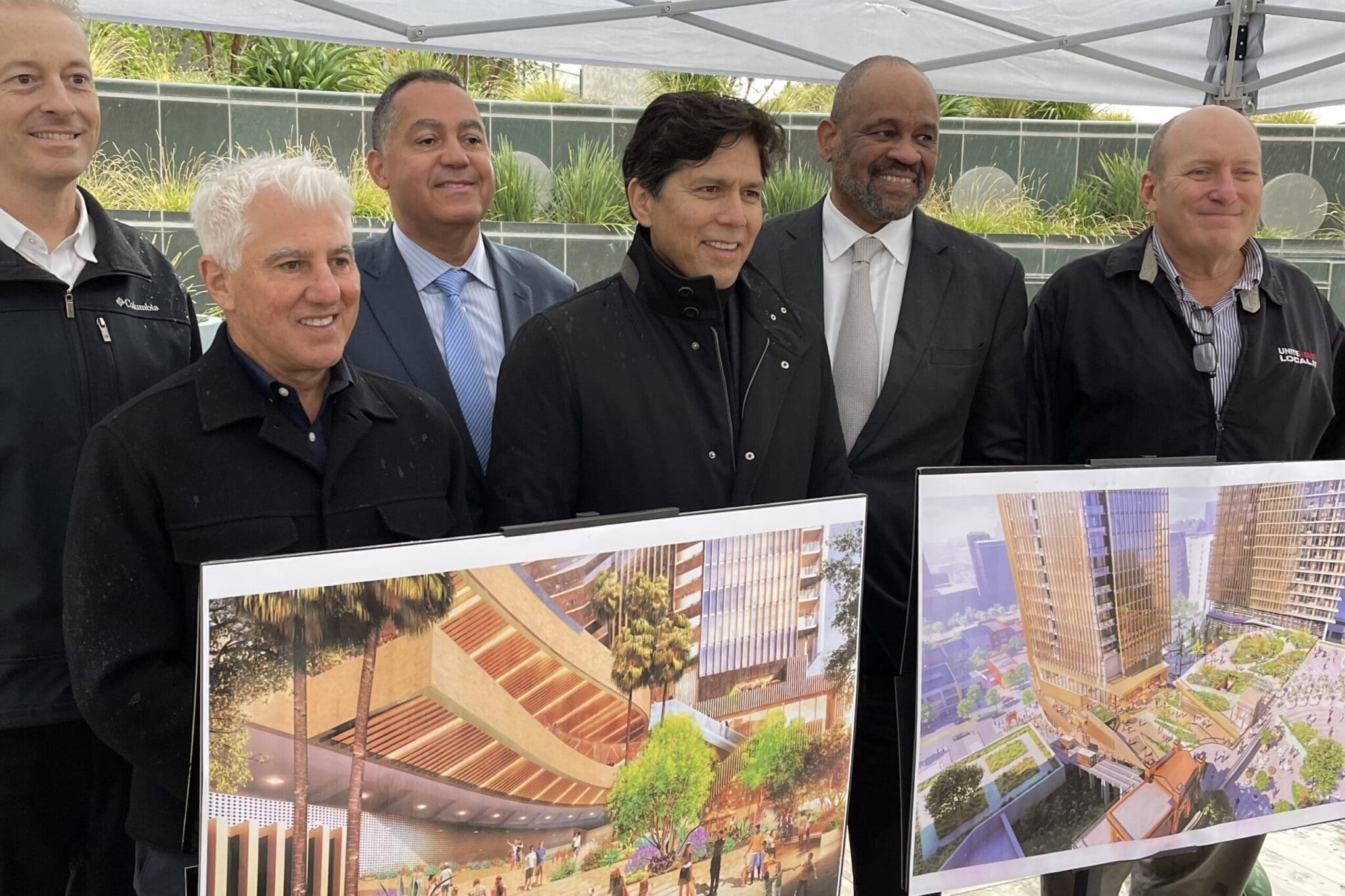 On what would be the windiest-rainiest day yet, Council-member Kevin de Leon parted the clouds with rays of mixed-use sunshine for African-American developers Don Peebles and Victor MacFarlane—heralding the go ahead for Angel's Landing, a $1.6 billion project scheduled for completion sometime before the Olympics in 2028.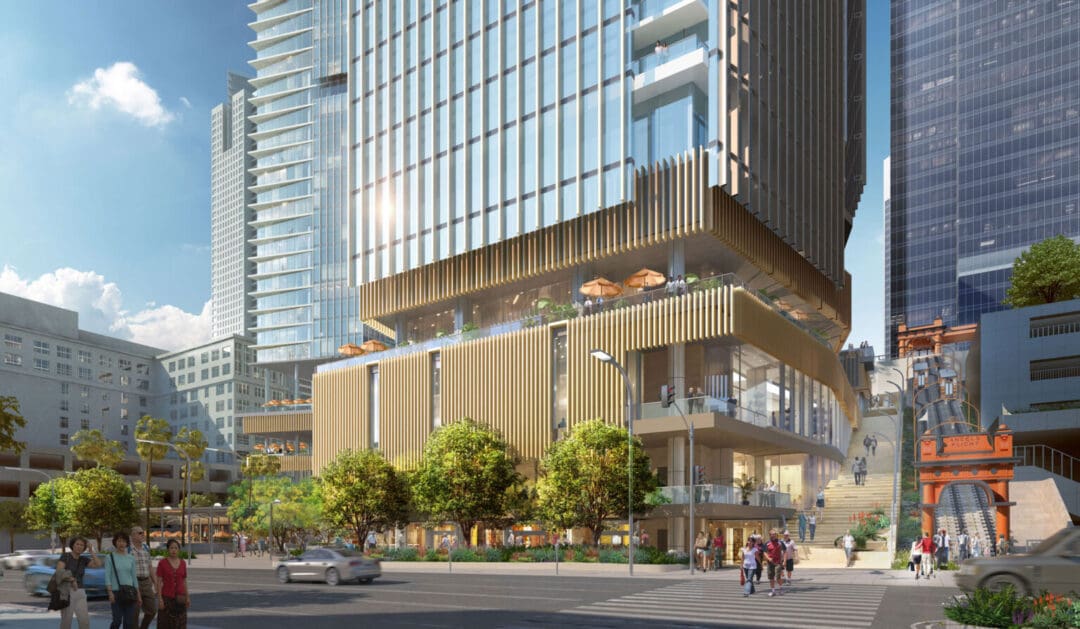 Designed by architecture and interior design firm Handel Architects, at 88 floors, Angels Landing will establish its foundation just south of Historic Angels Flight on 3rd and Hill. The completed site will reach high above the tracks, cresting the top of the Bunker Hill skyline and becoming the third tallest development in Los Angeles.
Sign up to receive our popular Get2DTLA Newsletter
Welcome downtown neighborhood residents, working professionals, nightlife, and tourism.
Angels Landing project plans to erect two towers of hotels, city-view condominiums and apartments, retail and restaurants. The site will also include Angels Landing Plaza – a modern pedestrian-centered and transit-adjacent urban park with multi-level space for the public and privately managed park amenities.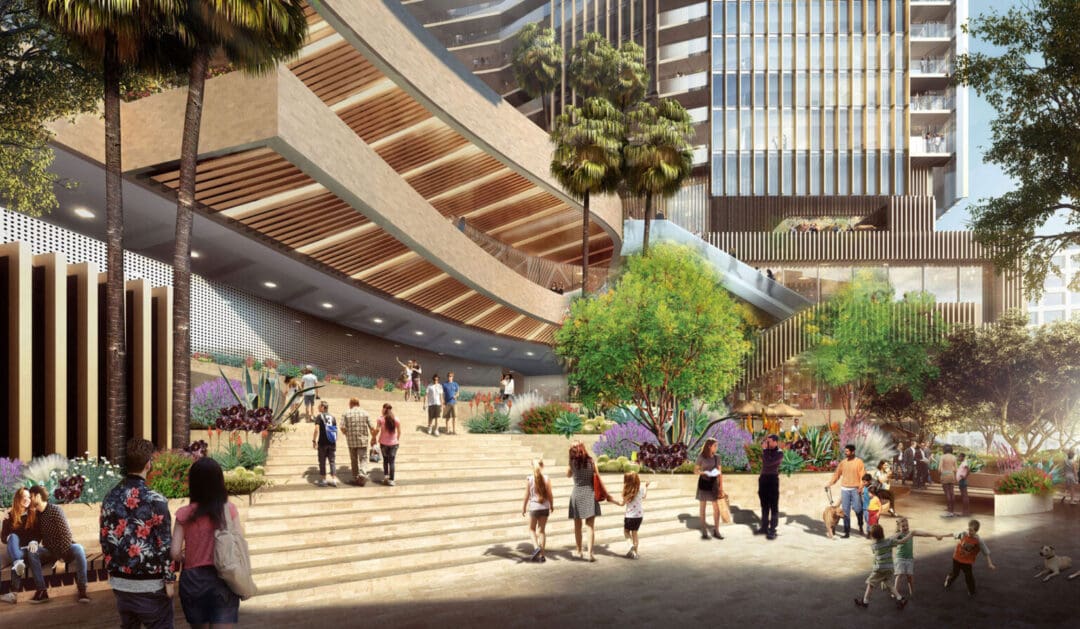 You get a job! She gets a job… everybody gets a job…
Angels Landing will bring thousands of new jobs and economic benefits to the city and boost L.A.'s local economy by contributing $731 million to local workers' earnings during its construction.
According to BJH Advisors, more than 8,300 temporary jobs will be created during Angels Landing's construction, while creating more than 800 permanent jobs in downtown L.A.
An estimated 500 jobs will come from vendors in the L.A. County region providing goods and services to the two luxury hotels.
Both MacFarlane and Peebles made clear their intentions to provide diversity and inclusion in the building process by allocating at least 30% of acquiring opportunities for minority and women-owned businesses.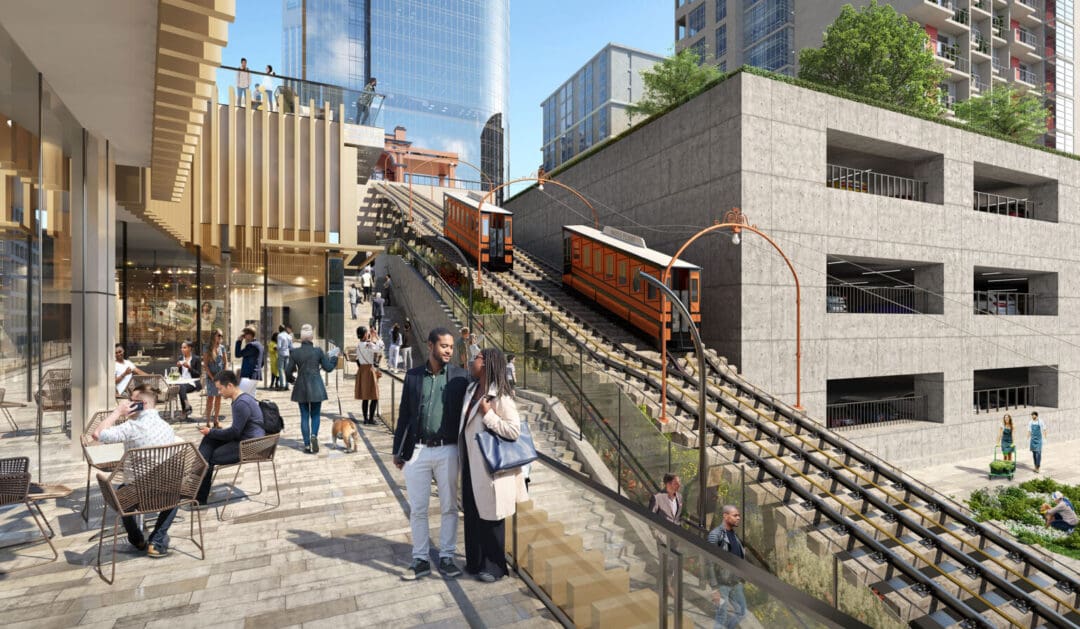 "The transformative impact of empowerment and economic inclusion from Angels Landing will be felt by an array of businesses including African American, Latino-and Asian-owned," said Don Peebles. "We have committed to a goal of 30% minority and women-owned business contracting across the board for our project in excess of over $480 million, and we're raising the bar for economic inclusion for development projects in L.A."
"With Angels Landing will come desired levels of diversity and inclusion to L.A.'s hospitality industry and the expansive services sector that supports the local hotel industry," said Victor MacFarlane. "It's about time the economic benefits generated by massive projects like this are provided to people who are reflective of the project."
In addition to job creation, the project will generate an estimated $12 million in recurring tax revenues and $2.4 million annually in local property tax revenues for the county.
Say it Loud…Minority leaders of LA must be proud.
Guided by the principles of Affirmative Development™, The Peebles Corporation creates economic opportunity and prosperity environments for minorities and women in business. As the nation's leader in acquiring and developing large-scale urban properties through public-private partnerships, Peebles has successfully conducted the most successful real estate developments through this method than any other company.
Founded in 1983 by Don Peebles, The Peebles Corporation's portfolio of active and completed developments totals $8 billion in New York, Boston, Philadelphia, Washington D.C., Charlotte, Miami, San Francisco, and Los Angeles.
Founded by Victor B. MacFarlane in 1987, MacFarland Properties has pioneered the urban investment concept among institutional real estate managers in the 1990s. Today MacFarland is a leading investor and developer of properties that promote smart growth, urban revitalization and sustainability in urban and high-density suburban submarkets of top-tier metropolitan areas nationwide.
Since launching its urban real estate program in 1996, the firm has invested $13 billion in urban properties.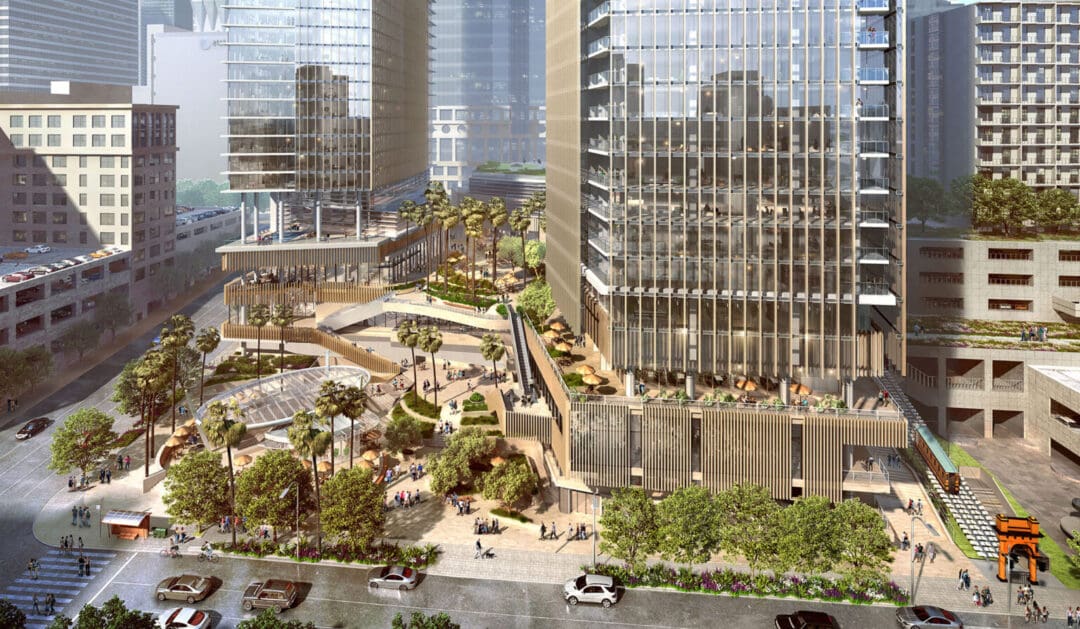 Among the properties are the Time Warner Center and Level BK in New York City, Bay Street Emeryville and Venn on Market in San Francisco, North Bethesda Market in the greater Washington, D.C., and downtowns own Trademark, Park Fifth Tower and the Hotel & Residences at L.A. Live.
The project has received solid support from various leading L.A. organizations, including The Greater Los Angeles African American Chamber of Commerce (GLAAACC), and UNITE HERE! Local 11.
GLAAACC Chairman Gene Hale said, "We're excited to see the commitment to equity and inclusion through minority-owned and women-owned business procurement and equally high level of diversity in the workforce that will manage and operate its luxury hotels."
UNITE HERE! Local 11, which represents over 32,000 workers employed in hotels, restaurants, airports, sports arenas and convention centers throughout Southern California, has strongly advocated its support as well.
"Angels Landing is the latest example of how the City of Los Angeles can direct development to lift up its citizens," said UNITE HERE! Local 11 Co-President Kurt Petersen.