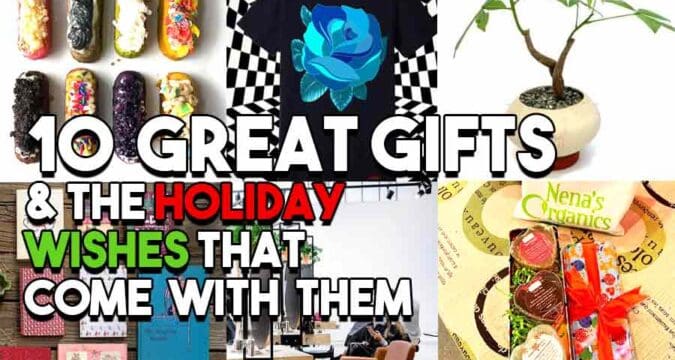 This year, Downtown Weekly kept our holiday shopping list local. Our holiday gift wrap up features some very special gifts and well wishes brought to you by our widely diverse, and highly dedicated small business Downtown Community.
Here's a list of 10 Great Places for Gifts and the Holiday Wishes That Go With Them.
HiDef Brewing – The Gift of Beer
Deck the Halls with water, malts, hops, and yeast!
The elves over at HiDef are filling kegs and wrapping ribbons around cases of HiDefs "Glorius Beer". Needless to say, they are feeling very hoppy.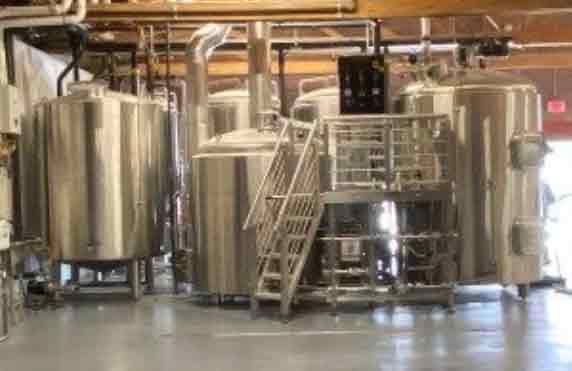 Inside the HiDef Tap Room for the last two whole months, these talented brewmasters sneak a jug or two, (or three), as they merrily sing-along, working malting, milling, mashing, boiling, and fermenting, Downtown's favorite new microbrew.
The best thing about HiDef is that DTLA can celebrate with HiDef Brew all year round. Rumors have it HiDef will release a Hazy Beer for the Haze Bros. pretty soon.
HiDef's Holiday Wish for DTLA: They want us to Love Beer. Looks like their wish has already come true.
HiDef Brewing is located at 1203 S Olive Street. Open Wednesday thru Friday 4-8, Saturday 2-8pm and Sunday 4-8pm.
Keyks – Something Sweet
Pronounced "cakes" these Twinkie-inspired artisan cakes come with their own wrappings of chocolate, marshmallows, frosting and just about anything sweet; offering Downtown and beyond flavor combinations and baked goods from their baker's personal experiences, travels and Filipino-American roots.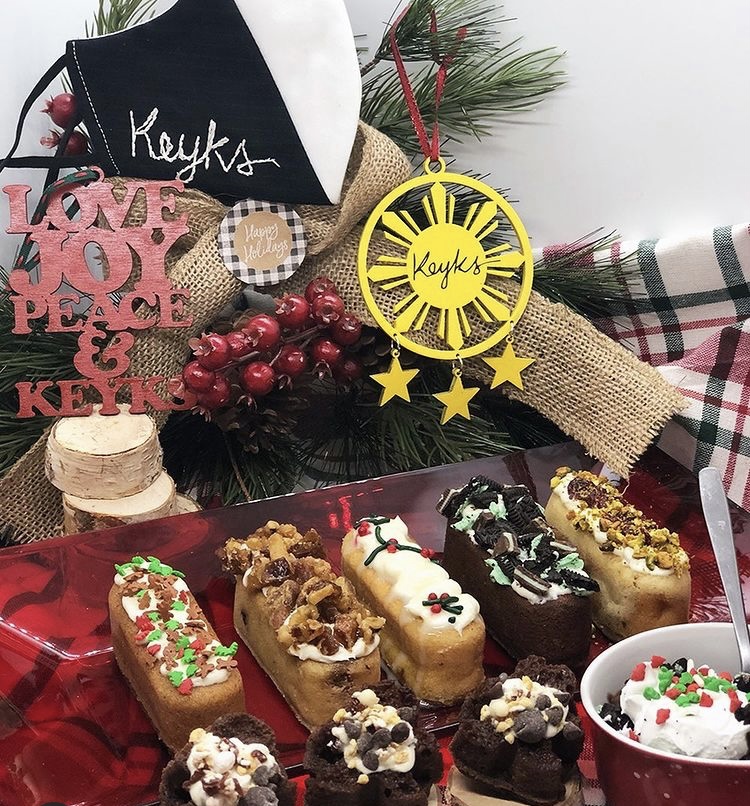 Chef/Supermom Jae de Castro first debuted the sweet treats to the masses in 2016 at Food Network's Wine and Food Fest in New York City only to relocate, in search of fame, to LA in 2017.
Since moving to LA, Keyks has pretty much taken Hollywood by storm. After a few tasty auditions, Keyks found themselves featured on Fox Upfronts, and ABC's The Chew. Keyks also starred in Tasty Buzzfeed, Insider, KTLA 5 Morning News and Los Angeles Magazine.
Accustomed to catering and attending large events, Keyks has been fortunate enough to have had some really big names try and love their baked goods.
These beautiful handcrafted take on the twinkie has taken DTLA to a whole new level while still managing to bring us back to the days of our childhood.
Cafes and shops looking for delicious treats to showcase may order Keyks in bulk until Chef Castro moves into her very own brick and mortar.
Receiving a gift of Keyks "Ho Ho Ho Holiday Keyk Pack" equals a holiday season full of delicious variety. Filled and topped with Mint Chocolate Cookies & Cream, Food for the Gods (dates & walnuts), Gingerbread, Orange-Cranberry Pistachio, the holiday tin boxes complete with moist Pumpkin Eggnog.
Keyks Holiday Wish is for everyone to still find the spirit in their hearts to share the joy of the holidays, despite these crazy times. And of course, Love, Peace Joy and Keyks for all!!!
Keyks also wants to give a shout-out to their kids, Roxy, Ros, and Luca, and is sending love to mom and dad and the rest of the family who can't visit right now. Miss you!
Order online or pick up each week at Keyks pop up locations Wednesday-Saturday at Shotgun Burger (Lucky Corner DTLA, 615 S. Central Avenue, DTLA) and Sundays at Filled Market (Manila District), 1801 E. 7th Street.
IG/Facebook @JustForKeyks
BOZU – Meet Your New Roomie
Yukio from Bozu of Little Tokyo and his son and daughter have been teaming up to arrange exotic plants potted in handcrafted pots for the past two years.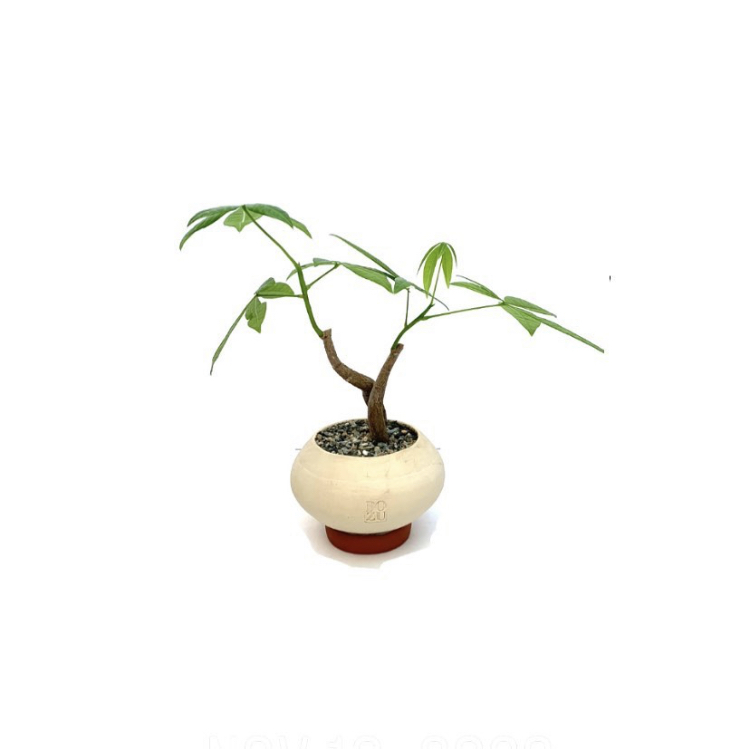 Each planted gift embellishes the effort BOZU makes when seeking out their unique plants and pairing them with the perfect handcrafted pots.
The combination proves to be very important to get the best look for the finished product; a beautiful piece of living art.
With BOZU, each design has its own special feel. Their products are deeply rooted here in the hearts of loft dwellers of DTLA and beyond and they are steadily growing new leaves of popularity, branching off to new locations with plans to showcase in Arts District DTLA at the coffee shop, "Boxx" in January 2021.
You may also find BOZU at Rice & Nori – Lil Tokyo DTLA, Cafe Demitasse in Santa Monica and Adrift Burger Bar on Abbot Kinney.
People enjoy the beauty of plants and enjoy taking care of them, similar to having a pet or silent roommate. They also enjoy BOZU pots because they embellish the craftsmanship and art behind each one. Having a BOZU product decorates and brings life to any living space and they are easy to spot when you see one.
BOZU Holiday Wish: BOZU would like to wish all of their customers, followers and fans stay safe and have a Happy Holiday.
Check them out on Instagram: @bozu_la. and contact BOZU at bozu.liltokyo@gmail.com.
Studio Circa Apparel – The Aftermath of Modern Art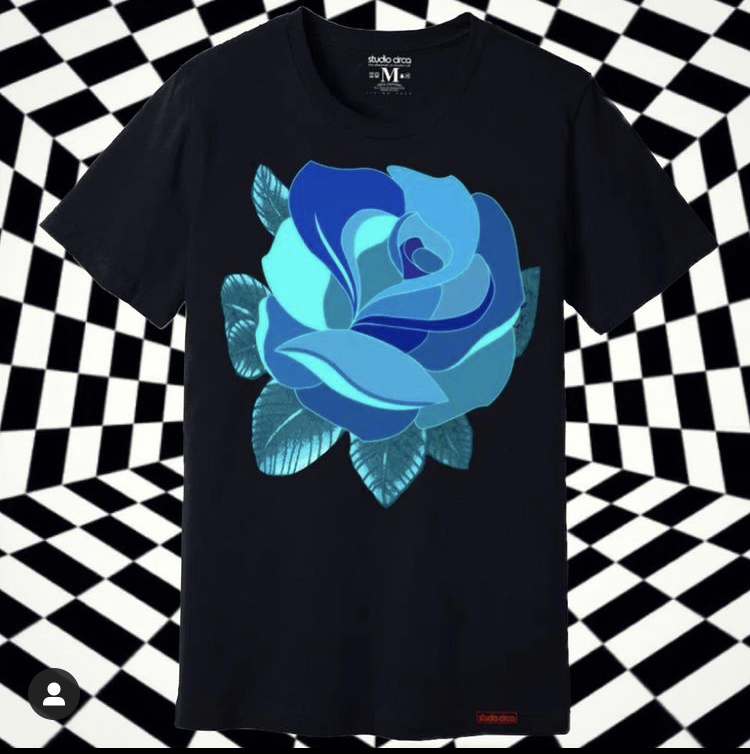 There are T-Shirts and then there are T-Shirts made from Vincent E. Soliz of STUDIO CIRCA APPAREL.
Known as THE AFTERMATH of MODERN ART these 100% cotton Sportswear, tees, crew neck sweaters, hoodies and crop-top hoodies are designed for dress-up, to wear casually and fit perfectly into the rebellious nature of street fashion.
Studio Circa pieces are highly recognized for their original high-quality multi-color prints based on photography and gorgeous digital graphics.
STUDIO CIRCA began as a photography/art venue in 2006 that by 2014, had morphed into STUDIO CIRCA APPAREL with just one product, tees.
A nuclear explosion of colorful flowers, the solemn reality of a gas-masked couple surround by an apocalyptic backdrop, the clashing colors bursting behind City Hall to rep Los Angeles are among their best sellers.
Studio Circa tees are extremely soft, comfortable, versatile, and original. Early 2020 had ferried the brand to the runways of Poland, Switzerland and Germany.
Top Model/Actress/Influencer Karolina Muller has made STUDIO CIRCA APPAREL has been pictured at several high-end events, and the brand was introduced to LAFW through FMC (Fashion Music Conference) out of New York.
In 2020 they expanded their product line to include crew neck sweaters, crop-top hoodies, and hoodies and have plans to expand again in 2021 with headgear,
and exclusive vintage style jean jackets they plan to showcase at FMC 2021 during LAFW in March.
STUDIO CIRCA Holiday Wish for DTLA: Peace, prosperity, and most of all – LOVE in these precious Holidays of 2020 and beyond!
Order online at studiocirca.com, and follow them on Instagram @studiocirca for pop up locations year-round.
Nena's Organics – Trusted Balms
It's Official! Downtown Los Angeles is in love with Nena Walker-Addison of Nena's Organics.
And what's not to love? Nena's trusted balms have been helping people soften, heal, and enhance the overall health of their hair and skin for over three years.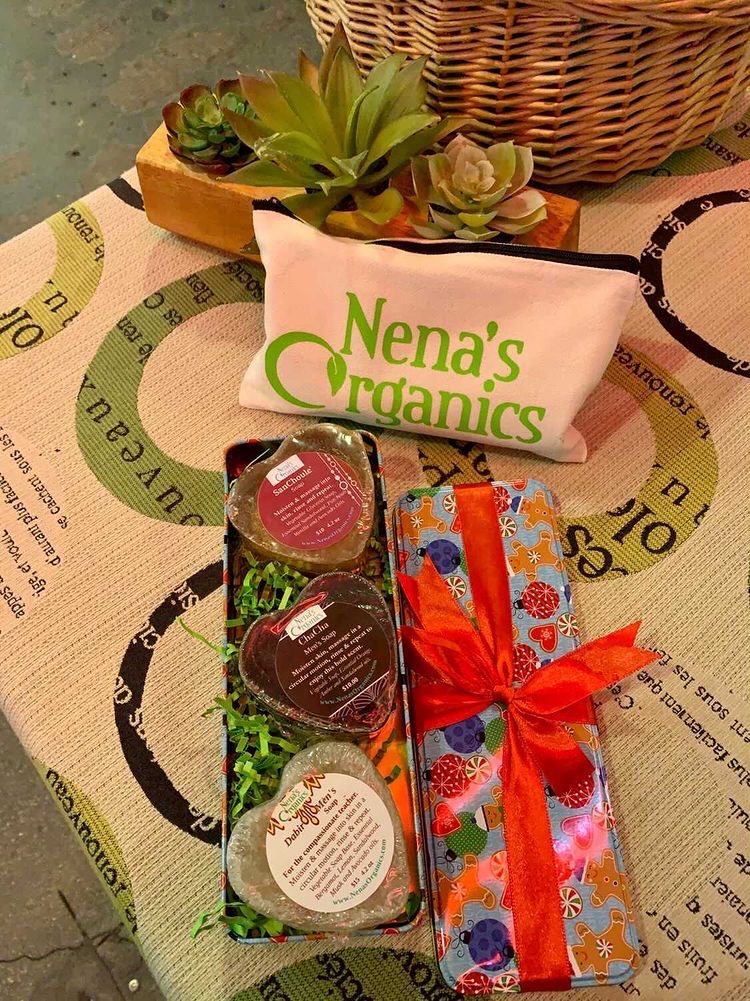 "I'm just a little girl from Compton, trying to help people heal without the side effects found in prescription medication," says Nena.
Each balm variety is blended by hand with its own unique combinations of Shea butter, Kokum Butter, Tea Tree oils, healing herbs, eucalyptus, and CBD.
Nena's Balms receive rave reviews thanks to their ability to help with skin blemishes and make for wonderful gifts. Her products smooth psoriasis, eczema, cradle cap and even pain.
Her list of famous clients is too many to mention as she told NBC in an interview a couple of weeks ago at the Black Women for Wellness and Shared Harvest Fund Popup.
Nena's most popular balms are Ex Balm, CBD Balm and Balm of Gilead. Nena also makes lotions, hair sprays, calming body spritz and washes, colones and soaps and many other natural products. The list of goods made from organic plants and flowers goes on and on.
Each of these and many other products are can be found at www.NenasOrganics.com
Downtown also welcomes Nena's Organics at the Grand Central Market Bazaar Fridays and Saturdays from 11-5pm.
You may also find Nena's at Girlz N The Wood Boutique in Inglewood and at Melrose Trading Post on Sundays.
Nena's Holiday Wish For Downtown: that Homelessness in DTLA and COVID-19 are eradicated soon.
Brown Bag Books – Keep a Journal!
Personal journals make for wonderful holiday gifts. Just ask Lynn Kopfler of Brown Bag Books.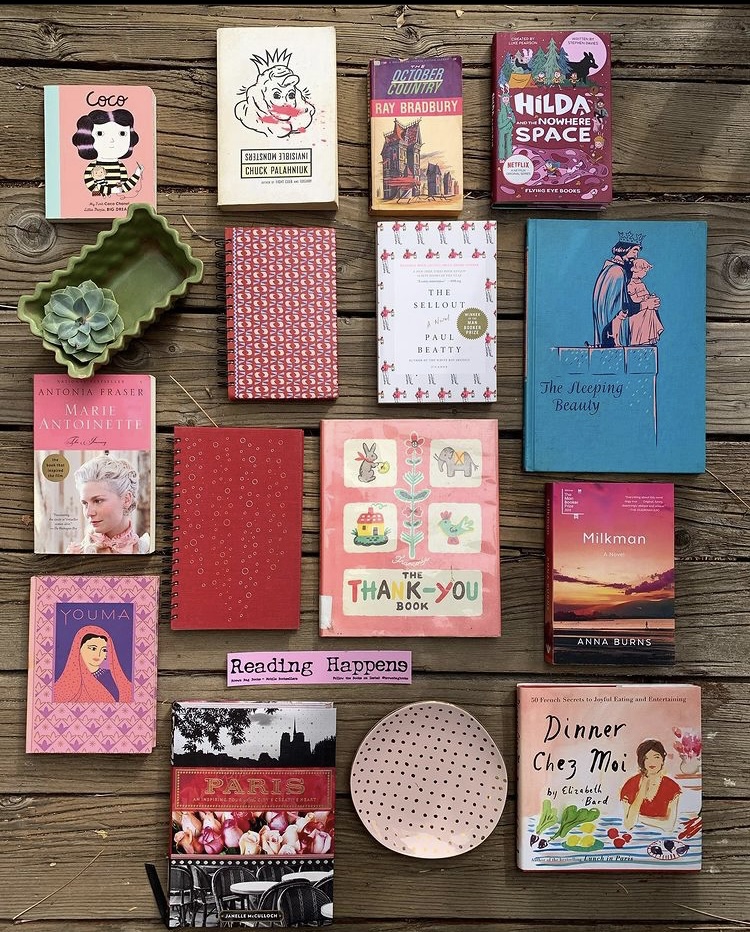 BBB are old school booksellers who make rescued books and turning them into journals the focus of their highly curated collection for sale to the public.
Good old books. BBB creates original, eco-friendly journals in their "Factory" in Running Springs California. The process involves meticulously removing the innards and replacing it with acid free paper, fit each book size. They punch holes using heavy equipment into both the cover and paper and finalize the product by adding the 'spiral O' binding that creates the journal.
People are then able to "write their crazy out," record their lives or just take good notes.
FOLD Gallery carries above the Last Bookstore, carries the journals and they've been found at pop-ups throughout the greater LA area, and Downtown for sure.
Downtown remembers BBB from Smogasburg. Though not having been to many pop-ups since March, BBB shifted to online sales and adds new journals constantly uploading new selections.
Customers may also 'special order' a journal if someone wants a book they have made into a keepsake or gift.
How cool is it 'writing your own book' that becomes its own archive when you finish it?
Hundreds of loyal customers agree.
Including writer David Sedaris and Gustavo Arellano of LA Times and his wife Delilah who owns Alta Baja Market in Santa Ana.
Dearly departed Jonathan Gold was a big fan who would visit the book pop-ups often searching for classics and binds of old chef biographies.
BBB has been featured in Downtown Weekly's 'Top 10 DTLA Women-Owned Businesses' and join the many personal profiles from Voyage LA.
BBB has been making journals for fifteen years! And have personally sold regular books for at least sixteen years as a 'mobile' bookstores. Despite the obstacles people still love books and BBB is here to prove it.
They also act as consultants and would like to see more designated book spaces in DTLA. They visualize extended pop-ups in spaces just waiting to be filled with books; like an old school library with tables and chairs, and don't leave out the hammock.
"A place to study. To read, and to write. A little different than The Last Bookstore, which we LOVE, a bit more 'English countryside manor meets downtown funk".
Brown Bag Books Wish For DTLA for DTLA is to remain smart, healthy, and strong during this *memorable* holiday season. It's been a tough year, but DTLA has shown great resilience in how a major city copes with crisis.
In an added note: (pun intended) …BBB wants us to know…
"We appreciate all of our loyal customers who have come out en force to support a small, but seemingly essential business during this crisis. Giving all credit and accolades to our amazing health care workers, but books are food and medicine in a way too, for some people, and writing your story during this time will help future generations understand what to do, or what not to do during any future health crises. Which of course we hope doesn't happen for a long, long time."
Calajo Catering – Hollywood Stars
This year instead of the old dry chocolate cookies, DTLA will be leaving the innovative sweet snacks of Calajo Catering for Santa.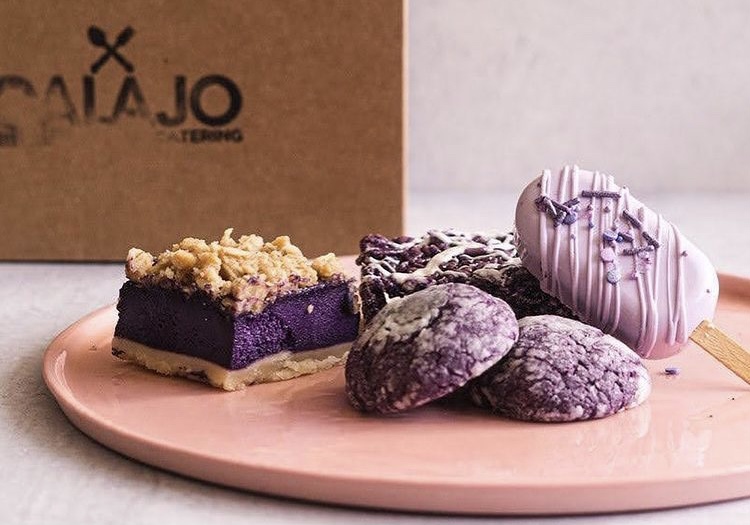 Husband and wife team Carlo and Jennifer Avancena work together mixing and baking their ever-popular Ube Cheesecake Bars, Longanisa Milk Buns, Empanadas, Ube Cakesicles, and Ube Crinkle Cookies.
All Calajo products are made from scratch. Most of their Ube baked goods are made with homemade Ube Halaya, a roasted Ube that is mashed and cooked down with coconut milk, evaporated milk, condensed milk, and brown sugar into something similar to a jam/spread.
This process of mixing, baking and decorating begins on Mondays between catering gigs and pop ups in time for the weekend.
For those who are reminded of a home on the islands and traditional Filipino/American confections, you can ask PJ Butta from KDAY and The Beat radio stations or check out Los Angeles Entrepreneur Magazine's list of Top 25 entrepreneurs and Top 30 bakers entrepreneurs.
Other outlets have described the Calajo collection of pies, muffins, cookies, cake cickles, etc., as "too pretty to eat".
DTLA however has been more determined than that.
Online you can order their delights at www.calajola.com or keep up with them on social media @calajocatering for their list of pop-ups which include Sundays at Filled Market (Manila District), 1801 E. 7th Street.
From No Name Salon – With Love
Utah natives, husband and wife team Matt and Harlee Showalter are grateful for all of the love and support from DTLA and they show it by providing our community with makeovers unlike no other.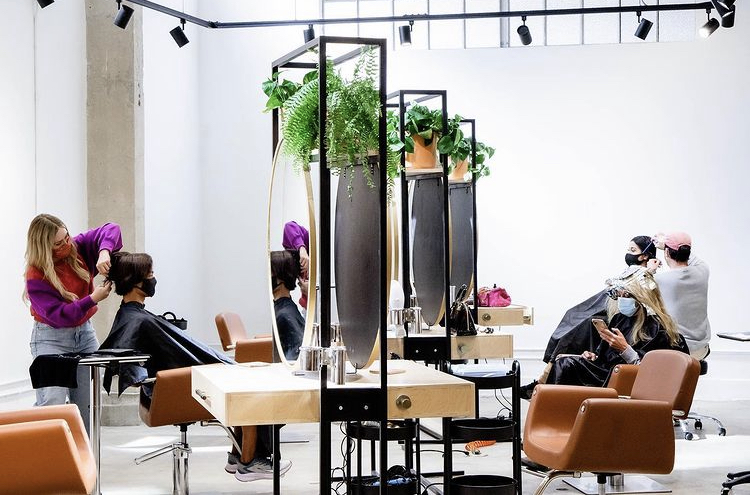 DTLA fell in love with No Name Salon's welcoming and creative space and the amazing individuals within it, doing what they know and love!
As brave as a fresh new bob cut, the couple took on the task to build-out the salon in July of 2020, opening up in September. They know first hand how difficult this year has been for everyone and can't wait to present the gift of a fresh new look.
Sit back and relax inside the brightly lit interiors of bare concrete walls and pillars, frosted bay windows and surrounding furnishing of white and gold.
Everyone is famous in L.A., right?
Well, don't be surprised if you're mistaken for a celebrity after No Name sends you home hair does like the stars.
No name sees lots of famous clients along with of business owners, and influential men and women in various positions eager sit through No Name's special full foils, gloss and tones, milk hydration and all types of coloring and cutting services in between.
The salon is located behind Verve Coffee on the cusp of the Historic Core and the Fashion District just north of 9th and Spring.
No Name Salons Wish for DTLA: that the coming New Year brings some much-needed peace and normalcy to those affected.
When salons reopen, book an appointment online www.nonamesalon.la or by calling 323-302-7701. @nonamesalon.la
Mignon Wine Bar – For the Win
(Written By Melody Sia)
Chef Santos has been living and working in DTLA for 14 years. He opened Mignon on 6th Street in 2010 and has been charming the locals ever since with a food menu that includes cheese and charcuterie, sandwiches, and oysters, which you can pair with their eclectic collection of wines.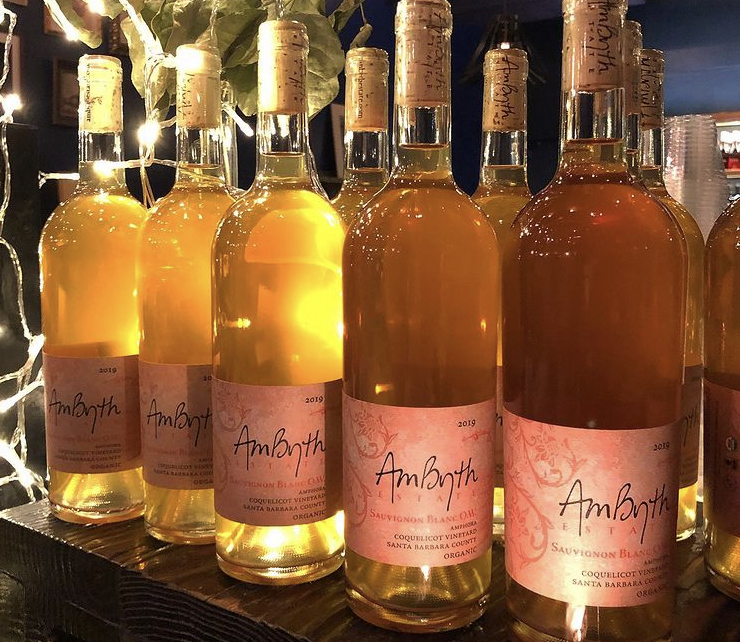 Mignons wish for DTLA:
"Downtown has had somewhat of a Renaissance in art and culture, but the problems with homelessness still looms. After these lockdowns are over, I hope we can rebound and make downtown great again! We'll definitely do our small part by keeping Mignon as it has been: a great little wine bar for the neighborhood."
It's true. Over the years, Mignon has bright DTLA many gifts.
This holiday season, Mignon has gifted DTLA with their select collection of wines including the farmed dried excellence of the dry, biodynamic, organic Sauvignon Blanc Orange from the Ambyth Estates in Paso Robles. Added to the gift list, the Trebbiano Spoketino from Umbria made by Francisco Mariano. The Trebbiano is unfiltered, unrefined, with no added sulfites and only sees 8 days of skin contact.
So many gifts. Let's wrap them up and pay it forward.
Mignon Wine Bar is open Wednesday-Sunday (6-10 on Wednesdays, Thursdays, and Sundays. 6-11 on Friday and Saturdays).
Boketto Cold Brew – It's All About That Nitro
Changing the flavor of cold brew coffee forever, no matter how many times we visit BCB we still ask them how they do it?
It's all in the Nitro!
Located just north of 8th on Broadway, this isn't just an iced coffee. Boketto takes it a "steep" further by charging their cold brew with nitrogen which gives the coffee a rich creamy head, similar to that of a draft beer while enhancing the flavor and the benefits…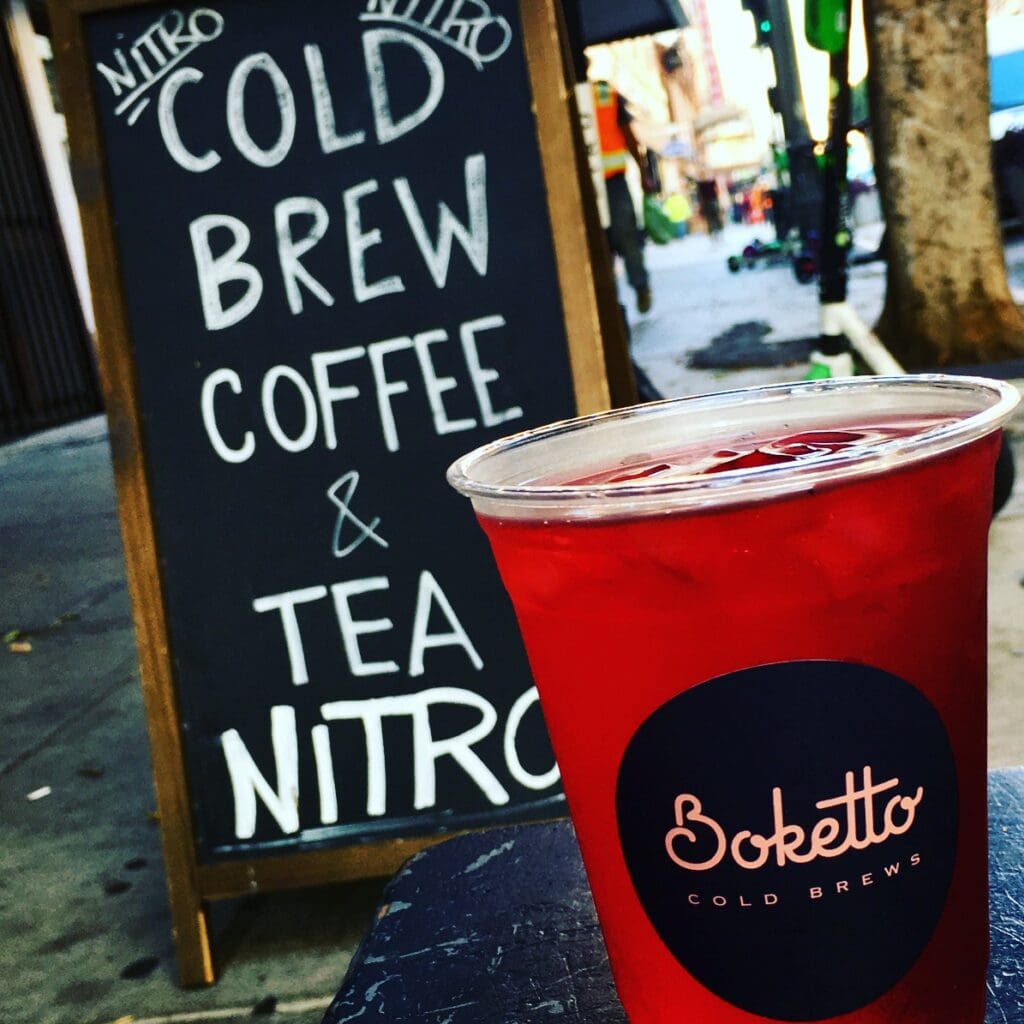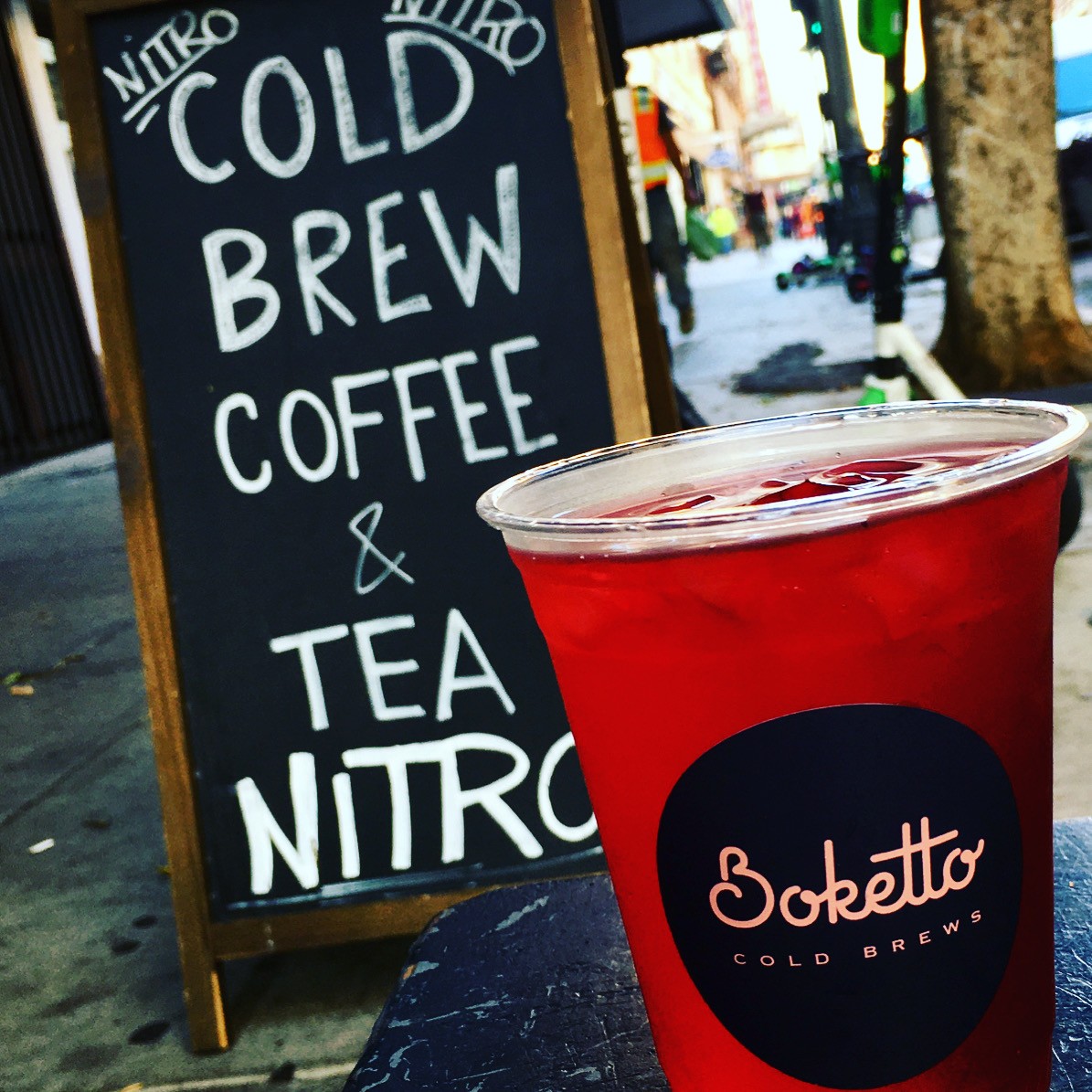 For tea lovers, BCB has a healthy blend of teas made from Hibiscus and other forces of nature.
Boketto Cold Brew has helped to create a cultural hub with its surrounding businesses that line the south end of Broadway and 8th. Together with Shriek, Medmen and Corner Barber Shop, they host daily visits from health enthusiasts, skateboard fans, artists and musicians, those looking for line ups and even an occasional food truck parked out front.
Inside the cafe are walls and shelves showcasing products brought to DTLA from local artisans, fashion lines, skateboard companies, visual artists that make for wonderful gifts.
Visit the shop promoting self-preservation, longevity and support for small businesses. There's always good vibes and new people to mix, mingle and learn from! www.BokettoColdBrew.com
Boketto Cold Brews Wish For DTLA: only the best.