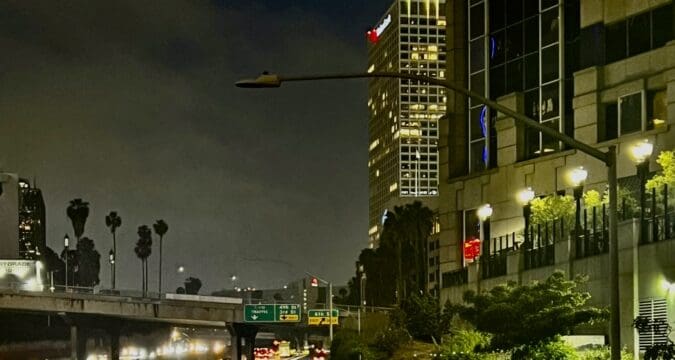 Could the absence of proper lighting along the 110 Freeway be compromising the overall safety of night drivers?
Recent freeway crashes and deaths on the 110 Freeway in downtown have raised concerns about a potential connection to broken freeway lights. While the exact causes of these tragic incidents may vary, the malfunctioning or absence of adequate lighting along the freeways, particularly the downtown area, could be a contributing factor.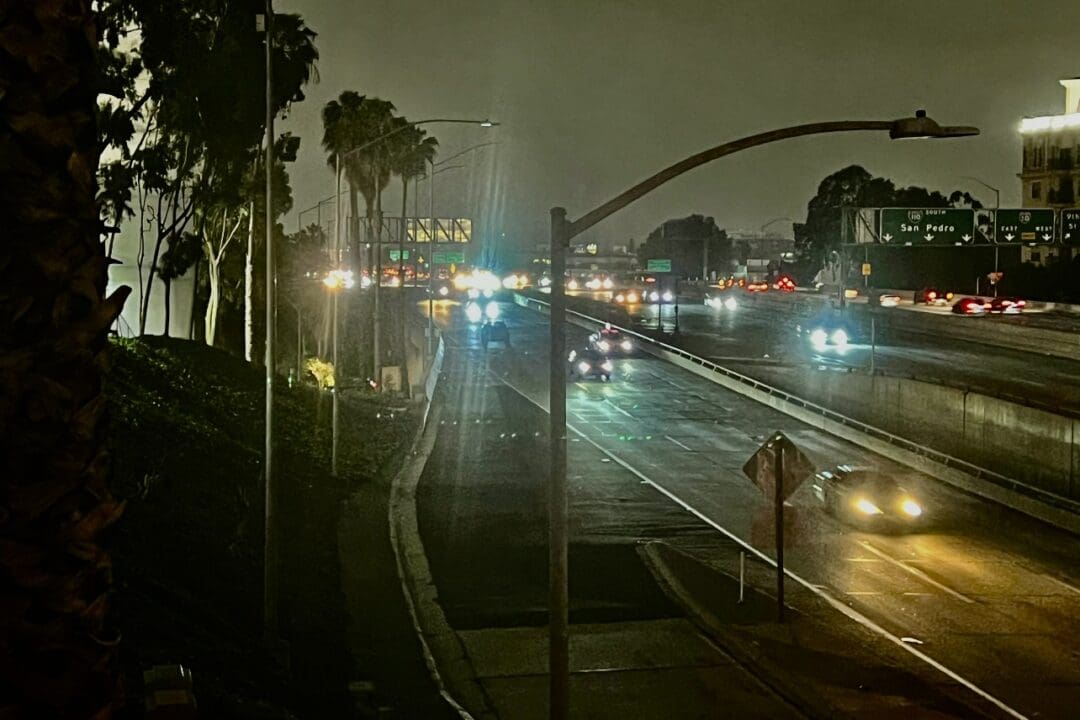 Former DLANC chairperson turned community lobbyist, Nick Leathers, thinks so, and he's on a mission to emphasize the urgent need for prompt repair and maintenance of the broken freeway lights in order to prevent such tragic occurrences in the future.
According to Key News Network, a three-vehicle traffic collision early Sunday morning on May 20th on the 110 Freeway in Downtown Los Angeles near 8th Street left one victim in critical condition. On March 22nd, a deceased pedestrian was found on the 110 Freeway at approximately 2:10 a.m. just north of the 8th/9th Street exit in the downtown area.
While it is important to note that investigations are necessary to determine the precise causes of each incident, the presence of broken freeway lights on the 110 Freeway raises serious questions about their role in these tragic events.

As the need for regular maintenance, prompt repairs, and robust lighting systems becomes evident to enhance safety, prevent accidents, and safeguard the lives of those utilizing our freeways, encouraging our government agencies to prioritize the issue of broken freeway lights can be accomplished in several approaches.
Leathers has been reaching out to Caltrains along with elected officials, such as State Assembly Member Miguel Santiago (Assembly District 54), to voice concerns about broken freeway lights in the downtown area.
"As a motivated resident and supporter of improving Central LA, I strongly urge Caltrans and our elected State Representatives to take this problem seriously and address it as soon as feasible. Please let me know if there is more information that I can provide to help your offices with this issue. I look forward to hearing back."
"I am still waiting to hear back about the timeline and plan for fixing the broken 110 Freeway lights. By engaging with local representatives, we can amplify the message and create a stronger collective voice to advocate for the repair of broken freeway lights." Expressed Leathers in an open letter to DT Weekly. "We should also request accountability and transparency from government agencies regarding their management of freeway lights. By actively monitoring and documenting incidents related to lighting issues, the community can provide evidence to support the urgency for repairs and hold our government agencies responsible for their obligations."
"Moreover, the state of freeway lights reflects poorly on the public perception of the local authorities and transportation agencies responsible for their maintenance. It gives rise to questions about their competence and dedication to ensuring a safe and efficient transportation network. Addressing this issue promptly and effectively is crucial for restoring public trust and demonstrating a commitment to the well-being of citizens."
Repairing and safeguarding freeway lights is no-doubt imperative for ensuring the safety, security, and well-being of road users. By addressing the issue of broken and vandalized lights, community members like Leathers can help nudge authorities to restore full functionality to our transportation infrastructure and enhance the overall quality of our urban environment.
"Efforts are in the works to allocate sufficient resources, implement stronger security measures, and engage with the community to tackle this pervasive problem. Only through collective action can we drive towards a brighter and safer future on our roadways." Said Leathers.
110 freeway DTLA articles sources
https://www.newsbreak.com/los-angeles-ca/2966962510687-pedestrian-found-dead-on-110-freeway
https://www.newsbreak.com/los-angeles-ca/3033449146923-1-hospitalized-after-3-vehicle-traffic-collision-in-downtown-los-angeles
https://accidentnewsnow.com/pedestrian-accidents/man-killed-on-110-freeway-near-downtown-la/