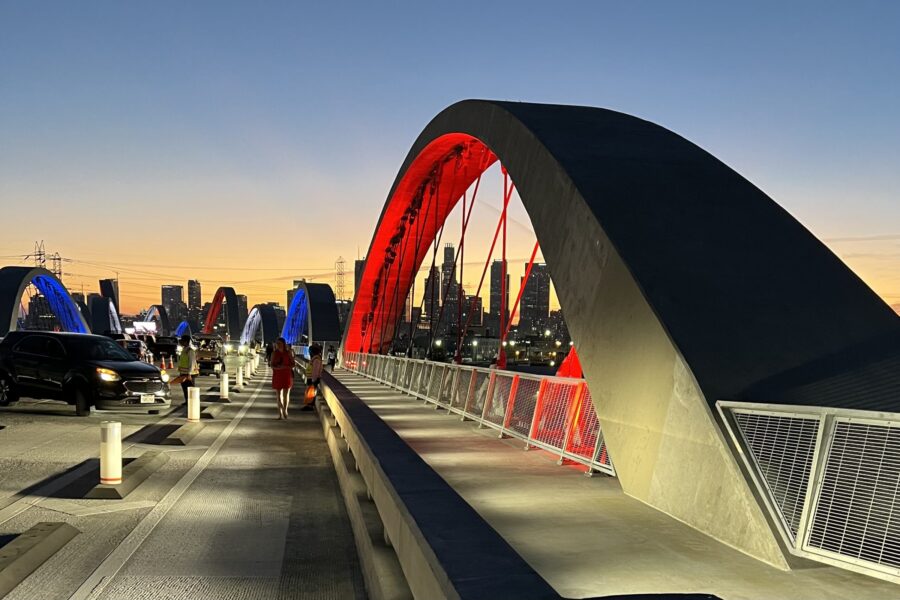 The City of Los Angeles pulled off the Opening of the 6th Street Viaduct without a hitch with a weekend of festivities hosting Angelenos from far and wide.
Friday's song of prayer, led by a Tongva native, began the ceremonies as dozens of the viaduct's workers, engineers and architects joined city, state and government officials to celebrate with food, music and short speeches a top the new bridge deemed "the Ribbon of Light" and "The People's Bridge".
Among the stages were dignitaries, City Engineer Gary Lee Moore, architect Michael Maltzan, Councilmember Kevin DeLeon, State Assemblymembers Miguel Santiago, and Los Angeles Mayor Eric Garcetti.
Members of the audience included Merrill Butler lll whose grandfather engineered all of the LA River bridges back in the 1930s, and who worked to present a design to replace the seismically-deficient original bridge built in 1932.
Amtrak trains blew horns from the tracks below as project participants got to mix and mingle with each other as well as members of the invited press. When the twilight ceremony was over downtown's new $588 million bridge lit up with the colors of America.
Saturday brought the second day of celebration with car clubs lined up for miles for a chance to be the first to drive the long row of concrete arches.
Staged acts continued to play throughout the day with Ozomatli fans dancing their way into the sunset.
Sunday, pedestrians and bike fun, followed by Monday's official norm of slowed commuter traffic, this time our slow-moving wheels moving across the newly erected 6th Street Viaduct connecting the Arts District and Boyle Heights.