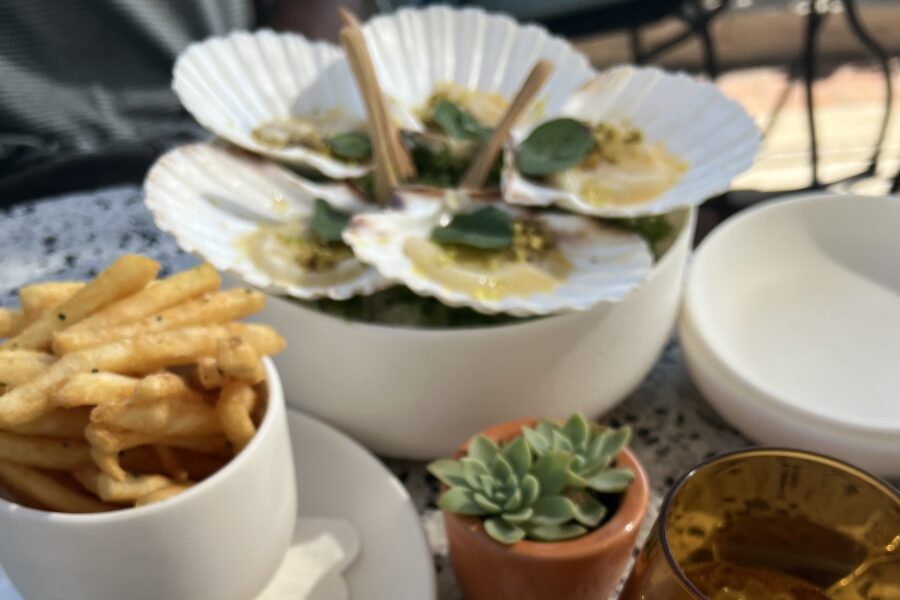 After over 200 fine dining experiences at local restaurants in the past six years, living and playing in downtown LA, of course I wanted to critique the new Per LA hotel located on the corner of 7th and Olive.
Per LA Hotel is taking the place of the Nomad Hotel that closed down during the harshest years of Covid, although I hear it's got the same owners just different management or something like that.
I have to say the decor inside and outside of the new hotel is fabulous. The historic building that houses the newly refurbished hotel was once an old bank from 1922, complete with grand pillars, polished flooring and vintage decor.
Downstairs and on the roof top, this hotel is nothing less than elegant and comes with a pretty chill – "Hey, I'm well to do vibe".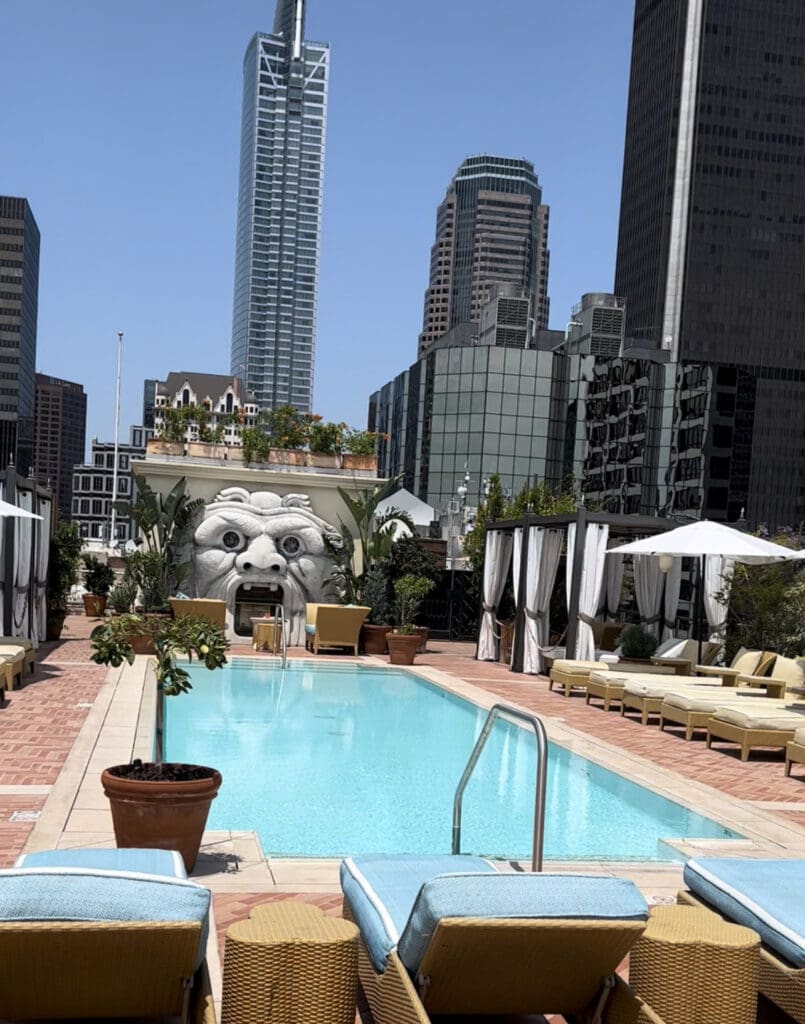 Also, they remolded the front desk to be more welcoming and less pretentious than in pre-Covid years and the staff seems more naturally welcoming instead of afraid of anyone not wearing a cardigan, like most well to do newbies in the big city.
This review of the rooftop Bar Clara is in part from my first and second dining experiences there. As a pescatarian mostly, my first go to is always going to be for seafood and salad. And this time I avoided the shrimp skewers for $28 bucks because they had a rotting smell the first time I went and were cooked so hard I wanted to feed them to the toothless sculpture by the pool side, but I was afraid if I did, it would chip its last remaining tooth. 
I did eat them – because one, I knew the strong anti bacteria fighting power of the lemon and white whisky in my cocktail and two… I was hungry.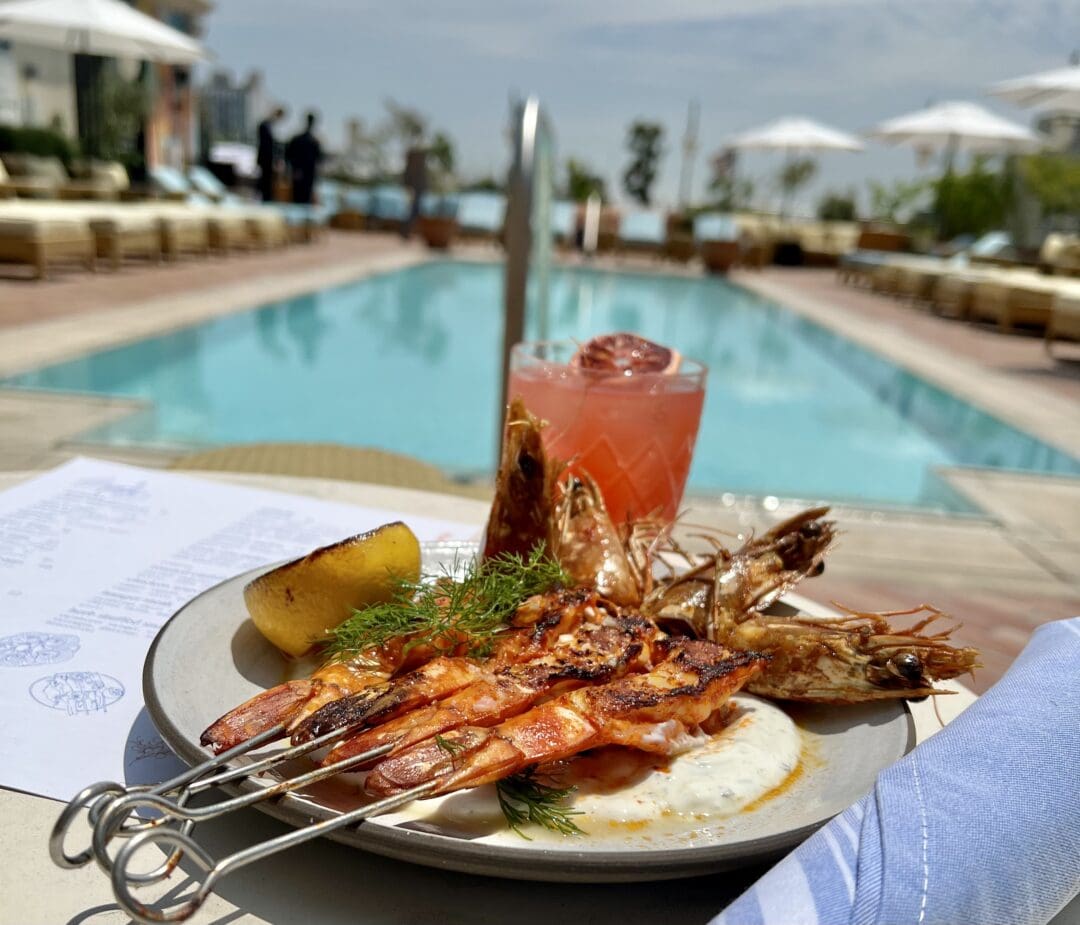 So for my second visit I thought I'd try something different and chose the raw scallops and tuna or what ever fancy name they labeled them on the menu.
Bar Clara at Per LA Hotel is Italian, French and Mediterranean influenced so expect fancy names you may feel a bit of anxiety about when relaying your choices to the waiter. And of course the waiter is gonna correct your pronunciation, because how dare you not be familiar with all the dialects of Europe?
Despite having to take lessons in Italian and French, I have to say both dishes were pretty tasty. The tuna crudo was tangy from freshly squeezed Citrus juices and the scallops, which they called "Fruitti de Mare", pretty much melted in my mouth. Nothing short of delightful. Amazing menu picks! I chose well.
But I was suspicious of the serving size.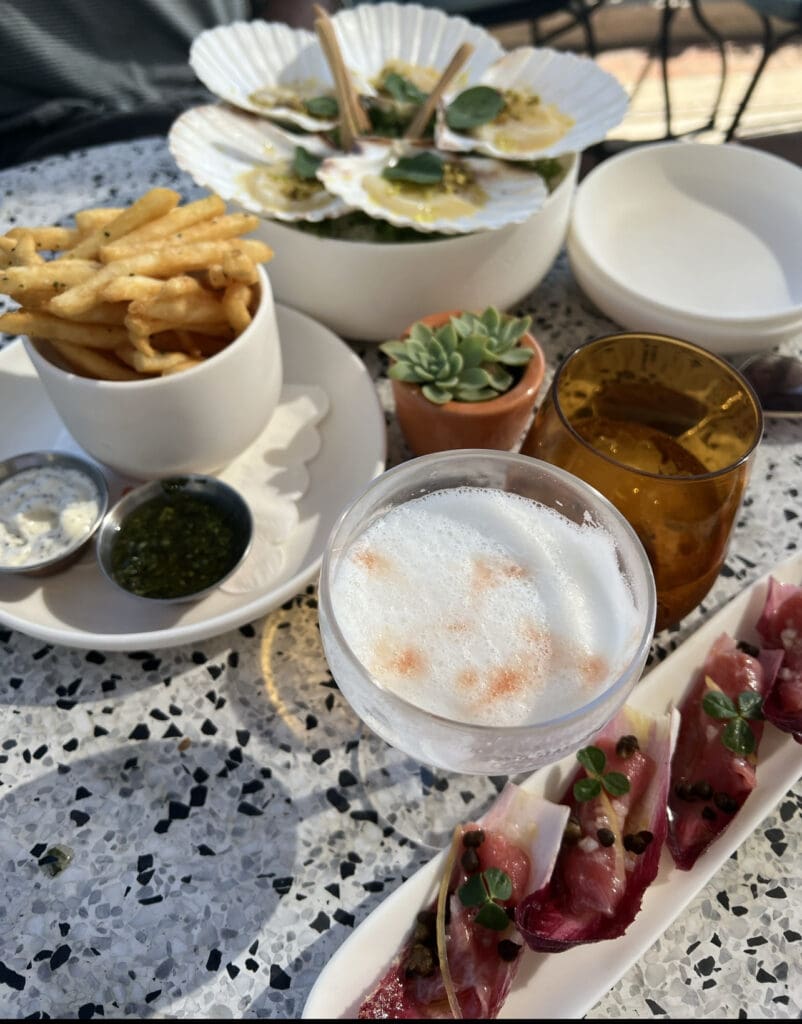 The raw tuna was served on lettuce cups aka endive spears, with tiny scoops of tuna mixed in lemon juice and capers – the dish went down very quickly. Taking up very little space in my stomach. Very little.
The scallops were sliced thin. The chef must have taken just one scallop and sliced it to fit in the five separate faux scallop shells… Hmmmm? One scallop for $24??? That just angers me every time I reminisce, plus, needless to say I was still hungry after eating both dishes.
And then came the French fries. Excuse me, I mean Papa Fritas, but really I'm asking the waiter how you say crispy potato fries with a side of aioli in Portuguese just to get back at him for making me feel like just knowing English at Bar Clara wasn't good enough.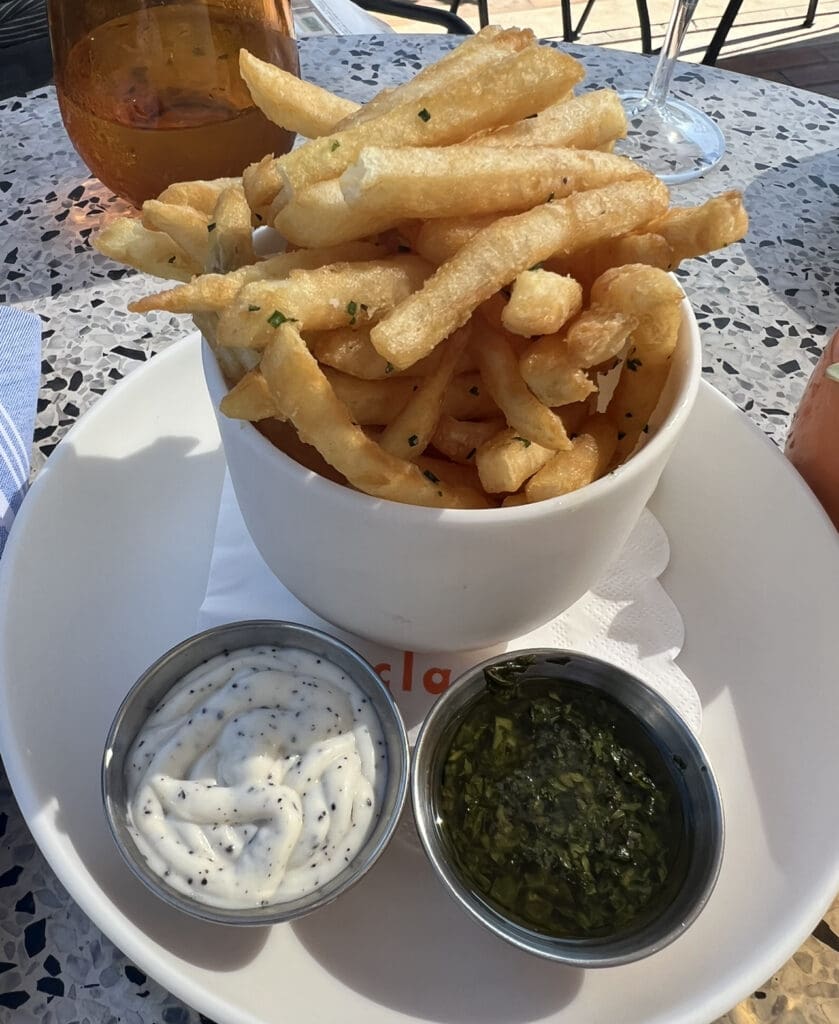 For over $24 dollars each plate plus 2 drinks around $20 each I can say the cocktail experience was a much better spend. Nothing like a good cocktail on an empty stomach to lift the spirits, and by the time I left I was as high as the rooftop.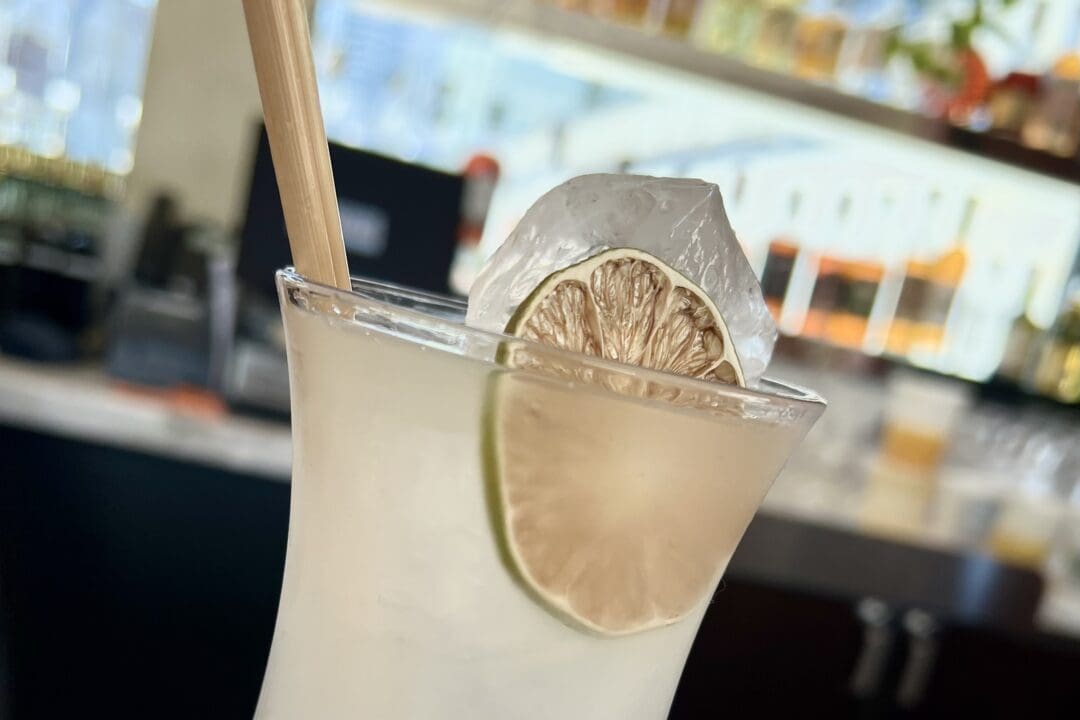 As for this rooftop dining, sip, lounging experience, I'd recommend eating elsewhere and visiting the rooftop for a cocktail or business meeting any day of the week. Sip! Sip!
Note to Bar Clara: Please keep your menu items in stock. You were out of white whisky and main dish of octopus that would have surely filled me up that day. Whole Foods is right down the street. No excuses. Dining experiences should never start with a disappointment. It leaves the diner yearning and gives little closure when it's time to sign the check.
There are also better night time and daytime rooftop views of DTLA, but that's meaningless when the night lights surround you and the glowing rooftop pool at Bar Clara invites you to dive in.
Closer to the stars, surrounded by the romance of our electric giants never gets old. Not like the shrimp.

INTOXICATED after two cocktails, yes. Annoyed by the missing and outdated items, a bit. Having to fork out $120 and still leaving on an empty stomach – JIPPED!
My next reviews, coming in November … Per LA Hotel's ground floor restaurant Per L'Ora and the newly opened Hearts and Flame Italian Restaurant in the Arts District. @kerieatsdtla